Since we last covered Strayer Education (NASDAQ:STRA), the stock returned more than 30% in a few months. Interestingly enough, two earnings reports have been released since then showing impressive material improvements in the underlying business yet the stock has declined substantially. Out of the last two calls, there have been three things that are causing investors to jump ship:
New winter enrollments declined by 5%
Overall operating costs will increase 1-2%
No intention of issuing a dividend or repurchasing shares
The first item shows that new enrollments came in softer than expected. Enrollment in the primary structure only increased 0.35% from 40,728 students to 40,872. The second item appears to be permanent as management is expanding overall operations through organic and inorganic growth, naturally expected. The third is a disappointment to some investors but we find this to actually be a positive factor. Warren Buffett has described that management should always look to reinvest in the business before resorting to capital return measures unless the return on internal projects is less than what shareholders might receive otherwise. If we look at the industry from a macro perspective, we will see several entities losing enrollment, fighting with regulators, and losing margin via steep tuition cuts. Strayer passed this stage back in 2013 and is now finally realizing growth, about 2% in aggregate. Managerial language stated that while we continue to stand at an industry bottom, pushing off is in sight.
Reiteration On Differentiation
Just to be clear, Strayer offers one of the lowest tuitions relative to its peer group for degrees. Standing at just $11,000 per year is around some public/state run colleges but also well below private institutions. We think that management is meeting the demand of a sizable market profile and is offering a valuable package: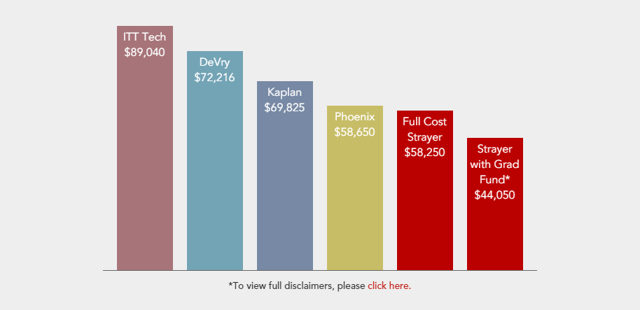 Given that Strayer is looking to limit debt that students take on, we see regulatory oversight as a continually decreasing threat from a top-down perspective. Margins from top peers like DeVry Education (NYSE:DV), Apollo Education (NASDAQ:APOL), and American Public (NASDAQ:APEI) have been in decline since early 2013, whereas Strayer has been able to maintain levels over the last three, plus or minus 100 basis points: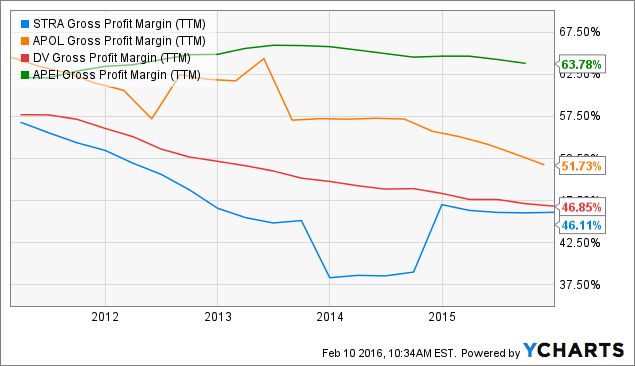 STRA Gross Profit Margin (NYSE:TTM) data by YCharts
Debt Free
While the tax system favors the use of debt, we think possessing a clean balance sheet is more important than ever with a flattening yield curve and the disturbing junk bond sell-off. The business has ample cash on hand and robust free cash flow, currently 67mm annually, that can more than handle accretive activities that management wishes to pursue in both physical and online avenues.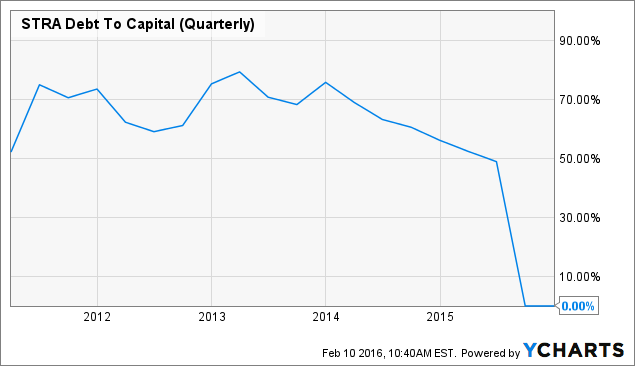 STRA Debt To Capital (Quarterly) data by YCharts
Decreased financial leverage and lower operating leverage significantly reduces the chance of unforeseen risk to cash flows.
Valuation Update
Management surprised us with its ability to generate high conversion of EBIT into FCF over the last two quarters. In 2015, it generated about 77mm from operations and with 12mm in capex, or 65mm in free cash flow; this was 22% higher than our expectations. While we feel these improvements are real and sustainable, we are still going to toss them into our bull case, rather than base case assumptions.

We think the bull case has a high chance of occurring over the next three years simply because that would fall in-line with the trend. Enrollments were down sequentially prior to the grad-fund, turned flat for roughly 2 years, and are now finally positive. The -5% decline in winter enrollments could be foretelling which makes us very cautious in our projections. We also expect EBITDA margins to decline between 1-3.5% over the next three years, assuming stability or expansion is something we will leave as a tail-event. We are also using EV/EBITDA multiples comparable to historical and industry trends, which are astonishingly low. We do feel however that this will revert back toward normalized absolute levels of say 7x to 8x. We understand that the industry environment is difficult, but Strayer has clearly made some impressive steps.
We are not certain on the moat. In our view, online education is a weaker avenue than physical campuses given that it lacks atmosphere. Some people also associate this version of education as predatory, even though that is not at all what Strayer is about. If we had to make a qualitative assumption of the moat between non-existent, narrow, or wide, we are going to say around narrow. We support this claim via low tuition, high approval ratings, and improving brand quality offset by intensifying competition.
Student Debt Bubble
So what's the downside here? Well first let's take a look at an article published nearly 2 years ago regarding for-profits. The three factors are high tuition, low employment rates, and higher default rates. Fortunately, Strayer has combated both one and three by lowering tuition. In fact, default rates have exacerbated in other entities like Apollo Education yet Strayer appears to be relatively unharmed. The employment rate is an interesting statistic. It simply says students have a ~20% less chance of employment following graduation. If we look at students under toxic for-profits that are only out for your dollars then yes, chances of employment will be lower. Simply put, we think that this statistic is skewed and is not representative of Strayer.
Alternatively, we have noted that loans on student debt are not getting any lower. Over the next few years, the consensus is that rates will increase roughly 100 or 200bp, prompting more defaults. In effect, if the $1.2 trillion bubble were to pop, there would undoubtedly be collateral risk involved. Additional regulation for all colleges on this matter is to be expected, either tuition must stabilize or student loan interest rates must be lowered.
Conclusion
After selling our position a few months ago, we feel that the pullback is a huge opportunity. The primary risk is if student enrollments decline at an accelerated pace, although this would be counter to the current trend. We find management's strategic measures for expanding their revenue portfolio above Strayer University through Strayer@Work, Jack Welch Management Institute, and NYCDA will solidify future growth. Taking the market capitalization of $470mm and subtracting the $107mm in cash gives us an enterprise value of $363mm. Utilizing our base case averaged free cash flow projection of $53mm annualized, the equity possesses a free cash flow yield of 14.6%. We also think that the recent interest in Apollo Education, a terribly run for-profit company, supports the fact that there is discernible value in this industry. Given the current price of $42.40, we recommend Strayer as a strong buy with a price target of $64, about 50% upside.
Disclosure: I am/we are long STRA.
I wrote this article myself, and it expresses my own opinions. I am not receiving compensation for it (other than from Seeking Alpha). I have no business relationship with any company whose stock is mentioned in this article.
Additional disclosure: We are long directly through shares at $43.