Dangdang (NYSE:DANG) reported Q4 2011 results on February 23:
Net revenue: $196 million, +73% y/y
General merchandise revenue: $77 million, +210% y/y and accounts for 39% of total revenue compared to 22% a year ago
Media product revenue: $114 million, +33% y/y
Other revenue from third party: $4.7 million, +111% y/y
EPADS: $0.26 per share loss, which is wider than the expected loss of $0.16 per share
For the full FY 2011:
Net revenue: $575 million, +59% y/y
General merchandise revenue: $174 million, +179% y/y
Media product revenue: $390 million, +32% y/y
Other revenue from third party: $10.7 million, +158% y/y
EPADS: $0.46 per share loss
For Q1 2012, Dangdang projects net revenue of $175 million, representing a 60% y/y growth.
What I liked
Continued investment on customer experience is bearing fruit.
Over the past year, Dangdang invested heavily in improving customer experience by building its logistic and providing expedited delivery services. As expected in my earlier note titled "Dangdang Q4 Earnings Preview." the company expanded its same-day delivery services to 20 cities and next-day delivery services to 120 cities. At the end of the year, Dangdang has fulfillment centers in 10 cities across China and total warehouse capacity increased to 340,000 square meters as it expands product mix.
As a result of Dangdang's keen focus on improving customer experience, the company recorded stronger sale in 2011 than it did in 2010 and total active customers reached 12.2 million, an increase of 85% from the beginning of 2011.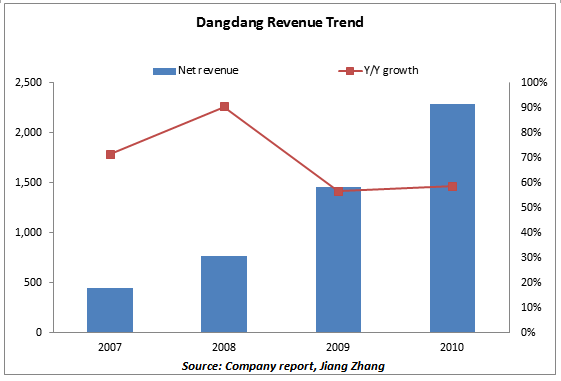 E-book strategy on track.
According to management, over half a million e-books have been downloaded since Dangdang launched its platform. However, management prefers to focus on content building first because the platform is still at its early stage of development.
In response to rival 360Buy's e-book platform, which will feature over 80,000 books from 200 publishers, Dangdang will expand its e-book library to 100,000 books, and the company plans to introduce to its own e-reader in Q2 2012 to continue delivering superior user experience. Because there are many e-book manufacturers in China that can build high quality e-readers at a low cost, management does not expect this initiative will dramatically increase CAPEX this year.
What concerned me
Continued investment amid competition will impact top-line growth and margins.
Over the past several quarters, Dangdang has been aggressively offering coupons and promotions to drive sale and hold back competition. For accounting purposes, the company accounts coupons as a contra-revenue account. Revenue is negatively impacted as shoppers use the coupons, and that impacts the gross margin. Going forward investors could see further margin deterioration should Dangdang use more coupons to drive sales.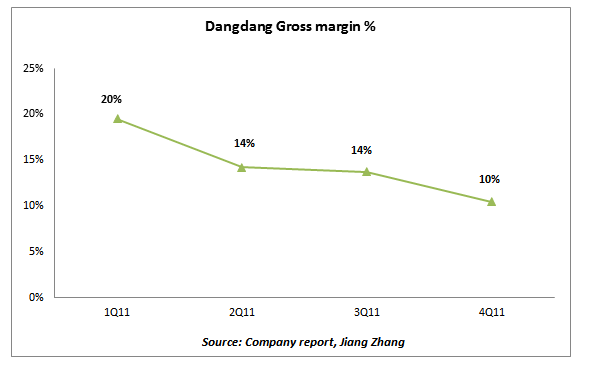 Disclosure: I have no positions in any stocks mentioned, and no plans to initiate any positions within the next 72 hours.