Investment thesis
ON Semiconductor's (NASDAQ:ON) stock shed ~40% in the past two months and is trading in the multi-year low zone, so I was naturally curious to see if it now offers a good value.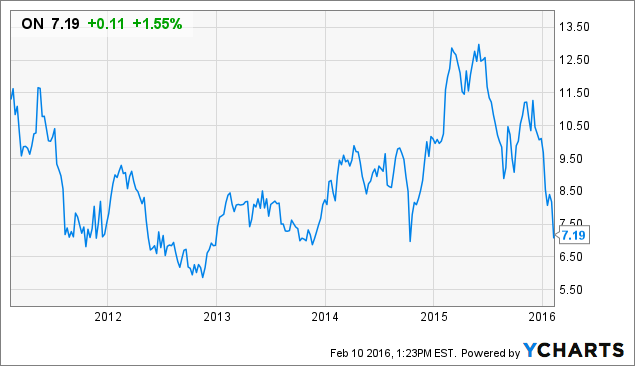 ON data by YCharts
When looking at simple stocks screeners, the company now looks reasonably cheap. And it certainly is very cheap compared to some other peers.
But digging below the surface reveals two things. First, ON Semiconductor is a bit less cheap based on a truly normalized FCF combined with the current outlook and the current size of the company. But the company is very cheap relative to some of its peers, most interestingly relative to Fairchild Semiconductor (NASDAQ:FCS), the company it is still trying to acquire with little success at its $20 offer price. Regardless, if the FCS takeover eventually happens or not, ON Semiconductor's stock has a significant upside of ~40% in the medium term of one to two years, with a near-term catalyst in almost any scenario.
If the FCS acquisition takes place, the valuation model changes as the combined entity will deliver higher FCF margins on higher combined sales, thanks to synergies and financial leverage. This will most probably boost the stock price. If ON is outbid and fails to acquire FCS, it will probably pursue other shareholder-friendly moves, such as an attempt to acquire another company or buy back more of its shares, which are much cheaper now following the slump. Such a buyback would deliver much better value to shareholders and boost EPS temporarily even if the company struggles to increase its top line and absolute level of net income or FCF. Nevertheless, in the long run, the company needs to grow in order to remain competitive.
To sum up my thesis, I believe this steep 40% fall in just two months and an even larger drop from the 2015 cyclical top price offer a solid speculative entry point for double-digit annualized gains for the next two years with some additional benefits described below, such as the FCS merger synergies or the free long-shot option of ON itself being acquired.
Why I think ON Semiconductor is cheap but not as cheap as it seems
On the surface, ON looks quite cheap already. The stock trades at a ~7.7x forward P/E and even the trailing 12-month figures don't look bad: 0.83x P/S and 12.7x P/FCF, 6x EV/EBITDA. So what's the caveat?
Where are we in the cycle?
First, this is a highly cyclical business and sales have begun to fall on a year-over-year basis. Most recently, they fell roughly 3% y/y for the final quarter of 2015. And the next-quarter outlook calls for a y/y revenue drop of ~5.7% at mid-range. So it seems the company's sales have first peaked in the summer of 2011. Then they have been lower until the third quarter of 2015 when they seemed to peak again. So sales are now at a lower level than five years ago, and the company's own forecast calls for accelerating downward trend (-6% y/y for Q1 2016). China and Japan are the main sources of weakness. The automotive segment is strong while the premium handset market is down y/y and industrial markets were weak as well.
During the most recent conference call, the management clearly stated that the macro environment "continues to be challenging and demand trends are subseasonal." In other words, although the company has noticed "steady improvement in booking trends in the current quarter," there is a risk that we will see a lower share price before we return to a more mid-cycle valuation.
However, I believe the pending acquisition of FCS or further buybacks offer a strong upside catalyst which should overshadow short-term cyclicality unless the macro situation gets really out of hand.
ON Semiconductor will carry on realizing its strategy regardless of the acquisition
Regardless of the FCS acquisition outcome, ON is planning to reduce its manufacturing footprint this year to reduce fixed costs. Moreover, the momentum in the strategically important growth segments of the automotive, industrial and wireless end markets continue to be strong as the company outpaced competition in growth in these areas even on an organic basis, with the acquisition of Aptina being left out. Design wins with new products should deliver continued outperformance in 2016. Interestingly, the product mix remains on a positive trajectory as it contributes positively to margins. However, the overall lower sales level due to macro headwinds results in lower capacity utilization that overwhelms the positive product mix effects and puts downward pressure on margins. Since the company plans to downsize its footprint this year, the margin pressures from lower utilization should subside.
Based on normalized FCF, ON Semiconductor is less attractive but still reasonably priced
The second reason why ON is not as cheap as it looks like is that the company's business model is to grow primarily through acquisitions. This means the company would make an acquisition (a big lump sum investment into CAPEX, goodwill and intangibles) and then naturally underinvest in CAPEX until the next acquisition. This CAPEX underinvestment is where ON is at the moment in the cycle as the FCS acquisition looms. The lower CAPEX/higher depreciation and amortization combination unrealistically boosts the conventionally calculated FCF metric.
Historically, the company has been more or less replacing depreciation and amortization with new investments.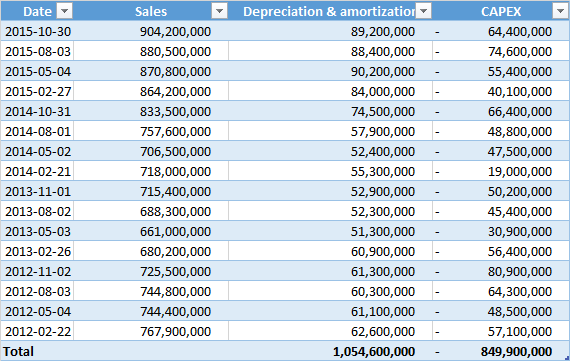 Source: Author calculations based on SEC filings
However, since 2011, the new CAPEX lagged depreciation and amortization by 20% on average, with the gap widening to ~40% in the most recent two years as D&A jumped while CAPEX lagged.

Source: Author calculations based on SEC filings
Using this adjustment, I arrive at a lower normalized FCF, which represents a long-term sustainable, mid-cycle level of FCF at roughly $200M. This represents a ~6% FCF margin on forward sales (2016) of $3.3B (assuming a ~6% y/y fall).
The DCF valuation using normalized FCF
Using this ~$200M FCF figure and applying a 10% discount rate, assuming zero top-line growth in the long run due to cyclicality and low margins, leads us to a fair value of equity of ~$10 per share, providing a very attractive ~40% upside from the current price of ~$7 per share.

Source: Author calculations based on SEC filings
Conclusion: Attractive price, very solid near-term catalysts
I believe ON Semiconductor is currently attractively priced even on a standalone basis, easily offering double-digit upside for the next two years.
Moreover, if ON acquires FCS, I believe the company is worth more than the current multiple due to the synergies and the larger combined size. If the acquisition doesn't take place, ON's price should rise anyway as it will want to do something. Either acquire another company soon or boost buybacks to improve the EPS numbers in another way.
Additionally, a speculative chance that ON Semiconductor itself could become a target of an acquisition adds a low-probability option that its price will double.
If investors have some doubt about the attractiveness of ON's absolute valuation and are skeptical of the merger benefits, they can still profit from this situation. ON Semiconductor is attractively priced relative to some other semiconductor stocks. Therefore, a safer way to play this discrepancy is to buy the company in a pair trade while selling some overpriced semiconductor stock with a similar size and profile.
The risks of further macro deterioration and entrance of the Chinese competition should be considered. Position sizing should reflect very high volatility in the stock, its relatively small size and cyclicality.
Disclosure: I am/we are long ON.
I wrote this article myself, and it expresses my own opinions. I am not receiving compensation for it (other than from Seeking Alpha). I have no business relationship with any company whose stock is mentioned in this article.