Athabasca Oil Corporation (OTCPK:ATHOF) recently announced a deal with Murphy Oil (NYSE:MUR) whereby Athabasca received C$275 million and a receivable for another C$225 million within five years. Management thought that the joint venture was one way to develop some of the properties. But it is also a way to put the company in play. Once Murphy Oil takes a bite, it may like the whole apple.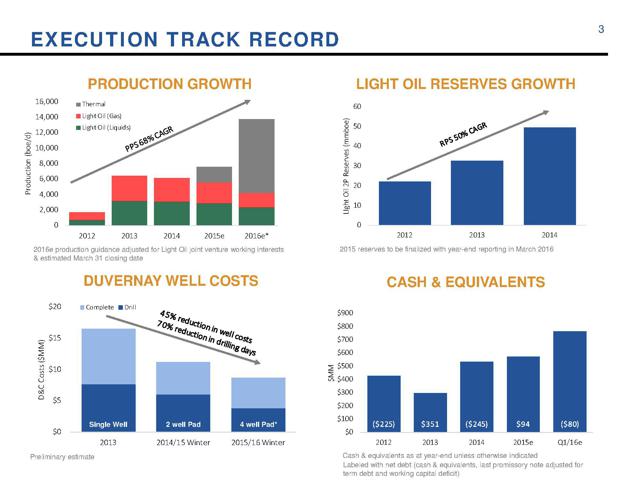 Source: Athabasca January, 2016 Corporate Update Slide
From the above slide, the company represents that it has a fair amount of liquidity. The financial statements show more than C$671 million in cash, a notes receivable of $134 million, and then another $100 million or so is available on the credit line.
The C$828 million in long term debt is fairly conservative when compared to the nearly $3 billion in shareholders equity. The problem is that the cash flow was a negative C$18 million for three months and a negative C$12 million for the nine month period. Last year the cash flow was a positive C$27 million at the nine month period. Those figures are going to be cause for concern with the lenders because this is really not the time for asset based loans. Plus the company has $550 million in senior secured notes due in 2017, with nowhere near the cash flow to service its debt. So that cash position is not quite as healthy as it looks. That may be one reason the company agreed to the joint venture with Murphy.
Plus the company made this announcement at their third quarter earnings release:
"So at Hangingstone, we're very pleased with the progress on the production ramp up. The capital for this phase of the project is now behind us, with current production in excess of 5,200 barrels per day. We are updating our December exit rate guidance at Hangingstone from 3,000 to 6,000 barrels a day, to 5,000 to 7,000 barrels a day. Once Phase 1 is ramped up to the planned 12,000 barrels a day, we expect operating cash flows to breakeven between $40 and $45 WCI, with a significant ability to provide additional cash flow to the company above these prices."
With oil prices much lower than they are now, and the ramp up that the company projected, this project will be an albatross for this company. At current pricing this project could be losing C$15 per barrel produced. At 6,000 barrels per day that would cost the company C$90,000 each day. Those losses could approach C$3 million a month. That is a very sizeable loss for a company of this size, and a very large swing from the profit that it was expecting from the project. It should be noted that the size of the loss will depend upon the current currency conversion with the United States dollar and any cost reductions obtained. Still, the picture does not look good for this project even under the most optimistic scenarios. In fact the company may need to close this project down until commodity pricing improves.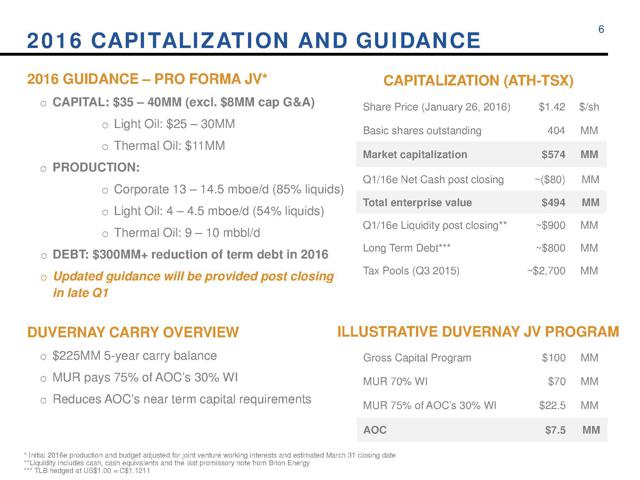 Source: Athabasca January, 2016 Corporate Update Slide
From the above slide, the joint venture agreement reduces the company's development costs substantially on two key properties while allowing the production to grow.
Murphy Oil, for its part likes the deal because it thinks that it can reduce costs to the point where the joint venture pays for itself. Murphy intends to pay that C$225 million note with proceeds earned from the project itself. That implies that Murphy sees some very low costs here because Murphy does not have a very robust hedging program and has announced that it intends to learn to live with "thirty dollar oil".
Evidently Athabasca was not quite current on the latest drilling techniques, and well designs, as it evidently did not see a way to make the project pay for itself without a joint venture partner. Given that the properties in the project already had more than 7, 000 BOE production that is quite a statement. Murphy basically stated that they see several ways to reduce future costs for the project. Plus Athabasca has already put a lot of infrastructure into place, so there are several advantages to this project of many competing ones for Murphy. Murphy thought that several joint venture locations had the potential of a thirteen to fifteen percent return with WTI $30 oil. The main concern now is can Murphy drive costs lower to obtain a reasonable profit with even lower WTI oil because oil prices have dropped below that WTI $30.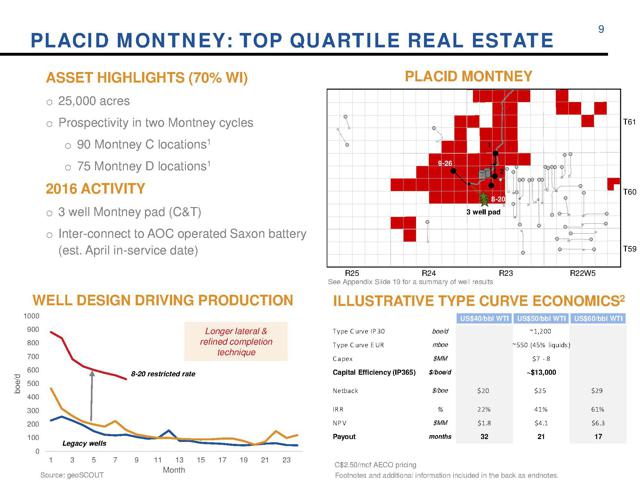 Source: Athabasca January, 2016 Corporate Update Slide
From the above slide, this play also has some good costs, but they may not be good enough with the current low commodity pricing. The company has made some fairly large production strides here, and has reduced well costs, now whether or not this trend can continue until the wells are profitable is another matter.
So even though the company was making good progress on a number of fronts, it still has costs above the current pricing of the resource produced. Therefore, the negative cash flow reported in the third quarter may well increase in the fourth quarter, and there will probably be a noncash impairment charge as well. Hopefully the joint venture will enable the company to accelerate the process of reducing its operating costs on all of its projects.
While the company has a goal of paying its debt down about C$300 million or so, that may not be feasible in the current environment, even though more than $500 million of debt comes due in 2017, and the rest will be due in 2019. The company needs to develop its properties more, so the joint venture with Murphy Oil is a step in the right direction. But Athabasca Oil needs to spend a whole lot more money than it has available, and management seems to realize that money spent may not come back for several years (if ever). So it is hoarding its cash and looking for a way to meet all of its goals with a minimal amount of cash expenditures.
Even the way the company is keeping track of its liquidity on the first slide shows how focused management is on this issue. Management is counting cash and near cash and subtracting all debt to come up with the net figure in the lower right hand corner of the slide for cash and equivalents.
Can the company make it through the current downturn with its large cash position and pay its debt? I have written about several companies trying to do just that and the results have not been encouraging so far. Athabasca Oil is worth very little to many companies or investors with no cash flow and some major debt payments within two years. Especially during a period of low commodity pricing. If oil prices were to rally, and the company then has some time to develop cash flow, then maybe the scenario would be different. Right now, that does not appear to be a highly probable scenario. So the best idea may be for this company to sell itself before there is a financial crisis. Knowledgeable managements often start two years before a significant debt payment to avoid fire sale pricing. After Murphy gains some experience with these properties, it may be the logical company to purchase Athabasca Oil.
In a similar vein, Canadian Oil Sands (OTCQX:COSWF) wanted to stay independent, but the current low commodity pricing appears to have changed the strategy of management. So the company is now being acquired.
Athabasca Oil may be in the same predicament. Their properties require a fair amount of cash to develop, and the commodity price drops have denied the company any reasonable amount of cash flow from the money it has already invested. The company can drop the capital budget and it has done so, and it can hunker down, but extended low pricing could easily put the company in dire straits even with the low level of debt that it has. Maybe Murphy Oil agreed to the joint venture because it smelled a good deal in the making. Time will tell, and because Murphy may end up knowing more about this company than other outsiders, its actions will speak a lot louder than words, and be a very good guide to the value of this company. Right now, values are only going down, so an offer for the company in this market could turn out to be quite a bargain for the right acquirer in the next upturn.
Disclaimer: I am not an investment advisor and this is not a recommendation to buy or sell a security. Investors are recommended to read all of the company's filings and press releases as well as do their own research to determine if the company fits their own investment objectives and risk portfolios.
Disclosure: I/we have no positions in any stocks mentioned, and no plans to initiate any positions within the next 72 hours.
I wrote this article myself, and it expresses my own opinions. I am not receiving compensation for it (other than from Seeking Alpha). I have no business relationship with any company whose stock is mentioned in this article.
Editor's Note: This article discusses one or more securities that do not trade on a major U.S. exchange. Please be aware of the risks associated with these stocks.