After taking an initial look at FireEye's (NASDAQ:FEYE) fourth-quarter report and FY2016 guidance, the company's performance is still quite impressive. While you would not be able to tell by looking at the stock price, which is currently down 5% in after-hours trading, in addition to a 65% loss over the last 12 months, the fact is that sooner or later investors will adjust their expectations and it will be hard to deny that FireEye is a fast-growing company with tons of upside, much like FEYE stock.
For a company like FireEye, the first numbers that really jump off the board are revenue and billings growth. For the quarter, revenue jumped 29% year over year to $184.8 million and billings were up just 21%. Of course, billings are an important metric for companies that have a subscription-based business model, as those billings are later realized as revenue over the course of a customer's contract. Hence, when billings underperform revenue growth, it suggests a future of decelerated revenue growth, in theory.
With that said, FireEye is clearly not the company it once was. Back in early 2014, FEYE stock came on strong in response to growth of 160% year over year, high-profile cyber attacks on the likes of Target (NYSE:TGT), Home Depot (NYSE:HD) and JPMorgan (NYSE:JPM), and the company's future as a whole just looked promising. While FireEye's future remains bright, with cyber threats not going anyway anytime soon, it is clear that increased competition is taking a toll.
Thankfully, a company's stock price and valuation are a reflection of both expectations and the company's operating performance. The fact is that the stock multiples for FEYE have fallen by an obscene margin over the last year. And because of that, FEYE stock is no longer priced as a company that needs to maintain 75%, 100% or 150% revenue growth.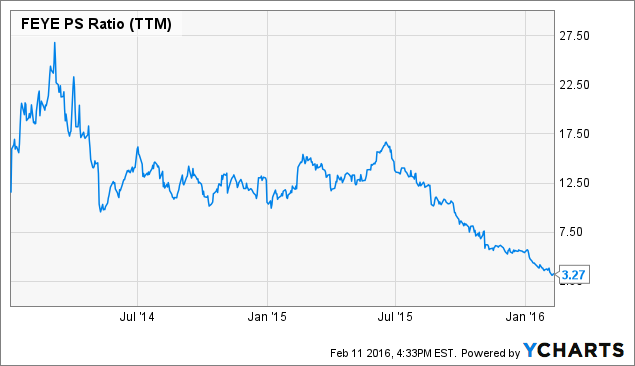 FEYE PS Ratio (TTM) data by YCharts
Based on FireEye's full-year outlook for revenue of $830 million this year, the stock is now trading at just 2.5 times FY2016 revenue. That is very cheap for a company that is guiding for revenue growth of 33% this year. In retrospect, FEYE's price/sales multiple is similar to that of big technology companies in mature markets that lack any growth whatsoever, like Intel (NASDAQ:INTC), and is completely disconnected from the 10x sales multiple that competitors like Palo Alto Networks (NYSE:PANW) support.
With that said, I'm not arguing that FEYE stock is worth the same premium as PANW, but it is worth far more than 25% of PANW's multiple. Even if the stock were to double, it would still trade at a big discount to other cybersecurity stocks and cloud-based service providers alike.
All things considered, I believe that FEYE is a terrific investment from this point forward, and would even argue that FireEye is a more desirable company today than it was in 2014. Yes, the company's year-over-year revenue growth has decelerated at a mind-boggling rate, but its margins have increased at a similar rate.
In 2014, FEYE had cash used by operations of $131.3 million. FireEye was growing fast, but just look at what the company had to spend in order to achieve that growth. In 2015, it achieved positive operating cash flow, $37 million to be exact - an improvement of $168.3 million from 2014. Looking ahead, management thinks that operating cash flow could reach $80 million this year - an improvement of more than 100% from 2015, and illustrating significant margin growth.
Wall Street may have liked the fast-growing, unprofitable, ridiculously priced FEYE, but I prefer the still fast-growing and cheap company with positive operating cash flow. Thus, if you take an non-objective view at the company and consider the margin improvements in place of the revenue growth deceleration, it is clear to see that FireEye is just as good today as it was in 2014. The big difference is the FEYE stock price, and that's why the stock is presenting such a great investment opportunity.
Disclosure: I am/we are long FEYE.
I wrote this article myself, and it expresses my own opinions. I am not receiving compensation for it (other than from Seeking Alpha). I have no business relationship with any company whose stock is mentioned in this article.