In an article published last December, I presented a contrarian view on Bank of America (NYSE:BAC). My argument was that too much rate hike excitement was priced into the shares of US banks and that a correction could be expected. The correction took place and, to be honest, it is on such a scale that even I was not expecting. From the highs of December, Bank of America shares are down 35% (that is more than 1/3 of its value lost in a couple of months!).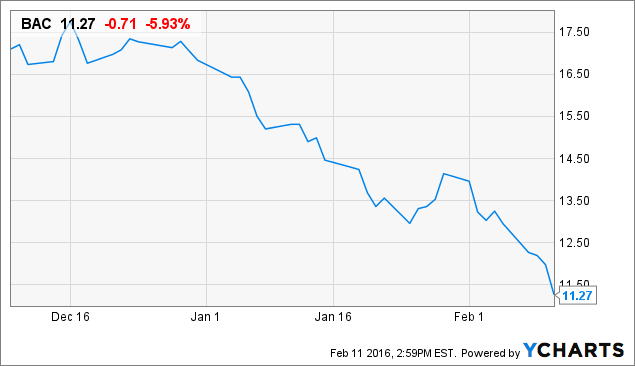 BAC data by YCharts
Such a significant move requires a reassessment of the situation, and the aim of this article is to try and understand if Bank of America currently represents good value at today's prices.
What could be causing the correction
First of all, it is worth trying to elaborate on the potential causes of such a significant correction. I see three reasons:
1) Broad-based sovereign wealth funds selling: Although there is no real hard evidence of this, it is obvious that several oil economies are struggling with their budgets. The vast accumulation (and investment) of financial resources has been reversed and it is putting pressure on international equity markets. I see an indication of this type of selling in the timing: end of year is usually when portfolio managers and investment committees take a hard look at their books and decide what actions need to be taken. The direction was clear even in December when the classic end of year recovery didn't take place and selling pressure mounted since then.
2) Energy exposure: The beginning of the new year was brutal for oil. In the first month-and-a-half, WTI crude lost 27% and put enormous pressure on energy stocks and bonds. Energy companies have represented a very large percentage of the borrowers in the last few years, thanks to the shale boom and the cheap credit availability. This is now becoming an increasing cause of concern among investors.
3) Rate hikes & growth: After the first rate hike in a decade, investors looked at banks as the best way to play the normalization of rates in 2016. Higher rates mean higher net interest income for the banks and therefore higher profits. Equity and bond market volatility is ruining Yellen's plans, and expectations are now for a much softer pace of rate hikes in 2016, thus hitting the hopes for a good recovery in interest income. At the same time, people are questioning the growth prospects for the current year and suggesting the possibility of a recession.
All of the factors above are significantly weighing on current sentiment. But what about hard evidence?
Energy exposure
One of the most often cited reasons for the weakness in US banks is the exposure to the energy sector. The most recent quarterly results from Bank of America provide some information in this respect. The following chart from the Q4 presentation shows BAC's net exposure to the energy sector.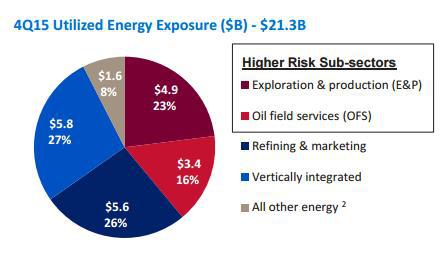 Source: Bank of America Q4 2015 Presentation
The overall exposure is currently equal to $21.3b: Of this, $13b is exposure to refiners, integrated businesses and storage/transportation. These are all stable businesses and some (such as the refiners) are actually benefiting from low oil prices. Exploration and Oil Services are the high risk areas of the energy exposure and represent $8.3b of exposure. That is less than 1.5% of the commercial credit exposure and even a 20% loss on this book would be less than 10% of the 2015 pre-tax profit. Another interesting piece of information is available in the supplemental quarterly information.

As you can see in the extract of the exposure table, energy-related credit exposure has been declining both for utilized and committed credit over the last 12 months. Although the decline is not massive (-10.8% YoY), it becomes significant in the context of a commercial credit exposure increased by 10.5% over the same period of time. This indicates good risk management practices and great timing in reducing the exposure to an increasingly riskier sector.
Growth fears
The other element that I'd like to address here is the risk of a significant slowdown and how that could impact Bank of America. Overall, economic numbers have not been particularly negative in the last few weeks, but markets seem to be moving lower every time oil prices take a plunge. Is a declining oil price really that bad for the economy? It is certainly bad for the energy sector, which represents 6.5% of the S&P 500. However, that is great news for a lot of other consumer-facing industries as input costs are lower and consumers have an increasing amount of discretionary cash to spend. According to a recent analysis by the American Automobile Association, US drivers saved a total of $115b on gasoline in 2015, equivalent to $555 for every licensed driver. Surely, not all of those savings will be put back into the economy, but even the part that is saved represents a benefit for banks in the form of service revenues (more savings in investment accounts) and a more solid retail borrower.
Conclusions
Even though markets can stay irrational for an extended period of time, I believe that from a fundamental point of view, the correction in BAC shares brought it from slightly overvalued (the initial reason for my contrarian call) to undervalued, now on a 2016 expected P/E of 7.5x at the current price of $11.30. Energy credit exposure seems to be under control at the moment and the potential damage in that regard seems to be limited, while the collapse in the oil price is making the American consumer a safer borrower. For all of these reasons I believe that, for those brave enough to withstand the current level of volatility, it is now time to cautiously approach Bank of America once again.
Disclosure: I am/we are long BAC.
I wrote this article myself, and it expresses my own opinions. I am not receiving compensation for it (other than from Seeking Alpha). I have no business relationship with any company whose stock is mentioned in this article.