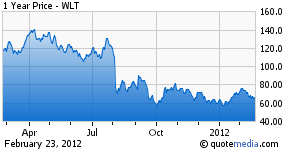 In this piece on Walter Energy, (NYSE:WLT) I convey virtually the same message that was expressed in a prior article here on Arch Coal, (ACI), namely that analyst earnings estimates for 2013 remain too high. The same can be said for Peabody, (NYSE:BTU). However, unlike Arch, Walter is frequently the subject of takeover speculation. Therefore, when looking at a possible investment in this stock, I consider the two scenarios of fair value and a takeout premium price, (the price at which a takeout might occur).
Of the nine research reports on Walter that have been issued since February 21st earnings, six have an average revised 2013 EPS estimate of approximately $5.75 per share. Two of the other updated 2013 EPS estimates are still above $9 per share, which is probably too high. The consensus estimates for 2013 EPS, from 19 analysts, is $7.96, implying a P/E of 8.3x. However, applying a 10x multiple, (like I did for Arch) to the $5.75 figure implies a price of just $57.5. I bet Walter's earnings will be a lot closer to $5.75 than to $7.96.
While this simple analysis may appear to unfairly select from among the lowest revised EPS estimates, I think it's reasonable. All U.S. coal producers have either missed fourth quarter numbers, revised lower their respective outlooks, or both. Moving forward, I see little reason to hope that companies or analysts will raise earnings guidance for either 2012 or 2013 anytime soon. This year is turning out to be a year in which companies fight to maintain guidance.
Specifically, I don't see mining costs coming down for two key reasons. First, labor and materials costs are not declining. In fact, diesel costs have increased and will likely be a headwind in 2012, especially if they continue to rise. In the event of an oil spike due to Mideast conflict, coal prices would not necessarily move higher, but diesel prices certainly would, possibly by a lot. The second reason for continued elevated prices is that industry production plans still have risks to the downside, both planned and unplanned shortfalls.
With regard to Walter, much of this weakness in coal fundamentals may not apply because Walter sells premium low-vol hard coking coal and PCI. Does this mean that the company is immune to the negative fundamentals and sentiment? Probably not. Given the outlook for benchmark coking coal prices and Walter's higher than expected costs, there is little to look forward to on the earnings front. If the company executes this year, they will have good to very good margins, but not the great margins that the company should be capable of when things are going well.
In this recent article here I explained that if the second quarter 2012 benchmark coking coal price comes in at about $200 per metric tonne, then 2H 2012 benchmark pricing will have to average $250 or more for analyst earnings estimates to hold up. Otherwise, earnings cuts will likely be necessary, especially for Walter. This is why I believe that the ONLY reason to own Walter stock today is for a possible takeout of the company.
There has been plenty of speculation of a takeout. BHP, (NYSE:BHP) and Anglo American have been mentioned, as has Cliffs Natural Resources, (NYSE:CLF). Peabody makes a lot of sense as an acquirer, but Peabody has said that they are not looking to buy U.S. assets. Canada's Teck Resources would benefit from a merger with Walter Energy. Teck's coking coal assets are all in Canada. Walter's assets in Alabama would be a prudent move to diversify.
If one thinks that a take out is reasonably likely in 2012, then the question is, at what price? Last summer, it was believed that Walter's board was holding out for a price of $150 per share as the stock trended lower and lower from a 52-week high of $140, through $100, on its way to $70 per share. This year, management appears to believe that many of the geological and production issues are behind them. Thus, the board is probably still holding out for an aggressive price.
Assuming that a potential suitor would look through 2012 and even 2013 earnings and production, I think that a take out at $100 per share is feasible. Having said that, I doubt that Walter's board would recommend holders accept that price, but let's assume $100 is the price. If one believes that there's a 50% chance of a takeout at $100 per share and a 50% chance that the stock languishes at a fair value of approximately $57.5 per share, then a possible weighted average price target of $78 seems reasonable.
As for me, I think that the chance of a take out of Walter this year is less than 50%. I'm neither a buyer or a seller of WLT stock at $66 per share. At $60, I would revisit my thesis. Finally, one way to articulate a position in WLT is to sell put options on the stock. I did that twice last year for good returns. Since Walter is thought to be, "in play," the market may perceive there to be a floor price of perhaps $50 per share. Selling $45 or $50 strike put options could become compelling if the stock trades lower.
Disclosure: I am long ACI, ANR, CNX, BTU, PCX, OTCPK:CLNMF.