HCP issued soft guidance for 2016 leaving investors disappointed and concerned, with a number of healthcare REITs selling off including HCP's 14.8% decline. Other notable names in decline were Genesis GEN, Omega Healthcare Investors OHI, and Capital Senior Living CSU.
On Monday Brookdale Senior Living BKD, one of Welltower's HCN largest partners whom operates 7.3% of the REIT's portfolio, reported Q4 EPS of -$0.94 and a net loss of $2.48 per share for the full year 2015. some investors took this opportunity to snap up more shares, others have abandoned ship. While this is certainly bad news to say the least, let's look at what in more detail what's happening now and whether that impacts the underlying thesis of what makes Welltower a great investment in the healthcare REIT sector.
Brookdale's woes stemmed from a lack of revenue growth, in fact a decline actually of 0.8% in its senior housing. This was due to occupancy rates experiencing a decline of 1.5%. While there was a 1.9% increase in revenues per unit, it was clearly not enough to offset the declining occupancy rates. Things look even worse when it's shown that on a same-community basis occupancy rates fell 1.9%.
This is certainly nothing to ignore, but it is a temporary setback and I believe that time is on the Welltower's side with the aging demographic makeup of the United States and the rest of the world and their current stake in the US healthcare real estate market.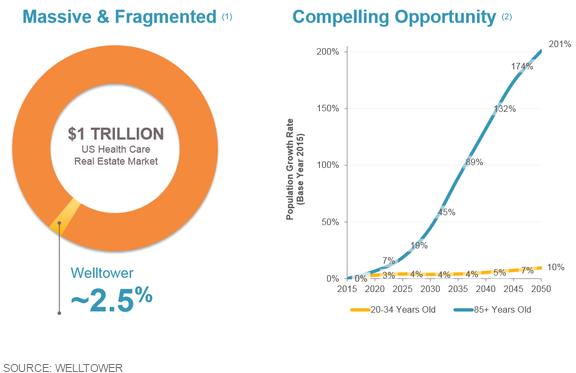 It is important also note that Welltower has locations outside of the United States in Canada where they are partnered with the 2 largest operators and in the United Kingdom where they are partnered with the UK's top private operators. Each of these countries have aging demographics as well.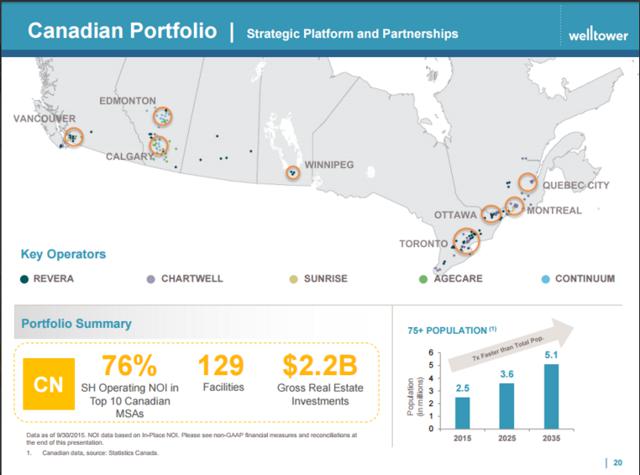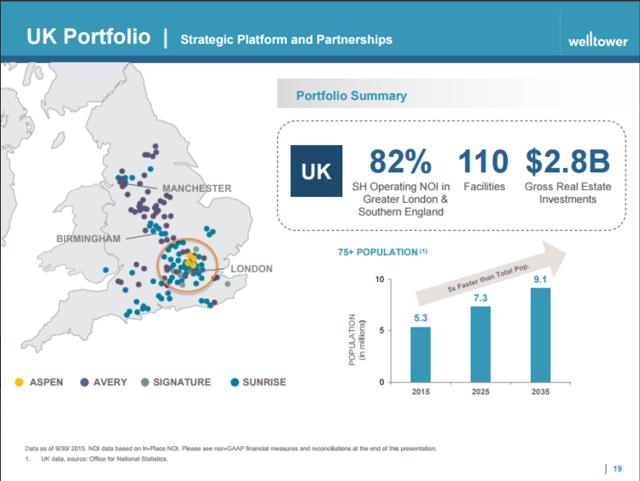 Also investors should find peace in Welltower's strong balance sheet and favorable financial ratios.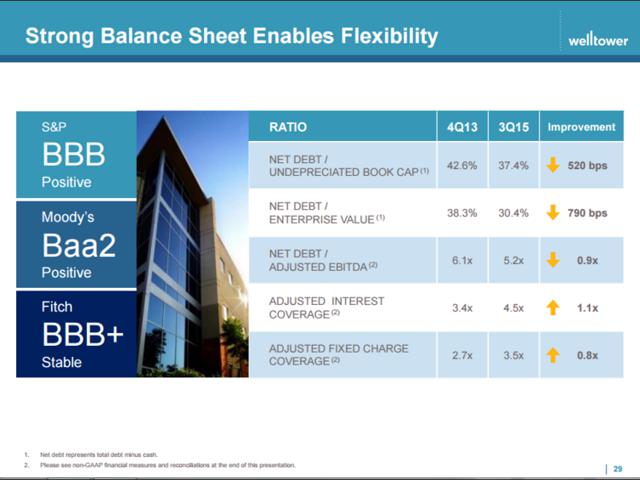 So take a moment and review the scenario at hand before making a break for the exit. I think this an opportunity for long term investors (such as my 27 year old self) to add or initiate a position in HCN as it is now yielding a solid 6.21%. I am anxious to see what HCN has in store for its investors with its upcoming earnings report, and should it be unpleasing and result in even lower share prices I will be initiating a position in my Roth IRA.
Disclosure: I/we have no positions in any stocks mentioned, and no plans to initiate any positions within the next 72 hours.
I wrote this article myself, and it expresses my own opinions. I am not receiving compensation for it (other than from Seeking Alpha). I have no business relationship with any company whose stock is mentioned in this article.