Business Summary
Barnes & Noble (NYSE:BKS) is one of the nation's largest booksellers providing customers ways to trade books, textbooks, magazines, newspapers, and other content across its multi-channel distribution platform. The Company's operations are divided into two segments: Retail and NOOK. The Retail segment operates 648 stores, an eCommerce website, and Sterling Publishing, which is a leading publisher of non-fiction trade titles. The NOOK segment includes the Company's eBookstore, digital newsstands, and sales of NOOK devices and accessories. On August 2, 2015, Barnes & Noble completed the spin-off of Barnes & Noble Education (NYSE:BNED).
Why the company is undervalued?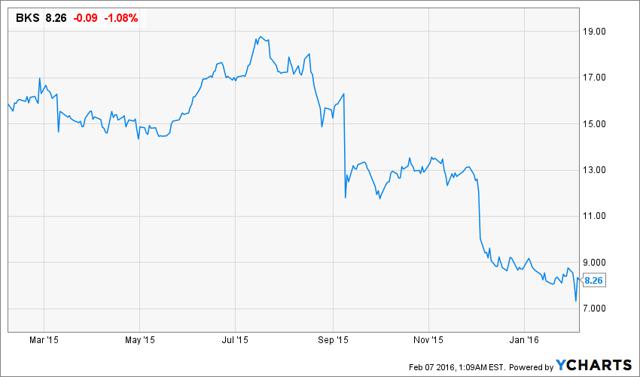 Source: YCharts
BKS opened on January 2, 2015 priced at $15.33 and closed on December, 31 2015 priced at $8.71, performing -43.18% that year. As a cause of this decline, we have identified three major events that caused an overreaction by the market, and thus an investment opportunity that can be demonstrated in our "What-If" EBITDA model. In general, these events significantly reduced BKS' EBITDA (TTM) over the past year. First, the spin-off of Barnes & Noble Education took a source of EBITDA away from the company that contributed 45% and 27% to BKS' EBITDA in FY2014 and FY2015, respectively. Second, the NOOK business has been a total failure and has been substantially reducing the company's EBITDA. Third, there have been rumors that Amazon (NASDAQ:AMZN) is going to open 300-400 brick-and-mortar stores, gaining BKS' market share, as well as the perception that the industry is going to be dominated by Amazon, Apple (NASDAQ:AAPL), and Books-A-Million (NASDAQ:BAMM). The stock currently has an attractive dividend yield of 6%, and is trading at an EV/EBITDA multiple of 3.5x. This is one of the lowest multiples historically, and we believe the market is ignoring both the opportunity to invest in a great business and a number of catalysts that will improve BKS' EBITDA and other key measures. Note that Leonard Riggio purchased 1,000,000 shares in September 2015 at an average price of $12.50, and Director Scott S. Cowen recently purchased 5,000 shares in January 2016 at a price of $8.28 per share.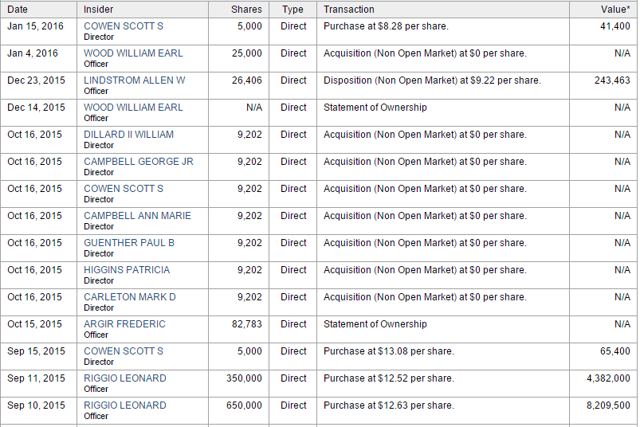 Source: Yahoo Finance
Below we will discuss each of BKS' segment's performances so we can identify the catalysts, and then understand our "What-If" EBITDA model.
BKS Retail Segment - In general, the company's Retail segment has been doing fine, approximating to an inflection point where EBITDA has began stabilizing, as well as core comparable sales. The arrival at an inflection point has been offset by delays in its recently launched website BN.com, several costs related to the BNED spin-off, and the process of closing underperforming stores.


Source: Barnes & Noble website; table by author
On January 7, 2016, the Company reported a core comparable sales increase of 1.6% for the second year, demonstrating that the Barnes & Noble brand remains strong. As a matter of fact, core comparable sales do not include BN.com sales. The company has diversified its source of revenue with educational toys, experiencing growth of 14.9%, 17.5%, and 16% in the last three quarters, respectively. The expansion to educational toys is driving traffic to stores because the Company is selling hard-to-find merchandise.
Nook Segment - The NOOK segment has performed badly, with lower sales quarter over quarter. NOOK EBITDA was $(217,604) and $(86,272) in FY2014 and FY2015, respectively. Angry investors and analysts recommended that the Company should slash the NOOK business, but we disagree. The book industry is transforming to an oligopoly, where the survivors will be those who can provide reading content via physical books, e-books, and reading devices. The study titled "Designing Books For Tomorrow's Readers: How Millennials Consume Content", as well as other articles and studies available on the internet, support our view of the industry's transformation. Fortunately, BKS' management is aware of the industry's future and will continue with the NOOK business. In the last five quarters, management has been saying in its quarterly earnings calls that they will "continue with the NOOK digital business, reducing the cost structure", which gave us confidence in the expectation that the company will continue providing reading content via different channels in order to continue competing in the industry.
On June 4, 2014, the NOOK segment entered into a commercial agreement with Samsung (OTC:SSNLF), where the technology giant would develop, co-brand, coordinate customer service for the co-branded device, and fund a marketing fund at the initial launch. Under the agreement, NOOK committed to purchase 1,000,000 co-branded devices from Samsung within 12 months. This agreement sounded perfect at the moment, because it was going to allow BKS' management to focus on the Retail segment. However, there was one problem: the Amazon Fire price versus the NOOK price. Amazon began selling its reading devices at such low prices that we believe NOOK devices became less attractive in consumers' minds even though they were better-quality products, resulting in lower sales. This agreement was extended until June 2016 due to low device sales.
(Source: BKS's SEC filings; NOOK TTM EBITDA calculated by author)
Catalysts
NOOK EBITDA loss reduction and Samsung agreement end
NOOK's TTM EBITDA loss is $(82.79), reducing 30% of BKS's TTM EBITDA (adjusted for the BNED spin-off) of $276.88. These losses are unacceptable for shareholders, but fortunately they have been in decline, and management has been committed to reduce the EBITDA losses. Year to date, we have seen an EBITDA loss reduction of 48%, demonstrating management's commitment to reduce NOOK segment losses.
(Source: BKS's SEC filings; TTM EBITDA calculations by author)

(Source: Barnes & Noble website; table by author)
Another strategy to reduce NOOK EBITDA losses that management implemented is to finally migrate NOOK within BN.com systems in the second part of this fiscal year, and it expects the cost benefits of this transition to begin in Q3 and Q4 FY2016. These initiatives should have a major impact in FY17.
We also expect that the Samsung agreement should end in June due to the price discount strategy NOOK is implementing. The end of this agreement should give the Company the opportunity to partner with new tablet developers who can evaluate which devices could work better for its customers. Due to management's commitment to reduce NOOK EBITDA losses, we believe the segment will sell cheaper devices to compete with Amazon devices. However, to be conservative in our "What-If" EBITDA model, we assumed the NOOK business will continue with negative double-digit operating margins in the next four fiscal years.
In summary, we believe NOOK EBITDA losses are going to be reduced between $(40) and $(10) million by FY2019, lifting up BKS EBITDA up to $307 million by the same date.
1. BN.com - The launch of the new redesign website in June 2015 could make BKS gain previously lost market share from Amazon and Books-A-Million online customers. This new website has better search capabilities, and it will certainly enhance customer experience, resulting in more sales in the future. In general, the website is more user-friendly when compared to the previous platform. We are not saying the BN.com website will become the leader among its competitors (which is clearly Amazon). Instead, we are saying that we can see a positive impact in the near future in terms of sales because it will help retain customers and attract new ones from other websites. We should also point out that the new website will help to reduce NOOK costs, and BKS' EBITDA should benefit from this. The graph below from Google Trends demonstrates that BN.com has seen an increase in Google searches since its launch in June 2015, with a peak at the end of each year due to the holiday season. In the 2015 holiday season, the website seen the highest number of searches since 2012.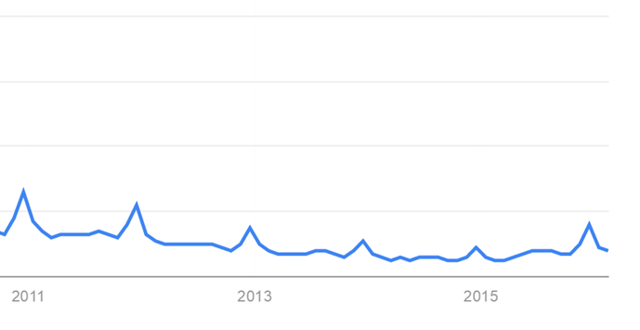 (Source: Google Trends)
2. $50 million repurchase program and other potential repurchase programs - On October 20, 2015, BKS announced a $50 million repurchase program that will have an impact on its stock price. The recently approved repurchase program does not have an expiration date, so we calculate all possible scenarios. Because of the low-capital intensive nature of the business, we believe the Company could enter into other similar repurchase programs if it is able to maintain the conservatively projected EBITDA, as NOOK's EBITDA losses should be reduced and a stabilization of the Retail segment EBITDA is expected. In the "What-If" EBITDA model, we include another $50 million repurchase program that would begin in FY2018.
The "What-If" EBITDA Model
Projections (%)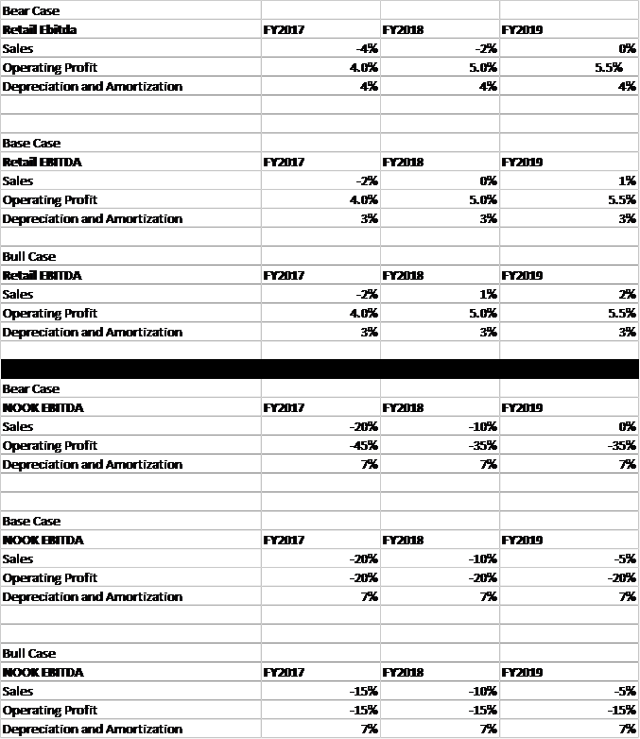 (Source: BKS SEC filings; table by author)
Projections (in millions of USD)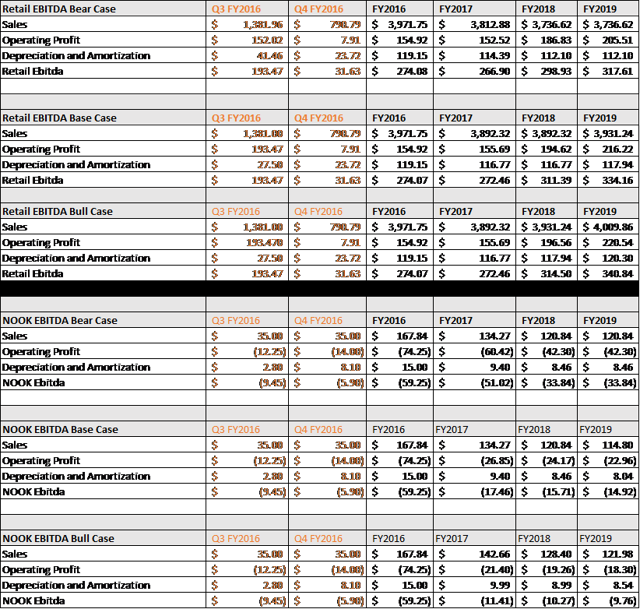 (Source: BKS SEC filings; table by author)
EBITDA Scenarios (in millions of USD)

(Source: Table by author)
We apply a base-case scenario projection to calculate the two FY2016 remaining quarters.
Intrinsic Value per Share (in US dollars)

(Source: Table by author)
Time Frame
This stock is suitable for the long-term investor who has the stomach to support probable stock prices declines in the following two quarters. The stock price is positively correlated with the Company's TTM EBITDA, and it could take up to two quarters to see an improvement in this financial measure, and hence, a positive impact on the stock price. However, we believe it would not be a good idea to wait two quarters to buy the stock, because we can predict probable insider purchase activity at such valuation, positive comp sales, and a highly probable announcement of a more competitive reading device that could have a positive impact on the stock price.
Conclusion
Barnes & Noble's Retail segment EBITDA is near an inflection point, though it has been affected by a failing NOOK segment, which has significantly reduced the company's EBITDA. Fortunately, management is implementing the necessary strategy to continue gaining previously lost market share and reduce NOOK's EBITDA losses in order to propel the EBITDA. Our "What-If" EBITDA model demonstrates that BKS is very undervalued. Our target price is $15-19 for long-term investors.
Disclosure: I/we have no positions in any stocks mentioned, and no plans to initiate any positions within the next 72 hours.
I wrote this article myself, and it expresses my own opinions. I am not receiving compensation for it (other than from Seeking Alpha). I have no business relationship with any company whose stock is mentioned in this article.