Walmart (NYSE:WMT) recently shook up its portfolio of stores by announcing the closure of 269 units in the United States and abroad. Targeting the poor performers, the announcement also contained significant implications about the experimental Walmart Express store format.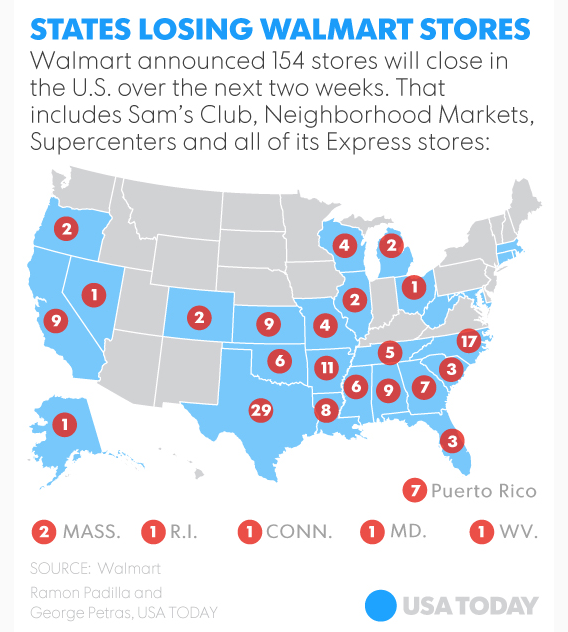 What Walmart Did Wrong
I could make a post-mortem laundry list of mistakes with the Express format and the near-impossible experience it tried to provide; and, indeed, many have already done that even when the project was just launching. In an article called 'Can Walmart Think Small?', writer Shelly Banjo strummed eloquently (sorry, just couldn't help it!) about how 20-lb bags of dog chow aren't what "bag-toting" city shoppers were into.
That was just the tip of the iceberg. The real problem was that Walmart was thinking "let's take the Supercenter concept into the city." That's why their inventory didn't work and, ultimately, the concept itself faces imminent demise.
These were the indicators that this project was bound to be a failure:
They expanded rapidly without waiting to analyze the performance of the smaller format stores.
A quick look at the chart below clearly explains the furious pace at which they expanded their smallest format.
They went for scale instead of picking a small region and testing the hell out of it. Had they done that, the Express format might still be a viable proposition.
This is the biggest problem which Walmart faces now - and will face in the future as well, unless they skillfully combine a measured pace of growth with simultaneous and ruthless performance analysis.
With a near half a trillion dollars in revenue, small additions will never have a meaningful impact on their bottom line; they need scale to do that. But if they scale too fast they are only going to keep exiting business opportunities. Walmart needs to aim small and miss small before they aggressively expand into areas that are unfamiliar to them.

Despite Walmart's quick moves into the urban segment, the small format discount concept does work. Target is already doing it; in an earlier article on the company called Post-Canada Setback, Target Eyes Urban, Hispanic Markets, I spoke about Target intending to move into cities in a big way. They already opened 15 smaller format stores in 2015 and will open several more this year.
What Path Will They Follow for the Future?
Walmart is the king of deep-discount retail. There's no question in anyone's mind about that. In 2014, they served nearly 260 million customers through 11,000 stores spread across 72 banners operating in 27 countries, with e-commerce websites in 11 countries.
Their three main store formats have been largely successful, but the Supercenters are, by far, their most profitable segment.
Of late, the newer format - Walmart Neighborhood Market - seems to have found a fit in the cities, and expansion is aggressively underway. In this information-rich article called Wal-Mart Goes Urban As 2015 Reveals New Opportunities, the author (yours truly) provides meaningful insights into why this phenomenon will take Walmart into a new era of success.
Essentially, Walmart's discount stores are being converted into Supercenters, and their Neighborhood Market units are on an aggressive growth path.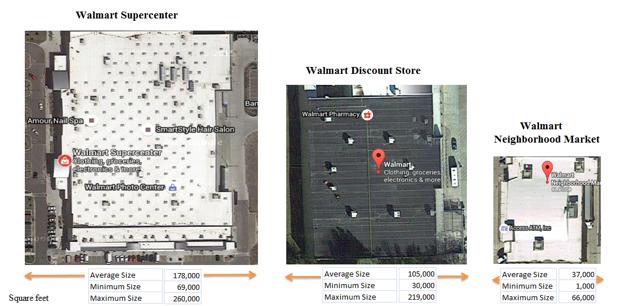 As you can see from the comparative analysis of store count by type below, Walmart is clearly focusing on two segments that have worked well so far - one in suburban America and one within metros and cities.
Investor-speak: Walmart's Biggest Strengths (and Potential Pitfalls)
56% of the retailer's revenues are from groceries and consumables, and I think the management team is finally seeing the truth of that. What I mean is, anything that goes against the grain of such a concept has a very small chance of success.
As such, the Neighborhood Markets should be an extension of Supercenters within city limits. That does NOT mean trying to fit a 20-lb bag of dog food into a 2-lb bag, but it does amount to providing the same kind of value for the average city shopper, which is their biggest challenge at this point.
Another important consideration is how these Neighborhood Markets are utilized to reduce the last-mile connectivity costs for their online customers. In the not too distant future, I see pizza-fast deliveries for stocked items that are urban-focused - with Supercenters filling the gap for big-ticket merchandise.
They've already lost a lot of ground with the closures, and it will be very hard for them to stay in front of the competition breathing down their necks in the urban and online segments.
On the bright side, however, the closures will allow them to streamline their growth focus rather than following the path of 'too fast, too furious' the way they did with Walmart Express.
In the press release the company also said:
"Walmart intends to open 50 to 60 Supercenters and 85 to 95 Neighborhood Markets in Fiscal 2017, which begins Feb. 1. In the same period, Sam's Club plans to open in seven to 10 new locations. Internationally, Walmart intends to open between 200 and 240 stores during the coming year"
Walmart does have lot of opportunities to exploit, but it needs to push for steady growth instead of trying to over-accelerate things. Fresh perishable items are their forte and possibly the biggest moat they have in the United States. Neighborhood stores can easily expand their reach deep into densely populated areas but that is going to take time; and Walmart needs to show patience - something that the company seems to be very short on at the moment.
While the closure of 269 stores is a human resource nightmare that will have serious repercussions in the months to come, it does serve stakeholder interest. That's what the management team is paid to do, even though that might sound heartless.
The mixed feelings about these closures are bound to create a near-endless echo of failure; but, through the murky haze of that storm-cloud, a golden opportunity is clearly visible for Walmart to fortify its position as the largest retailer in the world.
The company's bottom line is not going to perform acrobatic feats in the next year or two, providing us plenty of opportunities to add them to our portfolio for cheap.
They're welcome to their title of King of Retail, but when they stop being King of Groceries and Consumables, that's when I'd cut and run.
Disclosure: I/we have no positions in any stocks mentioned, and no plans to initiate any positions within the next 72 hours.
I wrote this article myself, and it expresses my own opinions. I am not receiving compensation for it (other than from Seeking Alpha). I have no business relationship with any company whose stock is mentioned in this article.