Perceptron (NASDAQ:PRCP) is a microcap company that makes automated industrial dimensional inspection and 3D scanning products. Approximately 80% of their sales go to the auto industry. Despite being a small company, Perceptron has subsidiaries in 13 countries and sells into the majority of the world's major automakers. Sales in fiscal 2015 were $74 million.
From an investor standpoint, Perceptron has been a disappointment over the last few years with a highly volatile share price and financial results. Although revenue has increased, margins have shrunk while administrative costs have ballooned. I believe this negative trajectory can be traced back to the appointment of a new CEO two years ago. This performance likely came to a head as the CEO was replaced a few weeks ago by the Chairman of the Board. Perceptron, subsequently, reported an underwhelming quarter and the stock cratered to $5. For perspective, the shares had reached a high of over $14 in early 2015. While this is clearly a disappointment to existing investors, I believe the shares are materially underpriced at the current valuation. My thesis is predicated on three tenets:
1) Downside protection
On a market capitalization of $47 million, Perceptron has $26 million in working capital and less than $200k in debt. In this regard, we could liquidate current assets and liabilities and get back roughly $3/share on our $5/share investment without getting any credit for plant and equipment, business relationships, intellectual property, and backlog, etc. Alternatively, we are only paying $2, or ~$20 million, for the ongoing business. Given the PP&E had an original cost of $24 million and the backlog stands at $40 million, this seems like an attractive bet.
Moreover, PRCP should see a meaningful influx of cash as they work down nearly $27 million in receivables over the coming quarters. As an example, from their most recent conference call "As of now, we have approximately $3.5 million of customer payments that we are awaiting proper paper work with a local taxing authority." In short, given PRCP's healthy balance sheet, I believe they have significant financial flexibility to weather the current storm and time to regain their former profitability level.This is especially impressive given the fact their biggest customer Volkswagen (OTCPK:VLKAF, OTCPK:VLKAY, OTCPK:VLKPY) is in turmoil, they have substantial business in China, and 68% of their backlog is OUS which has a deleterious FX translation effect.
2) Record bookings and near record backlog
Demand for PRCP's products does not appear to be an issue. Backlog stands near a record and bookings for the 2nd quarter were at an all-time high.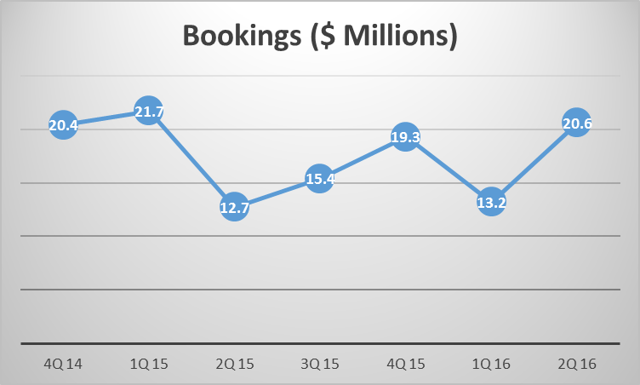 3) Massive cost cutting opportunity
Outside of a strategic event, this is the most important argument for material upside in the stock. The numbers are fairly startling. In FY 2013, PRCP earned $6.9 million in operating income on $61 million in revenue. In FY 2015, PRCP earned $0 operating income on sales of $74 million. What happened?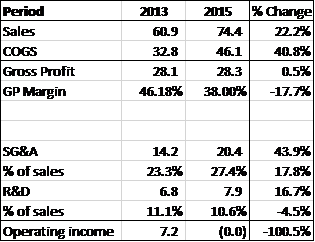 The most glaring observation is the 44% growth in SG&A doubled the pace of revenue growth over this period. The company's most recent presentation showed that $3.2 million of costs in FY 2015 were non-recurring (acquisition expense, new ERP system, etc.). Furthermore, the new CEO hinted at recurring cost cuts, calling it a "target rich environment."
The second observation I would make is that margins have eroded. Historically, gross margins have fluctuated, so 46% is probably too high and average while 38% is too low (margins in the last two quarters have been even lower). On the recent call, the new CEO again alluded to the fact that the company has ample opportunities to drive down engineering, procurement, and installation costs, thereby boosting margins closer to previous levels.
To show the operating leverage inherent in the model, below is an example of how operating profit potentially increases by recapturing half the margin percentage lost between 2013 and 2015, taking out the $3.2 million in non-recurring SG&A expense, and leaving revenue and R&D flat at 2015 levels. With only these modest improvements, PRCP would be generating in excess of $6 million in operating profit, leaving its current market capitalization less than 8x that number.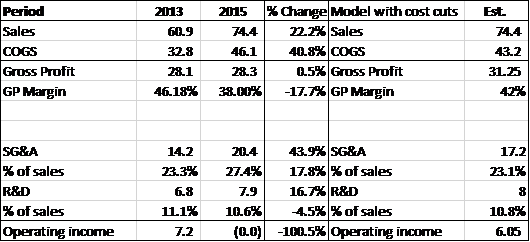 In conclusion, PRCP's strong balance sheet affords the investor a level of protection while demand remains strong despite macro and industry-specific headwinds. Given expectations are so low, if the new CEO can simply block and tackle on the initiatives outlined in the most recent conference call, I believe the stock could do exceedingly well from here.
Disclosure: I am/we are long PRCP.
I wrote this article myself, and it expresses my own opinions. I am not receiving compensation for it (other than from Seeking Alpha). I have no business relationship with any company whose stock is mentioned in this article.
Editor's Note: This article covers one or more stocks trading at less than $1 per share and/or with less than a $100 million market cap. Please be aware of the risks associated with these stocks.