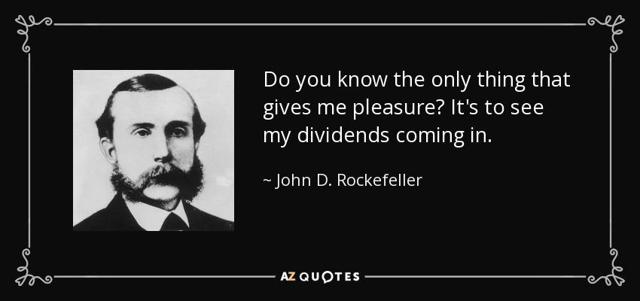 (Source: AZ Quotes)
"Do you know the only thing that gives me pleasure? It's to see my dividends coming in."
-John D. Rockefeller
If you're investing in dividend stocks for pleasure, not for business, at least admit that the benefit of your investments are in the dopamine boosts you get when you see a dividend deposit in your account, not in "beating the market." I believe that "business" dividend investors look at maximizing their dividend stock investments. And if you're in this business, you should be aware that no matter which stock you look at, almost every single one has a cyclical nature that you can leverage.
I mentioned the cyclical nature of Archer Daniels Midland (NYSE:ADM) in my last article on the stock. Specifically, the commodities ADM sells are in their down cycle, making ADM a poor investment moving forward. Yet I also mentioned ADM likely having hit its most logical bottom: $32; any lower and the yield becomes too attractive, causing investors to buy, which in turn sends the stock into an equilibrium.
In other words, I expect ADM to trend sideways at around $32 for the time being. Trending sideways isn't bad for a dividend stock. However, you are paying a large opportunity cost to hold ADM while it continues to underperform the market.
Food for Thought: Discovering Patterns in ADM
I've written several articles in the past on how both traders and investors can use statistical patterns in stocks to define trading and investment strategies. For example, if you knew that ADM consistently outperformed during a certain season, you could buy options or short-term long positions on ADM at that time. Likewise, investors can assign their dollar cost averaging investment strategy to buy before that outperformance phase, thereby acquiring more shares for less money.
Today, I look at a pattern I have found in ADM. I believe this is timely, as the ex-dividend date has just passed, causing some investors to ask whether ADM is worth holding onto. I know I cannot convince hardcore ADM investors to drop the stock, but my hope is to at least help you redefine your buying strategy so as to obtain more shares of ADM for less money.
The Seasonal Strategy
As an agriculture-based company, Archer Daniels Midland is susceptible to weather and crop seasonality. I do not claim to be an expert on this seasonality - and all the better because I can look at the stock objectively. My previous articles that have looked at how a stock moves after earnings reports have helped investors save thousands of dollars by showing them to buy at the right time.
So what is the right time to buy ADM? According to my study, it's November, which happen to be both the month that contains an earnings report and the month on which an ex-dividend date falls. By buying in November, you gain exposure to both the earnings boost and one quarter's worth of dividends.
The following strategy assumes you merely buy ADM and hold for November, dropping the stock for the rest of the year. Remarkably, this strategy outperforms holding ADM in terms of opportunity cost (gain over the time spent holding ADM) and Sharpe ratio: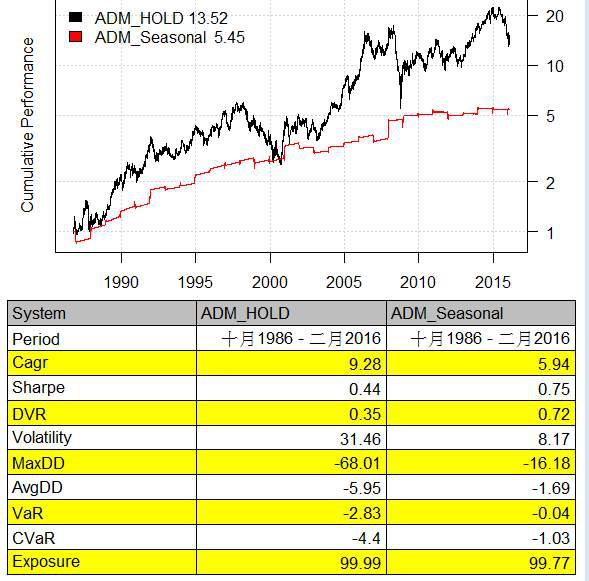 Compared to the buy-and-hold strategy for which you hold ADM year-round, this strategy only has you holding ADM 8.3% of the time - one-twelfth of the year. This frees up capital for other investments but allows you to see 40.3% of the gain of ADM (this includes dividends). That is, this strategy is 5x more profitable than buy-and-hold.
Because I've written many of these articles and read the feedback from investors, I should point out that you do not need to be a trader to use this strategy. If you're a die-hard ADM investor, you can simply set your dollar cost averaging strategy to buy on November 1 of every year. However, you will be running an inferior strategy if you insist on holding year round.
If you're worried about tax reasons, realize that most of the gains of the buy-and-hold strategy came from dividends, which are cashed as income. That is, holding ADM for a long time to reduce taxes is nonsense. The following chart shows why: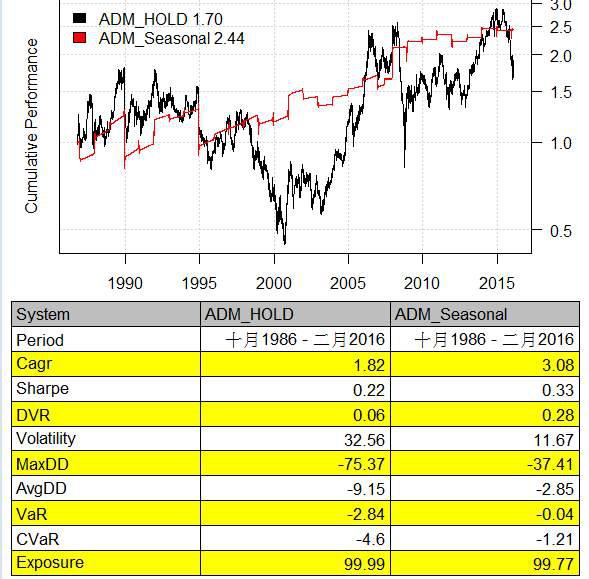 What you are looking at is the strategy versus buy-and-hold without the dividends included in the respective returns. This seasonal strategy still beats buy-and-hold on opportunity cost, Sharpe ratio, and now returns! Thus, if your worry is maximizing the gain you get from the stock itself, the seasonal strategy wins, even after accounting for taxes if you're in a tax bracket under 33%.
Do I Buy?
The conclusion of this study is that you should buy, but only in November. Take the gain from the stock and the dividend, selling in December. The opportunity cost here is too great.
That said, as I stated in my last article, ADM is likely at a stable bottom. If you believe that this cyclical industry will soon rebound, by all means, buy ADM and earn the dividends while you wait for the rebound. But overall, the seasonal strategy is a superior way to play ADM, even if it's not a pure investment.
Overall, ADM is a mixed bag. While it is a decent long-term hold for a macro play on the food market, you eat much in opportunity cost here as a dividend stock. With unimpressive earnings growth and this statistical report showing ADM better for short-term holdings, I would advise against holding ADM - not because it's a bad company but because you have better investment options.
If you're holding ADM because they've been good to you in the past, have the decency to admit that you're holding it for pleasure, not for business.
Request a Statistical Study
If you would like for me to run a statistical study on a specific aspect of a specific stock, commodity, or market, just request so in the comments section below. Alternatively, send me a message or email.
Disclosure: I/we have no positions in any stocks mentioned, and no plans to initiate any positions within the next 72 hours.
I wrote this article myself, and it expresses my own opinions. I am not receiving compensation for it (other than from Seeking Alpha). I have no business relationship with any company whose stock is mentioned in this article.