After yesterday's sell-off, stocks are getting an early lift this morning from positive developments in Syria and also speculation about OPEC/non-OPEC coordination. Given the late great concern about the economy expressed via stock market decline over the last month and a half, today's Retail Sales data is still pivotal for direction. If the data is well above economists' expectations, stocks should benefit greatly. If the data is well below economists' expectations, look for capitulation in equities to a new low mark. And if we're about around expectations today, then stocks should continue their range bound meandering but toward the upper bound of the range.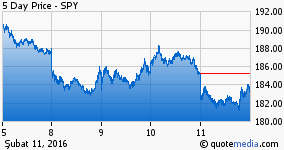 5-Day Chart of SPY at Seeking Alpha
It's been a rough week for equities, with the SPDR S&P 500 (NYSE: SPY) down 2.7% through Thursday. We anticipated the decline on Fed Chair Yellen's testimony, but the Fed chief still surprised us with her serious discussion about negative interest rates. Stocks were really shaken by a black swan of the Fed's own making, as a negative Fed Funds Rate is not a realistic probability for 2016 for various reasons. It's mostly because the Fed could still reverse its current monetary policy course of tightening and cut rates back to zero and reinstate quantitative easing before considering negative rates. Even then, in-depth study and serious mechanical changes would need to occur to make it possible, and so at least a year if not longer would stand in the way of any such action.
| | |
| --- | --- |
| Security Sector | 02-11-16 |
| SPDR S&P 500 | -1.3% |
| SPDR Dow Jones (NYSE: DIA) | -1.6% |
| PowerShares QQQ (NASDAQ: QQQ) | -0.1% |
| iShares Russell 2000 (NYSE: IWM) | -1.1% |
| Vanguard Total Stock Market (NYSE: VTI) | -1.2% |
| Financial Select Sector SPDR (NYSE: XLF) | -3.1% |
| Technology Select Sector SPDR (NASDAQ: XLK) | -0.3% |
| Energy Select Sector SPDR (NYSE: XLE) | -0.4% |
| Health Care Select Sector SPDR (NYSE: XLV) | -1.6% |
| Consumer Discretionary Select Sector SPDR (NYSE: XLY) | -0.1% |
| Consumer Staples Select Sector SPDR (NYSE: XLP) | -0.8% |
| Utilities Select Sector SPDR (NYSE: XLU) | -1.8% |
| Materials Select Sector SPDR (NYSE: XLB) | -2.2% |
| Industrial Select Sector SPDR (NYSE: XLI) | -2.0% |
| iPath S&P 500 VIX ST Futures (NYSE: VXX) | +6.1% |
| SPDR Gold Trust (NYSE: GLD) | +4.0% |
| United States Oil (NYSE: USO) | +0.4% |
At 7:00 AM ET as I started this article, U.S. equity futures were looking toward a positive open and the SPDR S&P 500 was indicating up 1.1% in the premarket, after yesterday's 1.3% fall. Stocks were sold heavily to the bottom bound of an extended range yesterday; it is effectively the edge of abyss, after which are significantly lower lows.
Equities did recover into the close yesterday, led by a turn in oil that took the iPath S&P GSCI Crude Oil (NYSE: OIL) into positive territory for the day after an earlier steep decline. The OIL is indicating a higher open again today, up approximately 1.8% in premarket activity. That is because crude futures were higher, with WTI Crude Futures for March up 5% at 7:00 AM ET. That is the result of another rumor reported yesterday of imminent coordination on oil production between OPEC and non-OPEC members. But it's also on an important development today, with U.S. Secretary of State John Kerry and Russian Foreign Minister Sergei Lavrov announcing a plan for a cessation of hostilities in Syria in one week's time. We will see what develops, because recent gains by Assad may not be digestible by his opponents, who weigh heavily in whether peace breaks out or not.
Certainly the prospect of peace in Syria, given what appeared to be the development of a confrontation between Arab states and the Iran/Russian backed Assad regime, is a strong positive for energy and for stocks. It's not good news for gold, which may want to give back some of yesterday's big gains. The dollar index is also edging higher this morning, working against gold.
Look for today's Retail Sales data to prove pivotal for stocks, despite their early indication, as confirmation about the economy is needed for any move. Economists surveyed by Bloomberg expect the Retail Sales read for January to show an increase of 0.2%, versus December's disappointing 0.1% decline. When excluding autos, economists are looking for a gain of 0.1%, versus the 0.1% decline in December. And when excluding gasoline and autos, economists foresee a better gain of 0.3%, versus no change reported for December. If data is above expectations, stocks will have all they need to march back up toward the higher bound of the latest range. If, however, the data disappoints significantly, then we could break out lower from recent levels. If the data is about in line, given the latest developments in Syria, we should still move higher, though with less enthusiasm. The negative interest rate fallacy will continue to haunt equities in that case, though I expect it to be dispelled over time. Look for the reported retail sales data in the comment section of this article, as I will report the result there for readers when they are available. I cover markets closely and publish regularly, and so invite relative interests to follow my business column here at Seeking Alpha.
Disclosure: I/we have no positions in any stocks mentioned, and no plans to initiate any positions within the next 72 hours.
I wrote this article myself, and it expresses my own opinions. I am not receiving compensation for it (other than from Seeking Alpha). I have no business relationship with any company whose stock is mentioned in this article.