By Parke Shall
International growth is extremely important to Ford (NYSE:F) at this stage in the game. We wrote an article earlier this week talking about why Ford might be a name worth looking at during this economic downturn. Today, we are going to reiterate that view and base it on continued outperformance in Europe.
The worries over the last few months have been that China is slowing down and that vehicle sales in China would follow. Contradicting this were the statements of numerous CEOs who do business in China, including Starbucks' (NASDAQ:SBUX) Howard Schultz, who commented during his last earnings call that he thinks the Chinese middle class remain strong, despite the stock market. Remember, the stock market isn't always the economy and the economy isn't always the stock market.
Based on that, we made the case that Ford, at its insanely low multiples as a result of the broader US sell-off, should be considered if you are looking to buy and hold the company for a long-term investment and reinvest your dividends. This is been the investment approach we have advocated for over the last year, and it will continue to be the investment approach that we advocate for as we move forward.
Ford's last quarter and full year for 2015 were both very impressive. As we have argued all year, things worked out for the company because international sales perched themselves on top of a strong domestic backbone and segments outside of the United States began to show a profit. Over the course of the last year, we had been following sales data from China as well as European auto registration data to try and make sure that we were not seeing any month-to-month aberrations in the way Ford is doing business.
This morning, it was announced that Ford continues to show momentum in Europe, with SUVs and pickups continuing to lead the charge,
Ford of Europe reports sales rose 10% to 96,900 units in January.
SUV sales were strong during the month, led by the Kuga EcoSport, and Edge models. The automaker expects to grow SUV sales by 30% on the continent in 2016.
Ford's market share in Europe improved 20 bps to 7.9%.
Things have gotten very hairy over the last couple of weeks. Everybody seems to be on edge and with markets continuing to be volatile overseas, US equities continue to be negatively affected; US automakers have gotten his especially hard.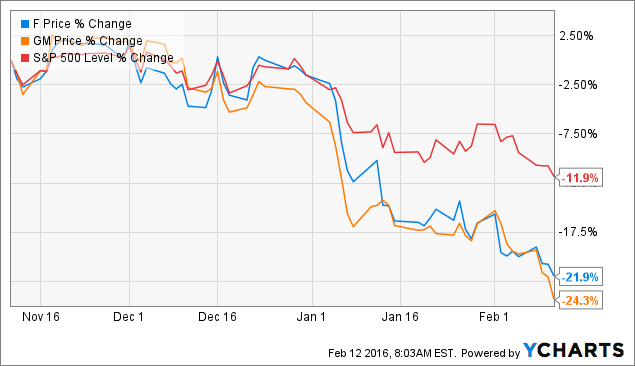 F data by YCharts
As volatility rises, investors look for new potential risks in all US equities. For Ford, and for the rest of the United States auto industry, that potential negative comes in the form of subprime auto risk. There have been an extraordinary amount of articles published over the last month talking about the bubble that we are seeing in the auto market as a result of automakers allowing lower creditworthy individuals to finance vehicles. The headlines have been everywhere,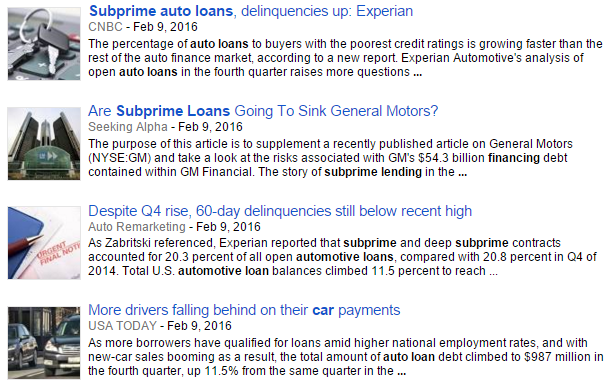 Both Ford and General Motors have said on conference calls that they are using incentivized selling and subprime risk in limited quantities to continue to keep sales perky. When that point gets to bubble status, and then when bubble status turns to burst status, we do not know. We do know that the average age of the vehicle on the road continues to grow, and that the data, even though it is on a trailing basis, continues to look promising for Ford. We are going to continue and watch these monthly metrics to look for warning signs, but as for now things look OK in the short-term, and we are even more confident in the long term.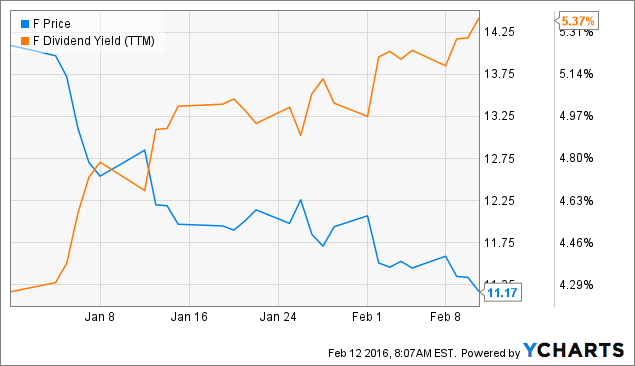 F data by YCharts
Investing today will yield you over 5%, which you can then invest back into the company, making a further fall in the stock price simply just a buying opportunity if you have a long term outlook on the company like we do.
If you are still worried about the subprime auto risk, you can put on a pair trade by going long Ford and by shorting Credit Acceptance Corp (NASDAQ:CACC), an idea that has been tossed around on social media over the last few days. CACC is a company that "provides automobile dealers financing programs, and related products and services that enable them to sell vehicles to consumers. It advances money to dealers in exchange for the right to service the underlying consumer loans; and buys the consumer loans from the dealers and keeps various amounts collected from the consumers." In other words, CACC backs all of the auto finance indsutry's loans, and would make for a great hedge to short if you are a nervous investor regarding the subprime lending happening in the auto sector.
To conclude, what we do have is fresh new European data that shows that Ford continues to move in the right direction in arguably its most important market overseas. This, in conjunction with the domestic performance of the company over the last few months continues to allow us to reiterate our long term multiyear bull case on owning the company at these ridiculously cheap multiples.
Disclosure: I/we have no positions in any stocks mentioned, but may initiate a long position in F over the next 72 hours.
I wrote this article myself, and it expresses my own opinions. I am not receiving compensation for it (other than from Seeking Alpha). I have no business relationship with any company whose stock is mentioned in this article.