Investors, six weeks into 2016 have to be feeling like the proverbial rented mule after the beating the markets have delivered so far in the New Year. One of the most unexpected things to see mid-way through February was the 10 year treasury yield getting under 1.6% yesterday before rebounding some by the close of trading. That was its lowest level in over three years and speaks to some of the panic in the market.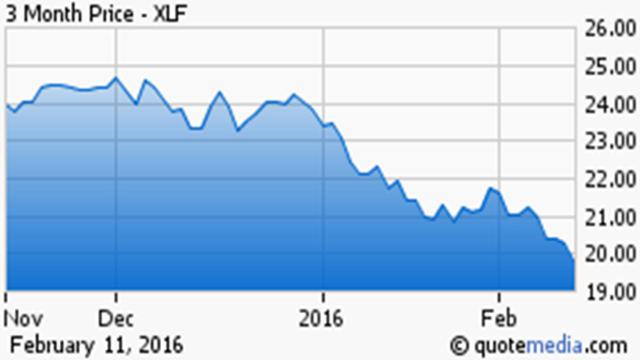 Obviously the downturn in rates has hurt the financials severely at the start of 2016 as it has further eroded their net interest margins, a primary driver of earnings. This was not the way the year was supposed to go as financials were the pick of many to outperform in 2016 as the Federal Reserve slowly hiked rates after lifting them for the first time since 2006 by a quarter point. Four more quarter point hikes were supposed to follow according to the projections the central bank put out at the start of the year. That game plan looks seriously in doubt at the moment.
The other thing pummeling banks are concerns deteriorating energy loans will be the next "subprime" and cause major write offs or even a meltdown as we saw late in 2008. This is extremely unlikely. Energy loans make up 1% to 3% of the overall loan book at most major banks. In addition, thanks to new regulations banks capital ratios are much higher than they were entering the financial crisis. They will be able to weather the storm from the oil patch even if oil prices remain under $30.00 a barrel throughout 2016.
I have core stakes in Wells Fargo (NYSE:WFC) and JPMorgan Chase (NYSE:JPM). These two banks survived the financial crisis much better than the other two major banks in the country, Bank of America (NYSE:BAC) and Citigroup (NYSE:C). That risk management focus remains firmly in place as does most of the management that navigated successfully through that debacle.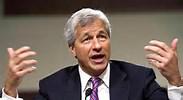 I plan to add some more shares in JP Morgan today. Why? Because its CEO Jamie Dimon told me too! No, I do not get personal emails from this leader. However, he basically just signaled to every investor that he believes the stock of JPM is deeply undervalued after basically putting a year's worth of salary into buying some 500,000 shares of his company's stock. That is a ~$26.6 million vote of confidence after the shares have fallen some 20% so far this year.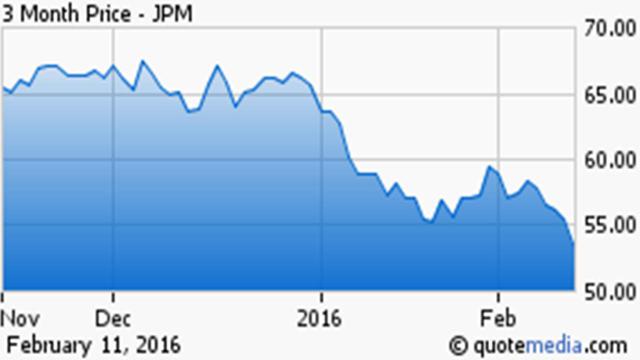 On a side note for nervous investors looking for some assurance that the market is not going into a full meltdown. A report is just out that shows a total of 699 officers and directors of U.S. companies bought their own stock in the past 30 days compared with 828 who sold, the most bullish ratio in more than four years, according to data compiled by Bloomberg.
Getting back to the investment case on JP Morgan, it is relatively straight forward outside the reasons above. First, the stock has better than a three percent dividend yield. This is with a 30% payout ratio. That ratio will slowly climb to 40% to 50% in the years ahead as regulators become more comfortable with banks increasing capital ratios and aftermath of the litigation and regulatory nightmare from the financial crisis fades more from memory.
Second, the shares are very cheap at under nine times earnings after their recent fall. The overall market multiple is not quite double that. In addition, the company has delivered consistent earnings beats on quarterly numbers throughout FY2015, recently reporting earnings of $1.32 a share; seven cents a share above estimates. I look for this well-managed bank to continue beat the consensus by a few pennies a share as we march into 2016.
In conclusion, the CEO just gave a thumbs up to add some shares in JP Morgan and that is what I plan to do this morning. The shares are cheap, the bank is well-led, fears are overblown and I get paid a three percent plus dividend while I wait for the market to calm down and realize the value of JPM as Jamie Dimon just did.
Disclosure: I am/we are long JPM.
I wrote this article myself, and it expresses my own opinions. I am not receiving compensation for it (other than from Seeking Alpha). I have no business relationship with any company whose stock is mentioned in this article.