Inphi Corp. (IPHI) has the right product portfolio, which is ramping up, to monetize the rapidly expanding cloud infrastructure, while the expectations, as reflected in the stock price, are conservative enough to allow the stock to shrug off any macro worries related to the infrastructure spending and create consistent value for the shareholders.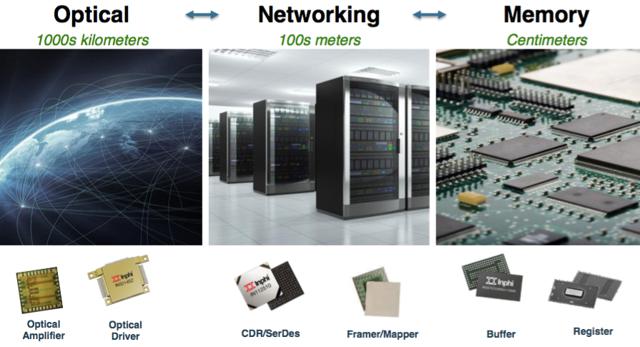 Inphi products. Source: Inphi Corp.
Even though the stock is trading not far from the levels seen late last year, when I wrote last about the business, the stock is down 20-25% over the past few months. Besides the market's 're-adjustment' of tech names, the worries are somewhat related to the slowdown in China and expected economic impact on network infrastructure spending. At a granular level, there are doubts related to competition, timing of the ramp of new solutions like PAM-4 (4-level Pulse Amplitude Modulation) and margin trends going forward. Not to mention that the market has been in a mood to trade 'themes' and the company's major customer Cisco (CSCO) was hardly a hit with the Street for the last few months.
But the business is in a great spot with a portfolio of products that are ramping up making up a relatively larger portion of the total revenue. For example, in a promising solution like PAM-4, for which the company is expected to share the market with just Broadcom (AVGO), the opportunity is big for Inphi, but almost immaterial for Broadcom, due to its scale. The exposure to markets that are under a cloud, like memory, is smaller. From an end-market standpoint, a lot of products are somewhat agnostic to the source of growth, be it the long haul, metro service provider or the metro data center.
| | | | | | | |
| --- | --- | --- | --- | --- | --- | --- |
| Comps | EV/ EBITDA (trailing 12M) | Rev. growth current fiscal exp. | Rev. growth next fiscal exp. | P/E current fiscal exp. | P/E next fiscal exp. | Gross Margins |
| IPHI | 21.6 | 17% | 22% | 19 | 15 | 69% |
| AVGO | 13.2 | 97% | 21% | 13 | 11 | 54% |
| MTSI | 23.7 | 25% | 18% | 19 | 14 | 49% |
| ADI | 10.5 | -2% | 9% | 17 | 15 | 62% |
| QRVO | 7.2 | 53% | 7% | 9 | 8 | 48% |
The higher growth it offers, a difference that is huge on an organic growth basis, or the much higher predictability of numbers, as reflected by consecutive quarters of 'meet or beat' results, deserves a much higher premium. The common products make a relatively miniscule portion of the competitor revenue base, which explains part of this expected growth differential. The current backlog for Inphi is also higher than the typical 60% seen around the time of the quarterly results.
All concerns are valid, but the revenue profile may take care of much of it
As covered in my previous notes on M/A-COM (MTSI) and Qorvo (QRVO), the prospects for the broader semiconductor sector are weak at best and bottom up stories may offer a better way to generate alpha. But even though the macro economy may stay weak, casting a continuous shadow on the tech space in general, there is a widespread acceptance, even among the staunchest of the bears, that the spending to ease the network capacity constraints may stay strong.
Inphi's products play right into that trend. Please check the last note for a background on the company, products and technological shifts that are expected to offer help to the top line growth. The service provider market, which continues to grow nicely on the back of a decent 100G demand, drives the business right now, but the data center should become a larger percent of the business by late this year. Geographically too, China may slow down in general, but continued investment in cloud infrastructure is expected to help Inphi.
Decent catalysts that are starting to ramp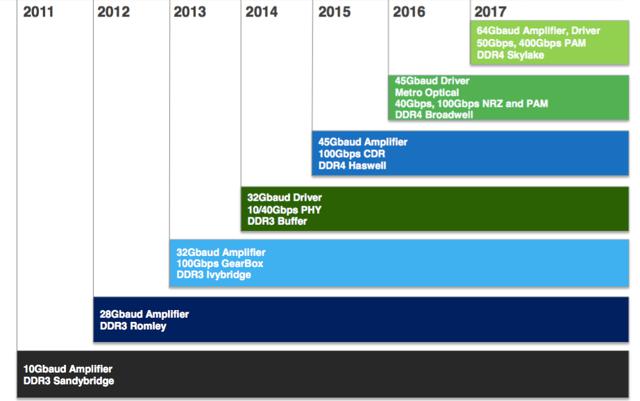 Growth catalysts firmly established. Source: co. update
The communications business, which is 80% of revenue, continues to grow nicely and the rest, the high-speed memory business is expected to be stable, even if there is high volatility within the business. Within the communications business, the core communications products, which are approximately 70% of the communications business, are growing at around 50% on an organic basis, much faster than the infrastructure market. The core communications products are mostly amplifiers, drivers and physical interface products (10G, 40G and 100G) that support the service provider and data center interconnect markets.
The optical interconnect products, which help move data between data centers, should benefit from metro products that are already growing in system OEM line cards and module applications, linear amplifiers, drivers and the new 45GBaud product, which is expected to start contributing this year. Market share growth should be an active contributor to this total growth, for e.g. the linear driver business was up 2.3 times last year, in a market that grew 50%.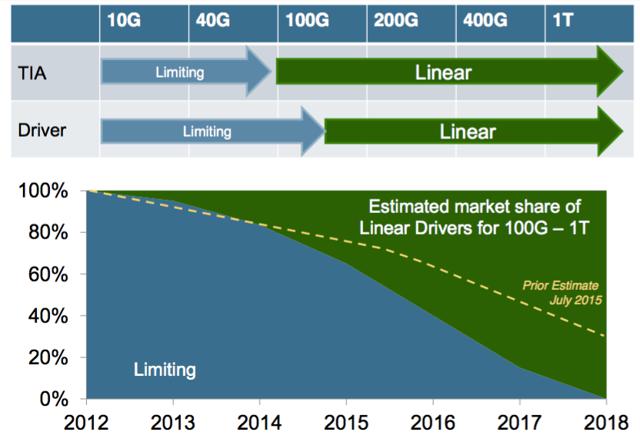 Products supporting 100G. Source: Inphi
The networking interconnect products, inside data centers, should benefit from the ramp of 100G NRZ Clock Data Recovery and Gearbox solutions, with help from customers transitioning to 100G, and the ramp of PAM-4 solution for 40G and 100G. The ramp of PAM-4 solution is significant on many fronts. Since Inphi and Broadcom are the early leaders in the market that is expected to reach $300-400 million by next year, even a shared market can offer a significant boost to Inphi's revenue. A reasonable costing PAM-4 solution can help reduce the interconnection costs, which may give further boost to the adoption of 100G solutions.
The memory interconnect, inside the server and storage systems market may stay muted, but the shift towards DDR4 should offer an opportunity to garner market share, besides offsetting any negative pressure from the decline in DDR3 products.
Financial picture to turn even prettier
Reverse engineering the expectations

Fiscal year

2016

2017

Revenue growth expected

17%

22%

Revenue

$290

$352

Operating margin

22%

26%

Net Interest & Other

$0

$0

Tax rate

15%

25%

Shares (NYSE:M) diluted

43

44

EPS

$1.25

$1.58

Street

$1.25

$1.58

* Keeping everything else steady

* Author's calculation. Only for academic purpose, actuals may vary significantly.
The margins for the company are already decent and the expectations are not that aggressive, especially if one looks underneath the various non-cash charges from last year.
| | | | | | |
| --- | --- | --- | --- | --- | --- |
| 2015 | Gross margin | Research & Dev. | Sales & Marketing | General & Admin. | Operating Margins |
| GAAP | 60.1% | 43.2% | 10.8% | 8.2% | -2.0% |
| Adjustments | | | | | |
| Purchase accounting | 0.1% | | | | |
| Stock based compensation | 0.6% | 6.8% | 1.8% | 2.2% | |
| Acquisition related exp. | 0.1% | 0.7% | 0.2% | 0.3% | |
| Amortization Inventory step-up | 3.2% | | | | |
| Amortization intangibles | 4.7% | | 0.3% | 0.1% | |
| Depreciation on step-up | 0.1% | 0.1% | 0.0% | | |
| Impairment of in-process R&D | | 0.7% | | | |
| Loss on disposal of Cortina P&E | | | | 0.2% | |
| Non-GAAP | 68.9% | 34.8% | 8.4% | 5.4% | 20.2% |
Now that a host of products are at the ramp up stage, leverage at the operating expense level should help the earnings growth, while $80-90 million of cash flow from operations, with small capital expenditures, should allow the management to explore acquisitions, especially in this market.
Earnings sensitivity analysis (Approx.)

Change of

Metric

EPS Change *

1%

Revenue

1-2 cents

1%

Gross margin

5-7 cents

1%

Operating Margin

6-8 cents

* Keeping everything else steady as % of revenue.

* Author's calculation. Only for academic purpose, actuals may vary significantly.
Note: Detailed proprietary model is not attached in this note for the sake of easy readability, but happy to help and provide more details to readers interested in understanding the calculations used in this note.
Disclosure: I/we have no positions in any stocks mentioned, and no plans to initiate any positions within the next 72 hours.
I wrote this article myself, and it expresses my own opinions. I am not receiving compensation for it (other than from Seeking Alpha). I have no business relationship with any company whose stock is mentioned in this article.