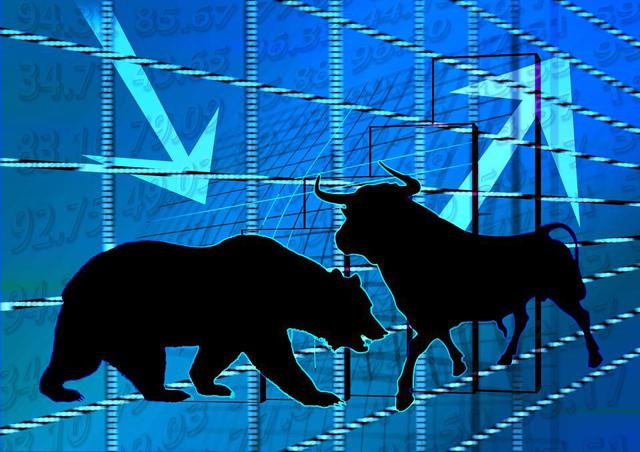 Investors were biting away at their nails all day this past Monday as the stock market encountered its second volatile day of the year which ended in big losses for popular sectors such as energy, tech and banking. Let's face it, you were on the edge of your seat either entertained by the panic or in fear of the next stock market crash. There has certainly been an increase in nationwide paranoia over the possibility of another recession. GASP!
People are terrified of placing their money in stocks that are so unstable. Sam Stovall, chief U.S. equity strategist at S&P Capital IQ told CNBC: "I think investors are dumping momentum stocks because they want to lock in gains in a category that still has gains."
But, many were panicked by their own panic. MarketWatch notes that volatility and sharp swings are now the new normal for the stock market. The CBOE Volatility Index was up by nearly 12% on Monday, implying an extreme amount of fear on behalf of investors. Randy Frederick, managing director of trading and derivatives at the Schwab Center for Financial Research, told MarketWatch:
"After seven straight weeks of volatile action in the market, there is panic exhaustion. For investors, this is the new norm. Lower volumes in February, compared to a spike in January, suggest that a lot of investors who wanted to sell or exit positions or rebalance already did that. There is no big rush to sell – it's gradual and painful but not panic-inducing so far."
While some economists are telling you not to panic, others are telling you to treat the market like you would've in 2000 or 2007, had you known about the crashes to come. After all, it always seems so cyclical.
No matter which side of the fence you sit on, it's no myth that investors are still hungry for commercial real estate. Colliers International Real Estate Outlook report found that, out of over 600 global investors which were surveyed, more than half said that they intend to increase their allocation in CRE this year.
We know there has been a huge increase of foreign investment in CRE lately, but more often than not, these investments have been in central business districts located in stable, urban markets like New York City. The survey also found that significant percentages of foreign investors plan to invest in the Americas this year:
31% of Middle Eastern investors
27% of European investors
24% of Asian investors
But doesn't the volatility of the stock markets and rising interest rates cause alarm for risks related to investing in CRE? Richard Barkham, CBRE's global chief economist, comments:
"because consumers in the U.S., Europe and even China are in good shape, we think the global economy is strong enough to withstand these challenges and that the real estate and economic reality will be better than expected in most places in 2016."
Despite the Crosscurrents in the industry and the volatility of the the stock markets (energy was the hardest hit sector and banks were barely keeping it together) the CRE industry seems pretty stable, for now. In terms of investment sales Ken Riggs, president of Situs RERC, told Commercial Property Executive:
"We expect sales velocity to continue to level off in 2016, although there could be certain secondary and tertiary markets where activity will continue to expand awhile longer. But values and prices are rational for now, and while we do expect a correction in the CRE market, it appears to be manageable."
Just as economic outlooks go up and down, mostly based on the stock market, so does the outlook for CRE. What seems like a promising venture one week can easily come crashing down the next and, like most things, it's a matter of looking at historical trends. Sometimes, instead of getting wrapped up in the panic, confused by the inconsistent advice given by multiple economists and advisers, it's best to simply listen to your gut. In the words Malcolm Gladwell, of one of my favorite speakers: "Truly successful decision making relies on a balance between deliberate and instinctive thinking."