One of the key things we look for in gold and silver explorers and developers is interest by major gold producers. This can be via joint venture agreements, but most of the time it is via private placements for significant ownership stakes in the company. We think this is a key for a few reasons:
It validates the project as the gold/silver major represents a sophisticated investor with the necessary technical knowledge to evaluate the project.
Increases the likelihood of a take-over as the gold/silver major (unlike fund investors) is ultimately looking to increase future production and replace depleted reserves.
Adds potential technical and financial resources to move a good project along if the explorer needs additional resources
Of course most market participants know this and thus explorer stock prices tend to jump on any JV or private placements by a major - so the opportunity to purchase shares at the price that the major has purchased them is not there. But for patient investors and in this lackluster precious metals market, the opportunity may come later as the news becomes old and the excitement wears off.
Throw in the fact that the gold price is finally starting to show some life, and we think now marks a great opportunity to look at some explorers that gold majors have bought recently and that represent potential takeovers. Of course not all investments by majors pan out, but we think the opportunity is much greater than in explorers that haven't yet had public interest shown by a possible acquirer.
Company #1: Belo Sun Mining
Belo Sun Mining (OTCPK:VNNHF) owns the Volta Grande deposit in Brazil which has had some issues with the government in terms of its mining license which has decimated the stock price over the past few years. The decision in 2014 by the government to uphold its license may have flown under the radar of some investors, but what really interests us here is that the Volta Grande project has completed a feasibility study that shows a fairly large deposit for an independent explorer (reserves of 3.8 million ounces) with a 20% post-tax IRR at $1100 gold.
Evidently this feasibility study impressed gold major Agnico Eagle (NYSE:AEM) as two months later in May 2015 they announced a "strategic investment" of C$15 million and as a result of the transaction would own 17.4% of Belo Sun.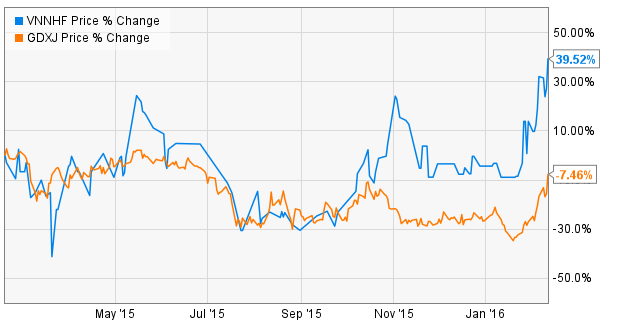 As investors can see the stock quickly rose as a result of the announcement only to fall back down as the news wore off.
We think now is a great opportunity to buy shares in Belo Sun as gold prices are on the rise and there are very few deposits like the company's Volta Grande. The main reasons why this deposit may interest Agnico-Eagle, is that it is (1) fairly large with close to 4 million ounces as reserves; (2) is affordable for its size with just under $300 million in required initial capital; (3) has a long mine life of around 17 years; (4) and has a post-tax IRR of 20% at $1100 gold.
While country risk may be higher than other projects, we believe this deposit will eventually be acquired and Agnico's investment should provide investors with some confidence.
Company #2: Integra Gold
Integra Gold (OTCQX:ICGQF) owns the Lamaque gold project in Canada and fellow Seeking Alpha author Itinerant offered some very strong arguments on why it's a top gold play that we will not rehash here. But what we will emphasize here is that the project holds some very high-grade resources with close to 7 g/t in resources.

Source: Integra Gold
That has been a key factor to making the project extremely profitable as its updated PEA shows the project generates an after-tax IRR of 59% at $1175 gold with around USD$50 million in initial capital costs. Additionally, these numbers were based on an earlier resource estimate, and since its preparation the company has done quite a bit of drilling to potentially expand mineral resources and add additional production.
But what most interests us here is that Eldorado Gold (NYSE:EGO) decided to make a $14.6 million dollar investment at a PREMIUM to the company's share price in August 2015 which would total a 15% ownership stake in the company. Additionally, Eldorado decided to maintain its 15% investment as the company issued more shares in February.
We believe Eldorado is a gold miner that is on the hunt for acquisitions as it is having significant troubles in Greece, and it would make a lot of sense to pursue additional production while the Greek situation gets resolved. Thus we think investors should pay extremely close attention to any private placements that Eldorado Gold makes in any companies as they need some projects that can replace what management had expected out of Greece.
Company #3: Columbus Gold
Columbus Gold (OTCQX:CBGDF) owns the Paul Isnard project in French Guiana, and has already announced an agreement with Russia's Nordgold. That news isn't new, but what is new is that in January 2016 Nordgold decided to buy an additional 5% of the company for $6 million dollars.
We can do some simple math here and see that based on Nordgold's $6 million dollar payment for a 5% stake in the project; they are valuing the whole Paul Isnard project at around US$120 million. That means that Columbus Gold's remaining 45% of the project would be valued at around $54 million dollars - significantly higher than the $41 million dollar current market capitalization of the WHOLE company.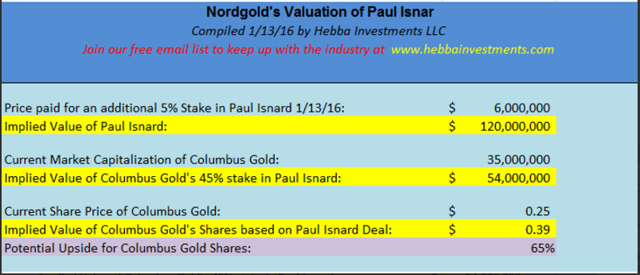 But the most important thing about this deal is perhaps the fact that this isn't just a major making an investment to gain details about the inner-workings of a project. Nordgold not only is familiar with the project, but they have working on this project for the last few years and will already own 50% of the project by completing the feasibility study and making the necessary expenditures. In fact, they are privy to a ton of information that is not public simply by the fact that they've been developing the deposit since 2014.
The fact that investors can still get shares 20% cheaper than what Nordgold paid a month ago at gold prices $150 lower still surprises us. The reason why this opportunity exists is probably because the other major shareholder, Auplata, has been selling shares aggressively over the past three months. Ordinarily this would concern us, but since Nordgold is involved and is intimately familiar with the project (Auplata probably is not) and they are still buying shares, we are not concerned. In fact, we believe Auplata's share sales probably are because they need the money elsewhere as they are a French Guyanan gold producer and gold miners everywhere are trying to grab at any cash they can find.
We don't know how long this opportunity will last, but we think this one is a no-brainer if investors trust Nordgold's technical competency - and we do.
Conclusion for Investors
We think it's a very important for investors to watch what the majors are doing especially considering we are probably close to a bottom in the gold cycle. While nobody can guarantee a deposit, we think it is certainly a much surer way to make money in exploration projects by finding investors who know more than we do, and buying what they buy. When it comes to the gold industry we think there are few more knowledgeable investors when it comes to the economic feasibility of a project than the actual gold majors - and they would also be interested in buying it out.
In the second piece in this series we will go over a few more explorers that we believe are excellent acquisition targets based on investments by the majors, so kindly click the Follow button to follow us to stay tuned. We think now is an excellent time to buy some of the explorers that they have been buying over the past year and simply wait as we believe these majors will look to acquisitions to replace their production.
Disclosure: I am/we are long VNNHF, CBGDF. I wrote this article myself, and it expresses my own opinions. I am not receiving compensation for it (other than from Seeking Alpha). I have no business relationship with any company whose stock is mentioned in this article.
Editor's Note: This article covers one or more microcap stocks. Please be aware of the risks associated with these stocks.