As investors and speculators are waiting for a bottom in this massive oil price (NYSEARCA:USO) correction, paying attention to the current demand picture may help in seeing a change in the current trend.
I've been watching the "This Week In Petroleum" report from the U.S. Energy Information Agency (NYSEMKT:EIA) which provides details on gasoline data.
Beginning with average retail gasoline prices, the average price for a gallon of gas was $1.79 for the week ending February 8th, 2016. This is down from an average price of $2.19 the same week one year ago.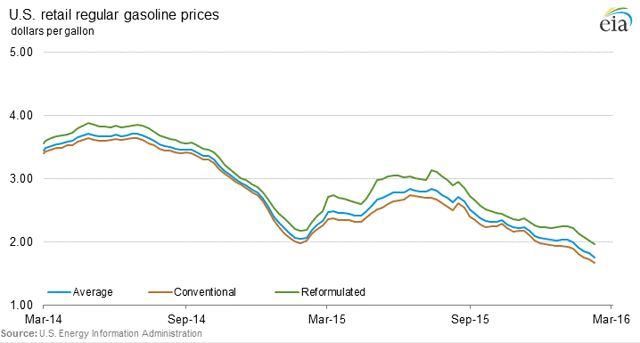 The inventory for finished gasoline stocks have been surging, going well above the 5 year average range: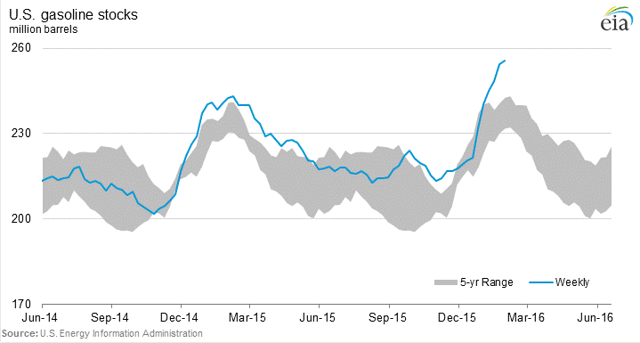 Despite lower prices this year Vs. last year, demand for finished gasoline has been in decline for the month of January Vs. last year.
However, for the week ending February 5th, 2016, demand shot up finally as shown in the chart below: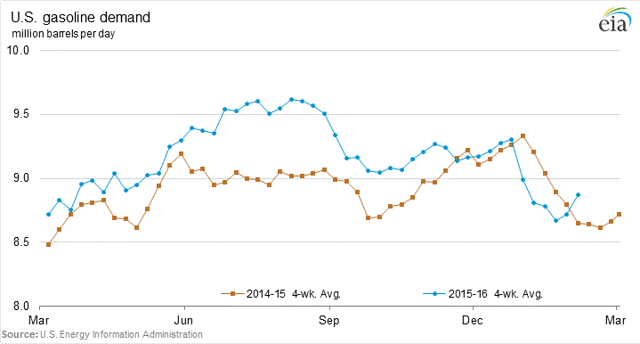 It had been rather surprising to see demand fall as much as it was in the month of January in light of a jobs report that showed decent job growth coupled with declining prices of finished gasoline.
The 1st week of January started off with demand being 3.63% less than 1 year ago and then the following week ending January 8th, being 4.28% less from 1 year ago. In the first week of February 5th, demand picked up 2.57% from a year ago.
While this is the first time the 4-week average gasoline demand has been positive so far this year, it bears paying attention to in the weeks ahead to help stay abreast with finding that "price demand balance."
For perspective, US gasoline demand is about 8.65 million barrels per day for the 4-week average ending February 5th.
Global oil demand is expected to be about 94.5 million barrels per day in the first quarter of 2016 per the International Energy Agency.
So US gasoline demand makes up about 9.1% of global demand. I would argue it's a decent proxy to work with.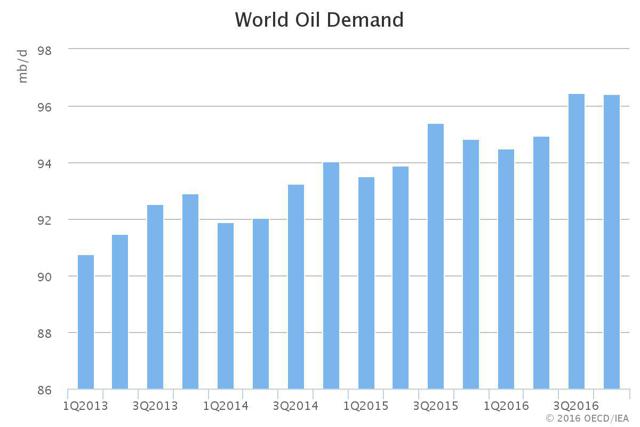 Oil To Nat Gas BTU Price Parity
Another data figure I've been watching is the price of oil Vs. natural gas in terms of BTU price parity. A barrel of oil has approximately 5.8 million BTU worth of energy. Natural gas is priced per 1 million BTU. So simply multiplying the natural gas price by 5.8 would give the price of the same amount of energy in a barrel of oil.
The chart of this comparison shows that there was much tighter price range from 1998-2005. If we were to see oil and natural gas priced at BTU parity once again, oil would be priced below $15 a barrel today! Oil had always had a premium over natural gas, but the range in that premium expanded dramatically from 2007-2014.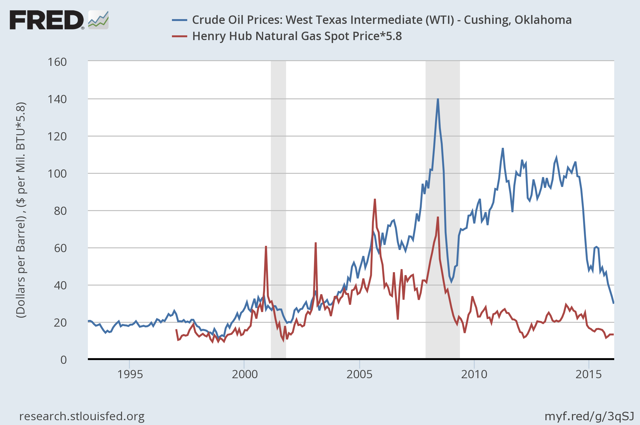 I think the key factor at hand now is demand and how demand is going to respond to lower energy prices.
To improve your condition, you need to do work. To do work, you need 3 things:
1. Time - (hours)
2. Energy - (BTUs)
3. Capital - (Money - Depreciation of fixed asset and 1 time variable costs)
Seeing how the economy responds to lower energy prices should prove telling on the will and the means even, to work.
Increasing demand should prove positive for the economy and certainly act as a crutch to other factors that are holding back economic growth like surging healthcare costs.
However, decreasing oil demand and gasoline demand, in light of lower prices, should prove recessionary for the US economy.
It's a stick to the sidelines scenario here from an investment perspective on account of all asset classes. Also a pay close attention to company quarterly reports to gauge how companies are responding to lower energy prices.
I'll be looking out for both dark and bright spots and will bring you what I find.
Certainly stay busy working and improving your condition.
Disclosure: I/we have no positions in any stocks mentioned, and no plans to initiate any positions within the next 72 hours.
I wrote this article myself, and it expresses my own opinions. I am not receiving compensation for it (other than from Seeking Alpha). I have no business relationship with any company whose stock is mentioned in this article.