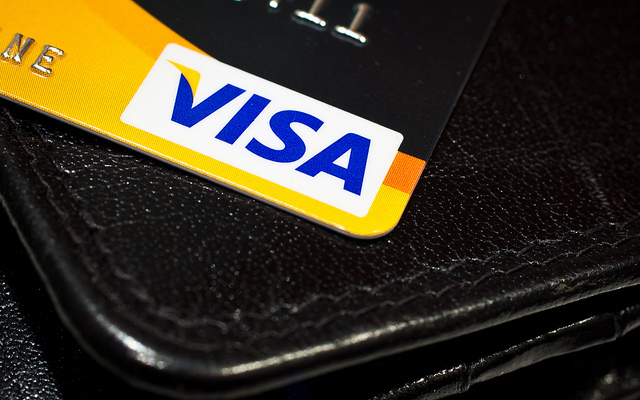 I have sat back from Visa (NYSE:V) for a little while since I last reviewed it alongside MasterCard (NYSE:MA). I watched its Q1 results come in. Did a little tinkering with a few spreadsheets then left it. After all, it is a bit of a limbo quarter. Preparations are being made for the Visa Europe deal which, as yet, has not been finalized.
I was going to leave it there. After all, until we have a bit more movement towards completion a lot is going to change. Then I realized that, actually, we really should see how they are doing preparing the ground for the acquisition.
I am happy to say, they are doing well it seems. The business looks lithe with continued strong growth despite what can only be described as a hectic economic backdrop. It is also limbering up well in preparation for the Visa Europe acquisition.
Let's see what I mean.
Generally Nice Progress
First of all, they continue to show a strong underlying performance. Payment volume growth continues to impress at constant currency rates with the international consumer credit segment performing particularly strongly: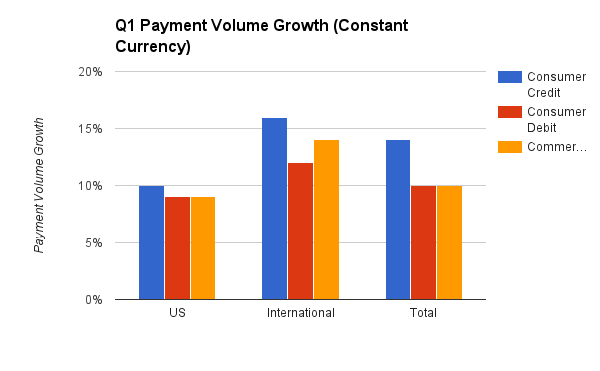 Regarding, revenue and net income before tax they continue to grow well:
| | | |
| --- | --- | --- |
| | Net Income (Before Tax) | Revenue |
| 2015 (Q1) | $2,262 | $3,382 |
| 2016 (Q1) | $2,639 | $3,565 |
| Growth | 16.67% | 5.41% |
Growth is clearly still there. However, revenue growth has continued its Q1 decline: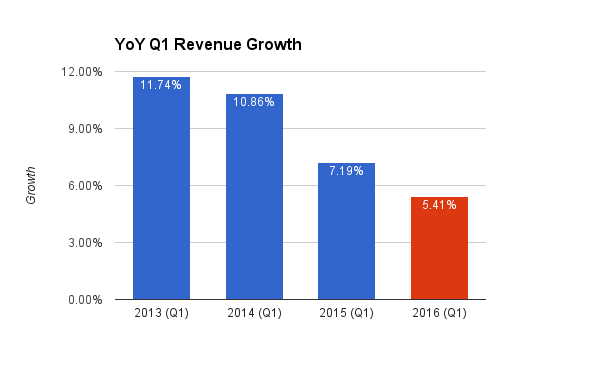 This is something to watch out for. Nonetheless, with recent deals with new large-scale customers and the Visa Europe deal revenue should perk up sooner rather than later.
Also, net income continues to grow strongly and ahead of revenue growth as has consistently the case in recent Q1 results: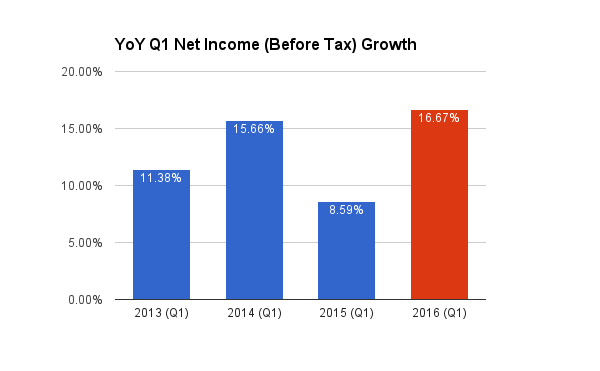 More importantly for me was to see the continued cash flow growth:
| | | | |
| --- | --- | --- | --- |
| | OCF | CapEx | FCF |
| 2015 (Q1) | $1,761 | $104 | $1,657 |
| 2016 (Q1) | $1,979 | $126 | $1,853 |
| Growth | 12.38% | 21.15% | 11.83% |
Again, this is pretty solid ahead of the dramatic changes that the Visa Europe deal will bring. FCF growth is a little more modest than last year but overall performed well: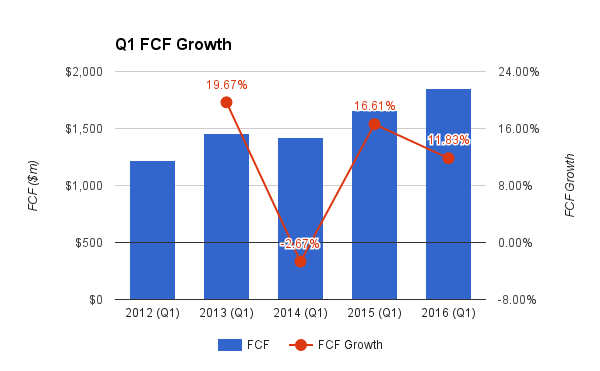 Some other good news was in there. I found the comments by Visa CEO, Charlie Scharf, regarding online spending very interesting:
Ecommerce continue to grow at a much higher rate than the spending at physical stores. We saw mid teens eCommerce growth during the holiday period versus mid single digits growth in the physical world. More than 25% of all spending on Visa Cards during November and December was online up from less than 20% just three years ago.
This is great to know. eCommerce and electronic payments is obviously growing well. It is also encouraging that Visa Europe reported 17% growth in the eCommerce space as well in their 2015 Annual Report suggesting that their integration will keep this aspect of the business growth.
How is the Visa Europe Deal Going?
So what about that Visa Europe deal? First, I was glad to read that they are rolling along nicely towards completion. In their earnings call, Scharf noted that:
We're making very good progress. We continue to work towards a projected second calendar quarter closing. We received two of three required regulatory approvals.
This is great news. The quicker they can close, the quicker they can get to work integrating the business and improving margins, growing cash flows and trimming down debt.
But I am also glad to see how well they are setting up the business before this transformational shift.
Margins Continue to Improve
First is the matter of margins.
Margins compression is--ultimately--just around the corner. As I have noted elsewhere, the Visa Europe deal will result in margins tightening significantly in the short term. However, it remains an opportunity.
The peculiarity of the ownership of Visa Europe (being cooperatively owned by the same banks which utilize its services) has not been conducive to hefty margins. Under Visa, this peculiar structure will disappear and will likely see opportunities for fairly consistent margins expansion in coming years (though how rapid, I am unsure).
Margins certainly have space to be improved. Things had already improved according to Visa Europe's 2015 Annual Report. Operating profits had grown from 26% to 27%. Not bad, but they look fairly pale when sat next to Visa Inc's margins which are more than twice this.
But Visa Inc has done even better in the lead up to this. Their already impressive margins look even more impressive at Q1 results time: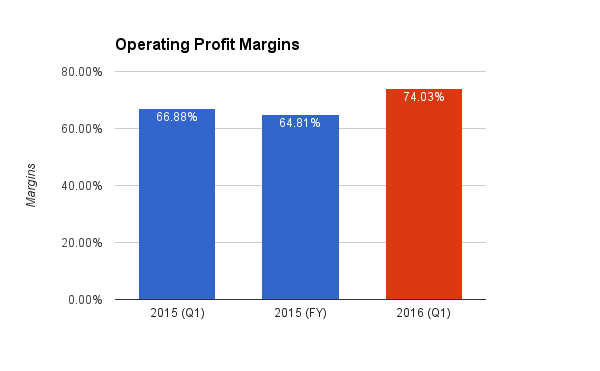 All this bodes well for the post-Visa Europe business. Visa Inc has proven itself able to consistently draw margins up even in rather rocky financial circumstances.
Zero Debt is Gone
Of course the big news is the arrival of about $16 billion in debt on the books. This is up from the quarter before:

Now clearly, until the deal closes and the equity from Visa Europe comes onto Visa Inc's books, the debt to equity level is going to be a bit higher than normal. Indeed, it is. Currently it sits at just over 50%.
However, the first good thing here is that this is still very modest. Indeed, my favored way of assessing debt security--FCF/Debt--was looking good at over 11% in the first quarter alone.
Assuming the $7 billion in FCF (pre-Visa Europe acquisition) the company predicts, this would see a FCF/Debt ratio of over 45%. What this would mean is that the company could theoretically repay all its debt from FCF in just over two years. Great news.
Softening the Impact of the Visa Europe Deal
The company is already setting about reducing the dilutive impact of the acquisition for shareholders. The debt is already being used to soften the short-term blow shareholders' often face with such deals. As Visa CFO, Vasant Prabhu, noted:
We will of course use the proceeds [of the debt] to fund the upfront cash consideration for the Visa Europe acquisition as well as to step up stock buybacks over the next five to six quarters to offset the dilutive impact of preferred stock that will issue to [Visa Europe] members.
This is good to hear. Such is the strength of the company, they have been able to already lay down significant moves in doing this which will hopefully smooth out the impact on present investors in Visa Inc.
Buybacks Continue
Buybacks is an interesting point. The company has been pushing a lot of cash in the investors direction over the last few years: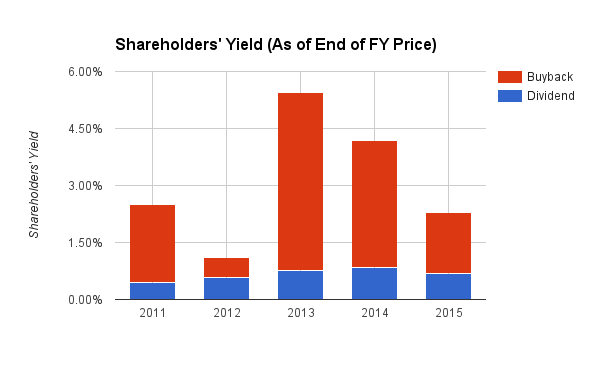 2015 saw a slowdown as a result of preparations being made for the Visa Europe deal. However, the closure of this deal means that they have stepped it back up and done so significantly:
During the three months ended December 31, 2015, the Company repurchased 25.7 million shares of class A common stock, at an average price of $78.52 per share, using $2.0 billion of cash on hand.
They look set to continue buying in Q2 and beyond with prices about $10 less than their average price for Q1 2016:
As we have indicated we stepped up the pace of our buybacks to make up for stock not purchased in the fourth quarter last year due to the impending Visa Europe transaction. At the end of the quarter we had remaining authorization of $5.8 billion for stock repurchases. We've continued to be buying of our stock in January.
With more yet to come and strong cash flows still underpinning their business, it looks as though they are set to be able to continue these strong moves to make the Visa Europe deal work for shareholders as quick as possible.
Conclusion
Overall, I am pretty happy with these results. There was nothing groundbreaking in there. More business as usual. Slowing revenue growth is certainly something to watch out for. However, the arrival of Visa Europe as well as other big deals in recent months should see this accelerate again in the future.
Visa Inc continues to show solid progress in their underlying business with strong international and home payment volumes growth and excellent FCF generation. Their preparations for the Visa Europe deal are also encouraging. The business remains very well placed to be able to carry the burdens brought by the acquisition and integrate and improve margins in its European operations.
Hopefully the deal will close soon and we can start to assess how well they are handling the new, larger Visa Inc. What is certainly clear is that both Visa Inc and Visa Europe are entering their new combined existence together with strong momentum. Let us hope that this continues after the event too.
Notes
Unless otherwise stated, all graphs and tables and the calculations contained within them were created by the author. Creative Commons image reproduced from Flickr user dahlstroms.
Disclosure: I am/we are long V.
I wrote this article myself, and it expresses my own opinions. I am not receiving compensation for it (other than from Seeking Alpha). I have no business relationship with any company whose stock is mentioned in this article.