In this article we will take a look at Brandywine Realty Trust (NYSE:BDN), in terms of portfolio diversification and valuation. We will compare and contrast the company's financial figures against its peers, coming to conclusions regarding its worthiness as an investment vehicle.
The company
Brandywine Realty Trust is one of the largest, publicly traded, full service, integrated real estate companies in the United States with a core focus in the Philadelphia, Washington D.C. and Austin markets. Organized as a real estate investment trust (REIT), we own, develop, lease and manage an urban, town center and transit - oriented portfolio. Brandywine Realty Trust's website
Portfolio and Diversification
According to BDN's Q4 2015 earnings supplemental information package, the vast majority of the company's holdings are office properties while there is also a small proportion of properties with industrial or mixed use. As it was stated above, the company is focused on the markets of Philadelphia, Washington D.C. and Austin. Below we will briefly review the office real estate market for each one of these locations.
Philadelphia

According to Q4 2015 Jones Lange LaSalle Office Insight, office market in Philadelphia is looking quite hot at the moment. Rising rents ($ 28.19 p.s.f.) and falling vacancy rates (8.5%) create an optimistic field for investment in office properties. Market West and Market East submarkets can be regarded as "rising markets", while University City and Navy Yard submarkets are currently at their peaking phase. Despite the whole positive investment climate in the area, it's worth mentioning that both leasing activity and absorption rates have started to cool down.

Washington D.C.

According to Colliers International, the fundamentals of the office real estate market in Washington D.C. are not so positive. Rents are expected to rise slightly, after a period of stability ($ 56.19 p.s.f./year). Vacancy rate reached 10.9% in Q4 2015, but is expected to cool off in 2016. This expectation is based more on qualitative rather than quantitative factors. Although economic indicators don't back a positive year 2016 for local office properties and demand from major office players is quite limited, the lack of new urban space which leads to a rapid regeneration of the existing office stock and the increased activity of middle range tenants are expected to drive the market into a positive direction.

Austin

Despite the recent oil price slump, Austin economy continues to impress. This is directly correlated with Austin's office real estate market. According to Colliers International, rising rents ($ 30.71 p.s.f.) and falling vacancy rates (11.3%) create a quite favorable investment plane. Austin's market is set for a strong 2016 as new construction will cool down and demand will consume supply, giving fuel for another strong year after that.
According to some statistics, average vacancy rate for 2015 in the U.S. was 12%. All the core focus cities have vacancy rates well below that figure. In addition, the company operates at a 93.4% occupancy rate, far higher than the U.S. average and the individual markets of Philadelphia, D.C. and Austin.
However, the lack of adequate geographical and sectoral diversification may create some turbulence regarding the performance of this REIT in the future. While it is common, yet not absolutely right, for some REITs to be sector specific, it is not so common to be so much focused in a few geographic locations and this is something that should ring some bells regarding portfolio risk management. If you put your hard earned cash into an online brokerage, like Betterment, you will notice that they will be allocated in various investment vehicles scattered across the investment universe, just for one obvious reason: Diversification, which include geographical diversification as well.
On the other hand, however, the company is well diversified in terms of tenant business. As you can see in the chart below, taken from the company's latest supplemental presentation, the company has leased its properties in tenants from a wide range of the business spectrum.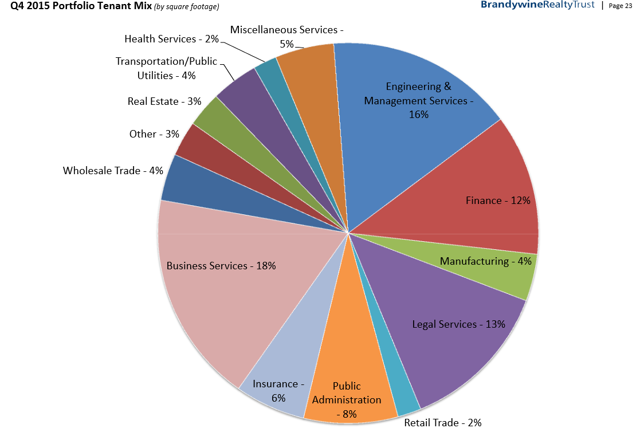 Financials
As a result of the inadequate geographical diversification, we can see that 70% of the company's NOI generated from wholly owned properties and 63% of the total NOI generated from all properties, including Joint Ventures. In other words, the company is earning the vast majority of its cash from one specific state. More worrying is the fact that, according to Q4 2015 supplemental information package, Philadelphia CBD, which is responsible for 38% and 33% of the company's wholly owned and total NOI respectively, is operating at a 97% capacity, meaning that there's only 3% more revenue to come from there in 2016.
So, plain speaking, we have an aircraft that has three engines. The first of the engines is the most powerful one, being responsible for 63% of the total thrust, and is currently operating at almost full throttle. Then, we have two other smaller engines, operating at quite different levels. The first one of the two smaller engines is Austin, representing 11% of the total thrust, which is also operating at full throttle. The other one, Washington D.C. is operating at the minimum level. The question here is, can the aircraft fly without its main engine?
If we take the Q4 2015 supplemental presentation's numbers for granted, the answer is "probably yes". The company is currently operating 55% of its maximum anticipated revenue, meaning that there is still much room for improvement and NOI contribution from the "smaller engines" as well.
In terms of FFO, Brandywine Realty Trust is doing just fine. With a figure of $ 0.35 per share for Q4 2015, the company has outperformed its peers' average and median FFO growth of 2.37% and 5.68% respectively, by growing its Funds from Operations by 8.21% in a YoY basis.
All of the company's debt is at a fixed rate of 4.92%, while over three quarters of it is unsecured. Additionally, there are significant repayments of unsecured debt over the next three years as well as a balloon payment maturing in 2016 ($100k) and in 2023 ($220k).
As for the company's valuation, as of 31th December 2015, it traded at a 7.83 P/FFO multiple while the average and median price of its peers was 13.08x and 13.38x respectively. According to Lazard, all equity REITs' average P/FFO ratio is 16.3x.
Finally, Brandywine Realty Trust reported a dividend yield of 5.28%, again significantly higher than the median and average prices of its peers.
Conclusion
This is an overall good and healthy company. Good financials, straightforward debt structure, fixed debt, satisfactory levels of dividend yield. With a market cap of $ 4.55 billion I would definitely consider adding this one to my portfolio.
But, as always, there's this little voice in my head asking questions. And the most persistent question that it asked was why such a healthy company is trading as nearly half the average REIT P/FFO multiple?
In my opinion, the answer lies in the inadequate geographical diversification of the company's portfolio. The management seems to be doing a great job outperforming the overall office market fundamentals, so there isn't much left to attribute this decreased multiple to. The company must now find ways to improve its geographical diversification by investing in other states as well as decreasing its dependence on NOI generation from just a few locations. Of course, this is something that we will be able to identify in the medium run, quarter after quarter.
So, the bottom line is, I will keep an eye on this one for sure, but I prefer staying put for the time being.
Disclosure: I/we have no positions in any stocks mentioned, and no plans to initiate any positions within the next 72 hours.
I wrote this article myself, and it expresses my own opinions. I am not receiving compensation for it (other than from Seeking Alpha). I have no business relationship with any company whose stock is mentioned in this article.