TAL International (NYSE:TAL) is a NYSE-listed company active in container leasing and container trading. The company, headquartered in Purchase, NY, owns approximately 2.4m TEU (20-foot unit equivalents) containers including dry, refrigerated, tank, and special container units.
On November 9, 2015, TAL and privately-held Triton announced their intention to combine their operations in a "merger of equals." Triton's shareholders, which includes private equity firms Warburg Pincus LLC, Vestar Capital Partners and other private shareholders, including Triton management, will own 55% of the combined entity, with current TAL shareholders owning the remaining 45%.
The transaction has several benefits to the current TAL shareholders:
It creates the world's largest container leasing company, with approximately 25% market share and 4.8m TEU container units.
The combined entity expects to generate $40m in annual SG&A cost synergies by aligning the infrastructure and creating a best-in-class systems environment. The cost savings are expected to be fully realized by the end of 2016.
Although not described as such in the TAL press release or the shareholder webcast, this transaction is a tax inversion from the perspective of the company's shareholders. The combined entity will be domiciled in Bermuda for tax purposes (as Triton is currently), allowing it to take advantage of the low tax rates vs. domestic tax rates currently paid by TAL (headquartered in Purchase, NY, and domiciled in the USA for tax purposes). TAL's average GAAP income tax provision as a percentage of EBT ranges from 26.5% to 34.4% during the period 2010 to LTM 9/30/2015 while Triton's income tax provision never exceeded 5% of EBT.
The tax savings which are expected to materialize over time and the $40m SG&A savings will increase the EPS for TAL shareholders relative to the company's standalone scenario by as much as 36% to $4.45 according to TAL and Triton management on an LTM 9/30/2015 basis.
The company's shareholders will receive 1 share in the combined entity for every share of TAL owned, as well as $0.54 in cash, bringing the year one dividend yield close to 23% for investors acquiring shares at current levels.
Valuation
The severe decline in TAL's shares has rendered the stock very cheap in terms of valuation on a number of metrics, particularly market value multiples. The company has substantial levels of debt (5.6x debt to pro forma EBITDA), so on an EV basis, significant upside requires relatively high EV multiples. This is a direct result of low interest rates where high debt levels significantly subtract from EV but do not burden net income due to low interest payments.
In terms of price to book, it is trading at 0.3x pro forma book value of equity relative to historical averages of 1.7x to 2.2x. In terms of P/E, it trades at 2.3x pro forma EPS of the combined entity.
The table below shows the per share implied equity value using various assumptions. As always, analysts can differ in their assumptions, but I think it's entirely reasonable to value the stock at $30 to $40 per share. Doing so only requires the assumption that the proposed transaction closes as planned, and that profitability and valuation metrics return to the historical averages TAL achieved as a standalone company in the period 2010 to 2014 (such as a 20% ROE, 10x P/E multiple or a 8x EV/EBITDA multiple).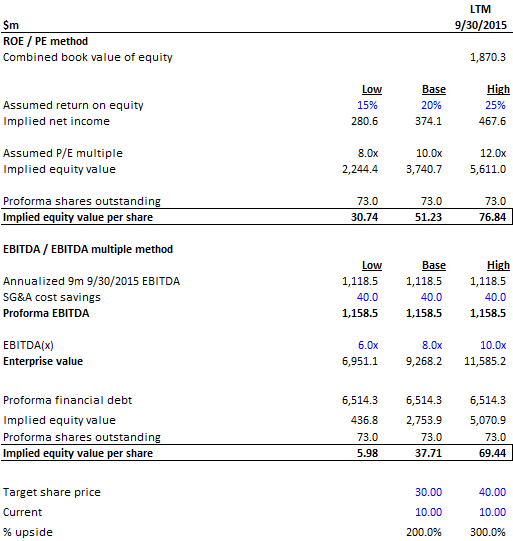 Technical Analysis
One of Benjamin Graham's oft repeated quotes (also sometimes attributed to Warren Buffett) is "in the short run, the market is a voting machine, but in the long run, it is a weighing machine."
As a result, fundamentals do not matter much in the short term. For instance, several SA articles appeared in September, October, and November 2015 touting TAL as an interesting long opportunity.
The stock was trading between $13 and $18 per share with a P/E between 4x and 5x, a double-digit dividend yield, and a market capitalization below book value of equity. These are valuation metrics most value investors would agree are low enough to warrant a closer look.
The problem was that the technical picture warned of lower prices ahead, with the rise from $13 per share showing a clear corrective price structure. While I believe those investors that acquired shares in the range of $13 to $18 per share will likely make money on their TAL investments in the medium to long term, those buying today will make a lot more for two reasons:
First, the $10 price point is significantly lower and will dramatically increase return.
Second, because the technical picture is aligned with the fundamental view, there is a high likelihood that TAL will bottom somewhere close to current share prices. Because the downside is limited, an aggressive speculator could boost returns by employing leverage or option strategies.
To understand the technical picture, I urge readers not familiar with Elliott Wave to review the following link.
Weekly Chart

The weekly chart above shows the larger picture. I am assuming that a 5-wave decline from the all-time high of $57 is in progress. This is likely a flat correction which takes the form of 3-3-5 wave structure and in essence will re-target the area of the 2009 low of $5.60 per share.
As in any 5-wave impulse, wave 3 is usually both the longest and strongest, and that is clearly shown in the chart above. Additionally, RSI, which denotes price momentum, peaked at the before stated $13 trough which in most cases invalidates it as the final low.
In order to predict the final low, we would need to see a completed 5-wave decline from the recent high of $20 per share along with a divergence of RSI.
4-Hour Chart

Reviewing the above 4-hour chart reveals exactly that. We have a full 5-wave decline from $20 with divergence in RSI.
Again wave 3 is the longest with RSI peaking at the end of wave 3.
At $7.28, wave 5 would equal wave 1, a typical Elliott Wave Fibonacci relationship.
As TAL's shares hit $8.16 at the most recent low, I am going to assume that was the low and acquire shares at the current market price at around $10 (02/10/2016) per share.
Readers should be aware that there is an alternate technical interpretation that calls for a final low slightly below $8.16, but the final confirmation of which scenario is correct will only be possible in hindsight.
In the event shares do decline further, I will acquire additional shares at lower levels (the alternate scenario calls for a bottom around $7 to $8).
Supporting Documents
Disclosure: I am/we are long TAL.
I wrote this article myself, and it expresses my own opinions. I am not receiving compensation for it (other than from Seeking Alpha). I have no business relationship with any company whose stock is mentioned in this article.
Additional disclosure: This article presents the opinions of the author and does not provide individually tailored investment advice. It has been prepared without regard to the individual financial circumstances and objectives of persons who receive it. Investors are recommended to independently complete their own due diligence and evaluate any investment independently as well as to seek the advice of a financial advisor. The appropriateness or legality of a particular investment will depend on an investor's individual circumstances and investment objectives. The securities, instruments, or strategies discussed in this article may not be suitable for all investors, and certain investors may not be eligible to purchase or participate in some or all of them. The article is not an offer to buy or sell or the solicitation of an offer to buy or sell any security or instrument or to participate in any particular trading strategy.