After a sixth day in a row of oil being down, where oil hit its lowest levels since 2003, I am calling a bottom in MLPs (NYSEARCA:AMLP) (NYSEARCA:AMJ). With recent shocks to MLPs coming from a new low in oil prices, worries over Chesapeake Energy (NYSE:CHK), and Energy Transfer Equity (NYSE:ETE) replacing its CFO, MLPs are extremely oversold. For long-term investors who can stomach it, I believe this is potentially a once-in-a-decade buying opportunity.
Dividend Outlook
I looked at the holdings of AMLP to see which underlying companies have increased, maintained, or cut their dividends. As you can see in the table below, 10 of the 22 holdings increased their dividend compared to the fourth quarter of 2015. Those components that increased their dividend account for 52.50% AMLP's of assets. In addition, the only stock not to have declared its first-quarter dividend was Buckeye Partners (NYSE:BPL) -- if they increase their dividend, that will push that 52.50% up to 60.81% of AMLP's assets that have increased their dividend. Even though some have declared the MLP model dead, the data below clearly shows there is significant value from an income perspective from MLPs.
Company

Symbol

Weight

2016 Q1 Dividend

2015 Q4 Dividend

Increased Dividend?

Enterprise Products Partners LP

(NYSE:EPD)

11.63%

0.39

0.385

Yes

Magellan Midstream Partners LP

(NYSE:MMP)

9.50%

0.785

0.763

Yes

Buckeye Partners LP

BPL

8.31%

1.175

1.175

No

Plains All American Pipeline LP

(NYSE:PAA)

7.53%

0.7

0.7

No

Energy Transfer Partners LP

(NYSE:ETP)

6.18%

1.055

1.055

No

ONEOK Partners LP

(NYSE:OKS)

5.80%

0.79

0.79

No

MPLX LP

(NYSE:MPLX)

5.63%

0.5

0.47

Yes

EQT Midstream Partners LP

(NYSE:EQM)

5.32%

0.71

0.675

Yes

Enbridge Energy Partners LP

(NYSE:EEP)

4.28%

0.583

0.583

No

Sunoco Logistics Partners LP

(NYSE:SXL)

4.20%

0.479

0.458

Yes

Spectra Energy Partners LP

(NYSE:SEP)

3.73%

0.639

0.626

Yes

Williams Partners LP

(NYSE:WPZ)

3.44%

0.85

0.85

No

Tesoro Logistics LP

(NYSE:TLLP)

3.35%

0.78

0.75

Yes

Western Gas Partners LP

(NYSE:WES)

3.12%

0.8

0.775

Yes

Genesis Energy LP

(NYSE:GEL)

3.03%

0.655

0.64

Yes

Shell Midstream Partners LP

(NYSE:SHLX)

2.99%

0.22

0.205

Yes

Targa Resources Partners LP

(NYSE:NGLS)

2.71%

0.825

0.825

No

TC PipeLines LP

(NYSE:TCP)

2.68%

0.89

0.89

No

NuStar Energy LP

(NYSE:NS)

2.68%

1.095

1.095

No

DCP Midstream Partners LP

(DPM)

2.23%

0.78

0.78

No

EnLink Midstream Partners LP

(NYSE:ENLK)

1.70%

0.39

0.39

No

NGL Energy Partners LP

(NYSE:NGL)

0.85%

0.64

0.64

No

Weight of components that increased dividends

52.50%
Source: Data taken from Dividendchannel.
MLP Relative Underperformance
I constructed the following table, which shows the relationship between the Alerian MLP index (AMZ) and the Dow Jones U.S. Oil & gas index, which is the underlying index for the iShares U.S. Energy ETF (NYSEARCA:IYE). As the blue line falls, MLPs are underperforming oil and gas stocks. Wth today's decline, MLPs have pushed into territory not seen since the great recession, which to me is a signal of a potential once in a decade opportunity.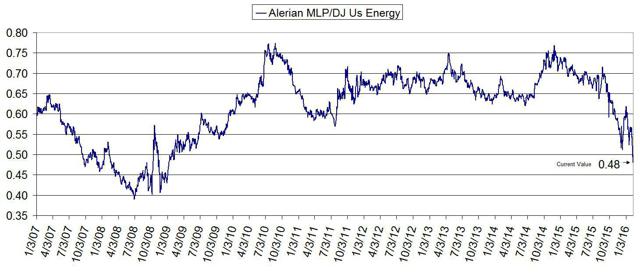 Source: Yahoo Finance and Google Finance.
Increasing Demand
The data below from a recent energy EIA energy outlook report shows that total consumption of refined products is expected to grow in 2016 and in 2017. This benefits many MLPs who are focused on the transportation and storage of refined products. For example, in an article I wrote last year about Magellan Midstream Partners, I noted that they have access to nearly 50% of the refining capacity in the United States. The following statement from the Magellan earnings press release shows the strength of refined products and confirms the prospect of increasing demand:
Despite the downturn in energy markets, Magellan generated record distributable cash flow for both the fourth quarter and the full-year 2015, driven by the benefit of recently-completed expansion capital projects and continued strong demand for our fee-based refined products and crude oil pipeline and terminal services.
EIA Energy Outlook Data
2014

2015

2016

2017

Total Consumption

19.11

19.38

19.49

19.75

[Data in millions of barrels per day]
Cushing Storage
Storage of crude oil is at its highest level in the last 10 years and, with refinery maintenance season in full swing, I would expect storage levels at Cushing to increase until refineries are finished with their maintenance. With Cushing capacity already high and refineries not using crude oil stored at Cushing, there is a strong possibility that inventories at Cushing will continue to rise leading up to driving season. While this build up in inventories could lead to lower prices, once they start drawing them down I expect that the price of oil will rise when the market sees a decline in crude oil stored at Cushing.

Source: EIA.
| | |
| --- | --- |
| Capacity In Operation | 87,685 |
| Ending Stocks | 64,697 |
| | |
| | 73.78% |
Source: Table data from EIA chart above and EIA storage capacity report.
Closing Thoughts
In closing, I believe MLPs are at a bottom or very near a bottom. That's because many MLPs are still increasing dividends in this tough environment, MLPs are underperforming energy stocks by the most since the great recession, there is strong demand for refined products, and Cushing storage is at its highest in the last 10 years.
Disclaimer: See here.
Disclosure: I am/we are long AMLP.
I wrote this article myself, and it expresses my own opinions. I am not receiving compensation for it (other than from Seeking Alpha). I have no business relationship with any company whose stock is mentioned in this article.