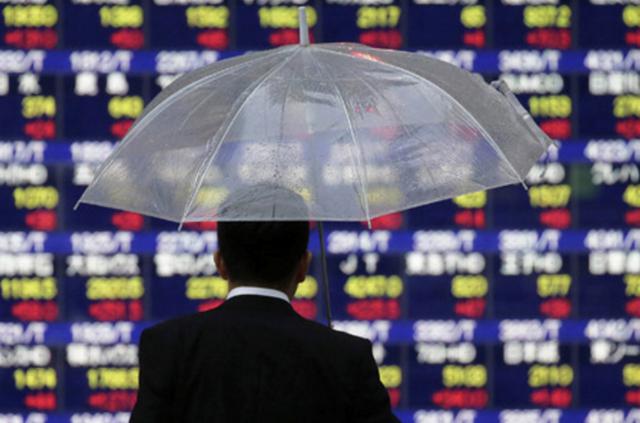 If there is one person being kept awake at night by the volatile moves in financial markets it would have to be the Bank of Japan's Governor Haruhiko Kuroda. At a time when the market and ourselves were expecting a Japanese yen (NYSEARCA:FXY) decline, the U.S. dollar (NYSEARCA:UUP) has collapsed against the yen by over 6 percent since Kuroda took Japan into negative rates territory. In fact, it has now strengthened to a point higher than when its monetary easing program first began. As we have been short the yen versus the dollar we have clearly made a loss on paper at this point, but call it an iron nerve or foolishness, we still feel things will come good in the end and hold our positions. This flight to safety that has seen the yen and gold surge will have to end soon for the sake of the Japanese economy and its financial markets which we believe simply cannot cope with a yen at this strength.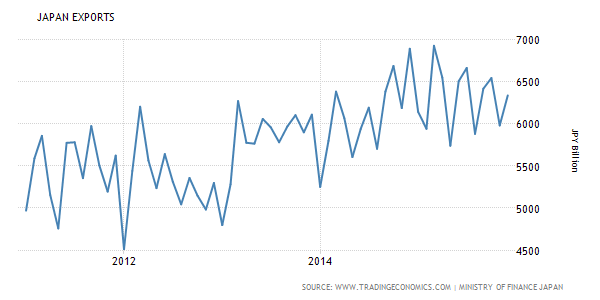 Sourced from Trading Economics
Japanese exports have been trending upwards in recent years, as the chart above shows. But the rising yen is making exports uncompetitive and we see its exports dropping viciously causing a swing in the balance of trade. Ultimately we feel the yen at this level is going to harm the country's economic recovery, and ruin Kuroda's inflation plans. At this stage the yen's move has effectively made his decision to move into negative interest rates utterly pointless.
The Bank of Japan will act if things to change.
Governor Kuroda has blamed excessive risk aversion for the yen's appreciation, which we agree with. But market turbulence doesn't look like it is going to improve any time soon. As we've said before, the only index that seems to be going up consistently is the VIX volatility index. When China comes back online next week it has a whole week of volatility to catch up on. We can only imagine what that is going to look like. So with an excessive appetite for risk aversion looking like it will continue something will have to be done, otherwise Kuroda can kiss goodbye to his 2 percent inflation target.
In a recent interview Governor Kuroda reiterated his determination to achieve the 2 percent inflation target. He has boldly said:
"Since adopting quantitative and qualitative easing, I have consistently said the BOJ will take whatever steps necessary, including additional monetary easing, if needed to hit our price target."
In our opinion this is coming soon. Much like how Europe will have to ask fast to hit its inflation target, Japan will have to do the same. The longer it leaves it, the higher the risk of being caught up in stagflation. The word around the markets in Tokyo is that the Bank of Japan may resort to currency intervention. Currency intervention is what occurs when a government buys or sells currency to push the exchange rate of its own currency away from equilibrium value. Speculation is rife that the Bank of Japan will begin yen-selling intervention to bring it down to a manageable level.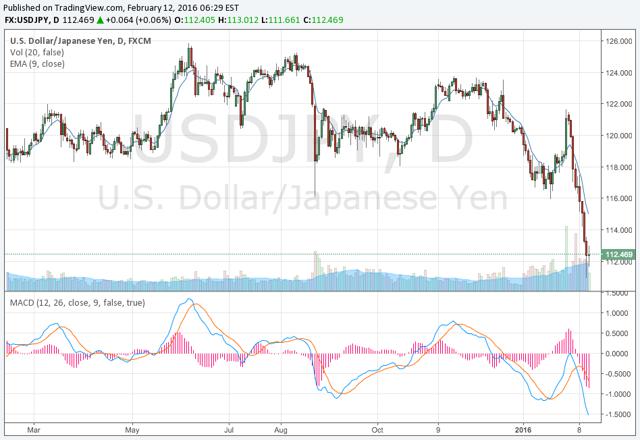 Sourced from DailyFX
The chart above shows the extent of the U.S. dollar's collapse versus the yen. We expect that in time the U.S. dollar will find its way back up to 120.000 with or without the help of Kuroda and the Bank of Japan. Without Kuroda we feel it will need prolonged stability in the markets. Without which there is little chance of a recovery in the near future. With Kuroda and the Bank of Japan's assistance, whether it be further interest rates cuts or currency intervention, we feel it has the ability to get there far quicker than many would expect.
We see there being a good opportunity to short the yen versus the U.S. dollar right now, and also going long with the Nikkei 225 (NYSEARCA:NKY). The Bank of Japan has said it is going to do whatever it takes to weaken the yen and we believe this has to be true or else the inflation target is absolutely finished. Still, one has to be very brave to trade against the yen, or most currencies, as these days few are behaving at all as the market expects. In this market to succeed it is almost worth being a contrarian without foundation.
As ever, good luck with your trades.
Disclosure: I/we have no positions in any stocks mentioned, and no plans to initiate any positions within the next 72 hours.
I wrote this article myself, and it expresses my own opinions. I am not receiving compensation for it (other than from Seeking Alpha). I have no business relationship with any company whose stock is mentioned in this article.
Additional disclosure: Short Japanese Yen futures