Ellington Financial (NYSE:EFC) has been an odd stock to figure out. While technically an LLC, the market trades it exactly like an mREIT due to its large portfolio of agency and non-agency paper. Given the volatility seen in interest rates, EFC has gotten off to a rough start for 2016, down 5%, inline with the mREIT peer group, but much better performance than other leveraged financial names.
EFC just came out with its monthly book value update for January 2016. As of January 31, 2016, the estimated book value was $21.76 per diluted share, down $0.06 from $21.82 per share at the end of December 2015. This comes out to an annualized ROE of -3.3%, obviously below EFC's long-term target of 10%-12% for the year.
The following is a breakdown of EFC's month by month book value trend. I calculate the ROE by using the change in the book value month over month, divided by the prior month book value, adjusted for any dividends declared, with this percentage annualized.
September 2014 book value: $23.78 +$0.28 (14.1% ROE)

October 2014 book value: $23.78 no change (0% ROE)

November 2014 dividend: -$0.77

November 2014 book value: $23.06 +$0.05 (2.5% ROE)

December 2014 book value: $23.13 +$0.07 (3.6% ROE)

January 2015 book value: $23.22 +$0.09 (4.7% ROE)

February 2015 dividend: -$0.65

February 2015 book value: $22.72 +$0.15 (7.8% ROE)

March 2015 book value: $23.01 +$0.29 (15.3% ROE)

April 2015 book value: $23.23 +$0.22 (11.5% ROE)

May 2015 dividend: -$0.65

May 2015 book value: $22.70 +$0.12 (6.2% ROE)

June 2015 book value: $22.75 +$0.05 (2.6% ROE)

July 2015 book value: $22.93 +$0.18 (9.5% ROE)

August 2015 dividend: -$0.65

August 2015 book value: $22.27 -$0.01 (-0.5% ROE)

September 2015 book value: $22.22 -$0.05 (-2.7% ROE)

October 2015 book value: $21.89 -$0.33 (-17.8% ROE)

November 2015 dividend: -$0.50 (lowered by 23%)

November 2015 book value: $21.70 +$0.31 (17.0% ROE)

December 2015 book value: $21.82 +$0.12 (6.6% ROE)

January 2016 book value: $21.76 -$0.06 (-3.3% ROE)
Why did the book value fall in January?
This decrease in EFC's book value is not at all surprising. Indeed, I was preparing for an even worse hit. So far, 2016 has been an extremely volatile period for interest rate sensitive names. Simply put, the Fed is clueless and has been caught off guard.
When the Federal Reserve raised rates late last year, the market was already pricing in at least 4 more increases in 2016. Even several Fed members were not shy in outlining this policy.
However, due to a combination of increasing worries about deflation, weakness in China, falling commodity prices, negative interest rates policies in other developed markets and other factors, the Fed is now walking back its 4 rate hike forecast.
Indeed, it appears the market is now bracing for the possibility of possible interest rate cuts. The 10-year is now at 1.64%, down a massive 63 basis points from 2.27% as of the end of December 2015 and down 30 basis points from 1.94% as of the end of January 2016.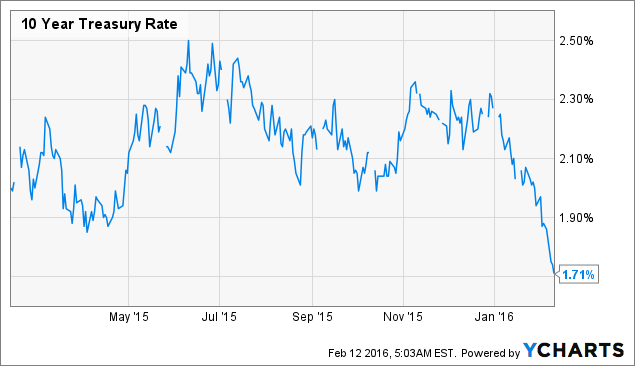 10-Year Treasury Rate data by YCharts
While falling rates should lead to higher values for EFC's agency paper, these gains have likely not offset the large losses on interest rate swaps and other hedges EFC uses to mitigate volatility in interest rates. For one reason or another, hedges have been underperforming for nearly all mREITs due to the severity of the change in rates and other factors.
On the other end of the spectrum, EFC's smaller portfolio of non-agency paper has likely been adversely impacted by the "risk-off" attitude seen in the markets. The non-agency portfolio is generally more credit-risk sensitive. A proxy, though an imperfect one, for its performance would be the various junk bond ETFs, which are all down significantly in 2016.
Conclusion
While its performance has been lackluster in recent quarters, EFC remains a stock worth holding. The discount to book value is ridiculous at 27%, while the nearly 13% yield offers enough income to justify a long position. EFC is addressing some of these issues, recently shifting capital from the dividend to share buybacks, a move most mREITs cannot replicate due to RIC requirements. Though EFC will likely need the volatility in interest rates to abate before it sees its profitability return to normal levels.
Disclaimer: The opinions in this article are for informational purposes only and should not be construed as a recommendation to buy or sell the stocks mentioned. Please do your own due diligence before making any investment decision.
Disclosure: I am/we are long EFC.
I wrote this article myself, and it expresses my own opinions. I am not receiving compensation for it (other than from Seeking Alpha). I have no business relationship with any company whose stock is mentioned in this article.