Barrick (NYSE:ABX) has been one of the best success stories this year. With heavy pessimism in the markets, we're getting a repeat of the late-August dip, and this time, investors fear it's going to be for a longer period of time. I have been bearish on Barrick in the past, with interest rate speculation driving my bear argument, and I'll be honest in that I did not expect gold, nor Barrick, to rally as quickly as it did. The stock has been on a tear the last few weeks, up an astonishing 62.2% YTD. Madness, absolute madness. However, is it short lived or a perfect time to buy?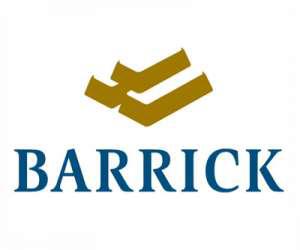 What's Gold Going?
The way I see it there are several standout factors that investors should consider. First, there are the continually low and falling energy prices, most notably crude oil. While natural gas is also seeing depressed prices, crude undoubtedly takes the headlines. In the likely event that crude fluctuates around $30/barrel for the next few weeks, I believe we'll see gold and gold-driven stocks like Barrick have their good days and their bad days. I'm bullish on oil right now given that we're at 12 year lows and the risk/reward scenario is creating an incredible amount of pressure on OPEC and domestic producers considering the massive losses posted in Q4 earnings.
Gold could very well be in the beginning of a bull market. What we got out of Janet Yellen this week was subtle pessimism about the trajectory of increases in the Fed Funds rate. In my own opinion, I do not believe the Fed will hit the target it set for interest rates back in December when they first increased rates, as I believe low-priced commodities and uneasy jobs data will create large headwinds. Meanwhile, we have increasingly stressful news out of Draghi's ECB and Japan. It seems like every where you look, the demand for gold is beginning to swell.
In reference to emerging markets being a tailwind for gold, the expectations will shift in the domestic equity market's favor. At some point, expectations will be lowered for nations like China and will come in line with where we're currently at. Instead of the fear swelling saying, "Oh, no, it's going to slow to 6.8% this year," the expectations will say, "At least we only lost 10 bps as opposed to 20 bps." When that inflection point occurs, which I currently can't figure out given the amount of research and random political events it's going to take for us to reach that point, that's when it's likely safe to flip to bearish on gold. It could come in three months, six months, or even a few years. For now, we have to remember the run up in gold prices and Barrick's equity is very, very short-term, relatively speaking.
Gold is already up 18% this year and leveraged gold equities are up even more, readily visible in ABX. Below you can see the YTD trend of Gold against the S&P 500: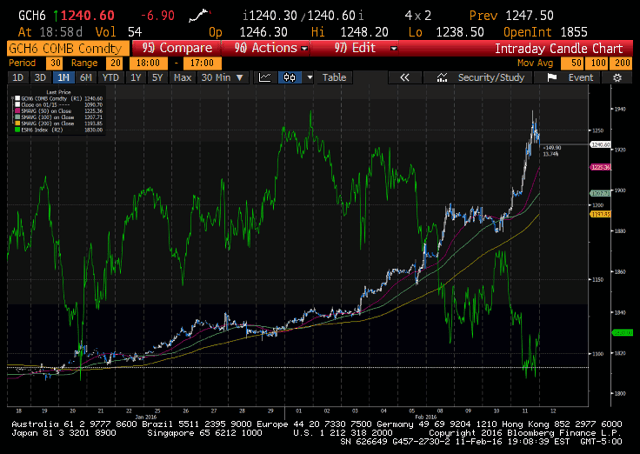 Source: Bloomberg
Barrick's Positioning
Barrick is positioning itself to be a much more stable player for years to come based upon its debt-reduction activity as well as its cost improvement. They have a $2 billion FCF target, which while ambitious and it's achievement will certainly be dictated by the market price for gold, is a positive sign for shareholders. Debt is down over 15% since they began the process, and they have 16 core mines, meaning that they have adequate diversification across two continents and no one mine comprising too large of a revenue composition. Below you can see their current maturity stack: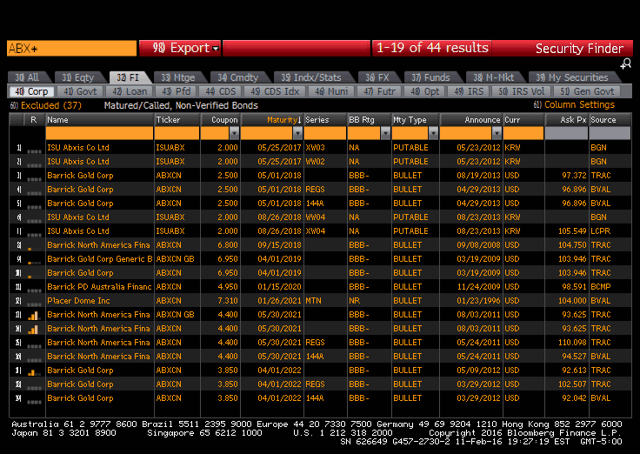 Source: Bloomberg
While I did disagree with the company's non-core asset sales in 2015, there was really no other option (well, a debt restructuring could have taken place, but that would've brought significant headwinds to the equity and potentially near-term interest headwinds for the company). If you're trying to buy Barrick's competitors with stronger balance sheets, you could look to Newmont Mining (NYSE:NEM) or maybe even Kinross Gold (NYSE:KGC). The deal with Kinross closed mid-last month and won't show full effect until the Q1 earnings report in a few months.
Furthermore, the major catalyst that we're all waiting for to show efficacy is Pascua-Lama. It's presence has actually been sort of under wraps lately and we really can't forget what a substantial impact that it is going to have - especially come future earnings reports.
A Wild Market
Take a look at the graph below. This is the one month trend of Barrick versus the S&P 500. The divergence is really starting to widen and for you as a trader, that means one of two things. First, you can bet that it's a renewal of a short-term cushion to short. Second, you can view it as the beginning of a perhaps longer-term trend where investors flock to more safe haven assets like gold and gold-related stocks that have proven themselves to be of a quality nature. Barrick, in my opinion, is second in class only to Newmont Mining. However, Newmont is up considerably less than Barrick YTD, at 39.19%. Still not a bad six week return in the slightest.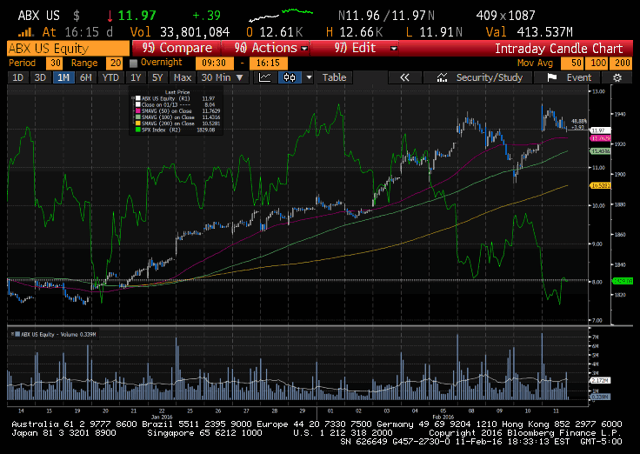 Source: Bloomberg
Unfortunately, Barrick's yield is minimal at 0.67% and heavily trails the S&P 500 average dividend yield. Newmont's yield is also low at 0.40%, but the alternative, we have to remember, is buying gold futures which pays no yield. You could also buy into SPDR Gold Shares (NYSEARCA:GLD), but that also doesn't pay a yield, but is up considerably YTD.
As a side note, I believe there are a few different levels of fear in the market currently. When we first saw a slide at the beginning of February, we saw utility stocks gain increased attention, particularly for their high dividend yields relative to gold-driven equities. I believe as oil begins to trend to incredible new lows and other commodities wait for China to push supply-side reform, we're going to see some interesting inflow/outflow exchanges between utility stocks and gold stocks. I believe it would serve investors and traders alike to own both over the next several months until it looks there is more long-term cooperation on supply-side issues.
Conclusion
The company will report earnings next Thursday. I believe what we'll see from this earnings report is a lot of what we've heard before from Barrick, but nonetheless confidence. The debt pay-down will continue, and their focus on generating greater FCF will remain a top priority. I believe it is more than likely that I'll be taking positions in both Barrick and Newmont over the coming days.
Disclosure: I/we have no positions in any stocks mentioned, but may initiate a long position in GLD, ABX, NEM over the next 72 hours.
I wrote this article myself, and it expresses my own opinions. I am not receiving compensation for it (other than from Seeking Alpha). I have no business relationship with any company whose stock is mentioned in this article.