Gold mining stocks are one of the most efficient diversifiers in most portfolios as demonstrated in my previous articles here and here. Thus it makes perfect sense for a savvy investor to consider at least a small allocation to an ETF like Market Vectors Gold Miners ETF (NYSEARCA:GDX). The main issue is that GDX has been in a downward spiral for good five years and is currently trading about 70% (!) below its all-time high reached in 2011. The monthly candlestick chart with risk parameters since inception in 2006 look as follows: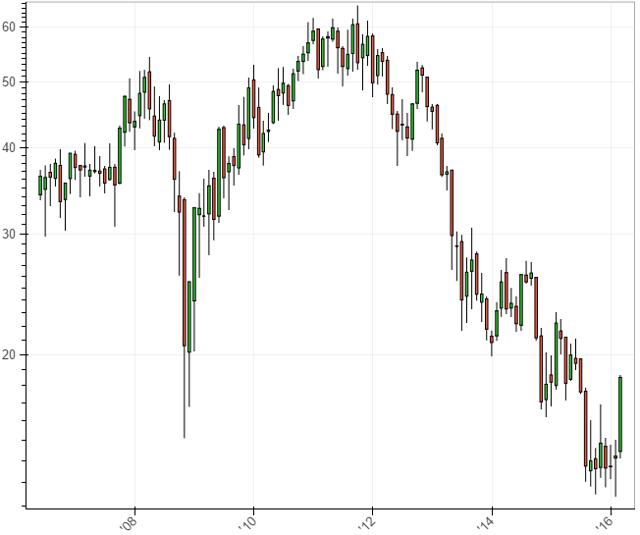 Therefore, even though one may be itching to invest in GDX to capture the diversification benefit, the pitiable returns from the past are will likely be sufficient to discourage such a move.
A traditional way to avoid lasting downturns is to apply a moving average filter. Some investors chose to use 200 or 250 day averages, others opt for monthly averages or adopt exponential versions. The choice is wide but the essence is the same, which was neatly summarized in this popular white paper by Meb Faber. The reason I mention moving averages is simple: GDX has started 2016 with a rally of 30% and suddenly trades above all conventional moving averages. No doubt this security has popped up on the screens of many market participants, particularly when the vast majority of other equity products are trading way below their moving averages.
However, it is important to note that historically gold mining stocks have been among worst performers in longer term moving average systems. For example, if one bought GDX every time it crossed the 200 day simple moving average from below and closed the position when it went below, such a trading system would have yielded a total loss of 47% as of February 11, 2016. And this does not take into account trading commissions and any other costs that may be involved. The results are very similar when using monthly or exponential averages. In fact, GDX has historically performed substantially better when it was trading below the conventional moving averages.
So despite the fact that GDX is one of the very few equity ETFs currently trading above its moving averages, investors should be careful rushing into it given a poor historical performance of moving average trading systems on gold miners. Even though historical results are no guarantee of future performance, awareness of history always helps.
Disclosure: I/we have no positions in any stocks mentioned, and no plans to initiate any positions within the next 72 hours.
I wrote this article myself, and it expresses my own opinions. I am not receiving compensation for it (other than from Seeking Alpha). I have no business relationship with any company whose stock is mentioned in this article.