How GOOG upset AAPL
Figure 1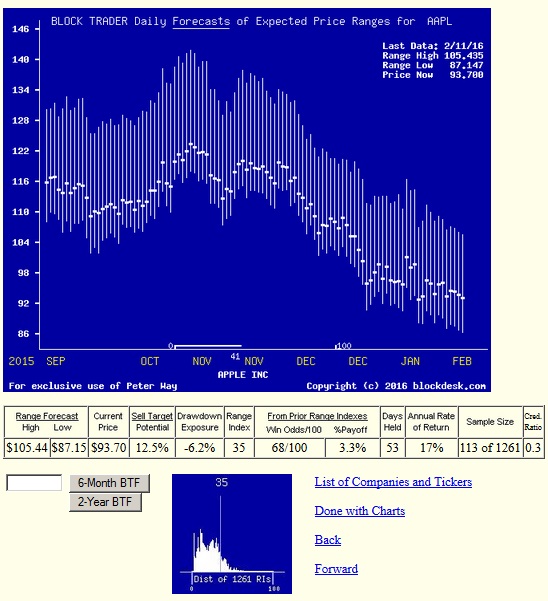 (used with permission)
This picture's vertical lines are daily-updated FORECASTS of prices likely yet to come, not the typical backward-looking history of past prices. The only past prices here are the heavy dots surrounded by the forecast price ranges. They are the closing market quotes on the day the Apple (NASDAQ:AAPL) forecasts were derived from the then hedging actions of the market-making [MM] community. To better understand that process, read this.
The market quotes separate the price range forecasts into upside and downside prospects, the proportions of which are measured on the downside by the Range Index [RI]. Smaller RIs mean larger upside potentials.
Declining market prices in a surroundings of stable or growing coming-prices should make for lower RIs and bigger gain prospects for holders or buyers. But that's not what's happening at Apple.
Since mid-January, forecasts have been dropping faster than prices, pushing RIs higher, from lows of 21 (% of the range to the downside) to 36. The small blue thumbnail of RIs in Figure 1 shows that for AAPL the current level is well above the past 5-year's average of daily readings. Stocks that look cheap usually are on the left-hand side of such distributions.
But even with its market capitalization eroded to "only" $521 billion currently, AAPL is still "king of the hill." Alphabet (NASDAQ:GOOG) (NASDAQ:GOOGL) now is market-priced at only about 9/10ths of that, $472 billion.
Here's how the news-making "displacement" happened.
Figure 2
(used with permission)
On February 2nd GOOG edged up to a price near $781, 10½% higher than today's $706. That was enough to just nose out AAPL in the market-cap race. Since then AAPL has declined less than -1%, while the price of GOOG has been severely hit.
A look at institutional ownership of the two stocks is revealing.
At AAPL, 2440 institutions own 60% of the stock. The top ten hold 22+%. Institutions holding nearly 3/4ths of GOOG are fewer, 1700, much more concentrated. About one third of the institutional ownership in GOOG is held by its top ten investment organizations.
Nearly three times the dollar value of AAPL stock trades in an average day, compared to the volume-value of GOOG. With more concentrated ownership in GOOG and a less-liquid market, the greater price volatility is not surprising.
That leads to regarding recent events as a blip, rather than a lasting change.
Still, the trend in AAPL is not nearly as encouraging as seen in GOOG. Figures 3 and 4 show once a week excerpts from Figures 1 and 2, going back over the past 2 years.
Figure 3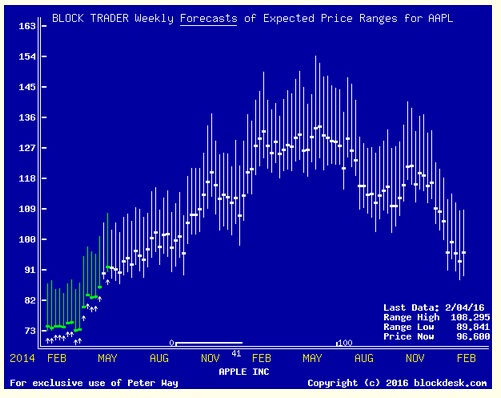 (used with permission)
Figure 4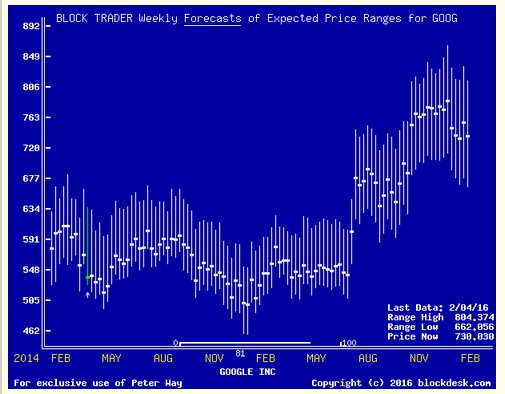 (used with permission)
Could there be a palace uprising?
A prince in not-so-quiet waiting may be eager to claim the market-cap crown.
Nearly $300 billion already, and trading at about twice the daily dollar value of GOOG, Facebook (NASDAQ:FB) appears to be on the march.
Figure 5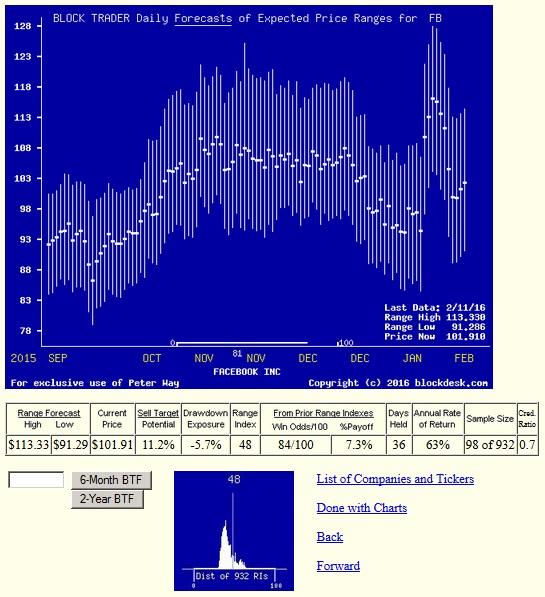 (used with permission)
The recent market-price influences present in GOOG seem to have a parallel in FB. MM outlooks play a part in FB as well, with just under 70% of the stock in institutional hands already. But there are at least 1000 institutions owning AAPL that have not yet taken part in FB.
Figure 6 suggests that FB has a trend potential more like GOOG than AAPL.
Figure 6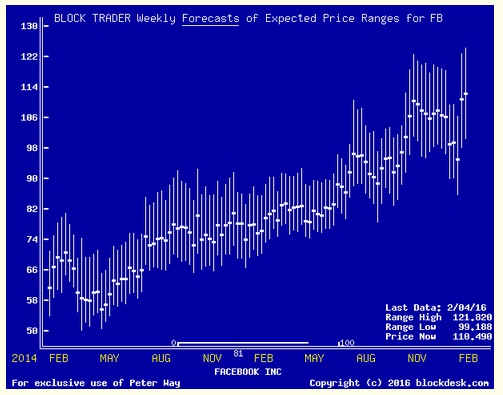 (used with permission)
Conclusion
Mr. Zuckerberg showed many that he was the smartest guy on the street at IPO time. Perhaps he may do the same in the aftermarket? Not analysis, just a speculation.
This offering is intended to provide perspective, not to make recommendations. That's your job.
Disclosure: I/we have no positions in any stocks mentioned, and no plans to initiate any positions within the next 72 hours.
I wrote this article myself, and it expresses my own opinions. I am not receiving compensation for it (other than from Seeking Alpha). I have no business relationship with any company whose stock is mentioned in this article.