Background
The fourth quarter of 2015 was rough on rate-sensitive investments. After literally years of slowly torturing them with threats of interest rate hikes, the Fed finally acted at its December meeting. Rates spiked due to this decision, though since then they have fallen back.
CYS Investments, Inc. (NYSE: CYS) reported its earnings for the quarter on 9 February 2016, and held its conference call the next morning. Below are three key takeaways from the call.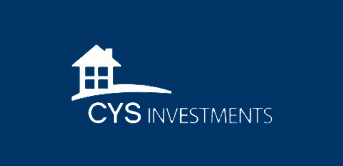 The Dividend is in Good Shape
The number one reason to own any mREIT is the dividend. One can focus on the book value endlessly, but the dividend is what drives the share price. Book value is important, of course, but income investors prize that dividend.
Fortunately, once CYS has released its earnings report, its subsequent dividend is easy to predict.
| Quarter | Core Earnings + Drop Income | Subsequent Dividend |
| --- | --- | --- |
| 4Q 2014 | $0.31 | $0.30 |
| 1Q 2015 | $0.30 | $0.28 |
| 2Q 2015 | $0.27 | $0.26 |
| 3Q 2015 | $0.27 | $0.26 |
| 4Q 2015 | $0.29 | ? |
Source: CYS press releases.
Based upon the last announced dividend of $0.26 and a recent share price of $6.81, the yield for CYS is 15.1% on an annualized basis.
The chart shows that CYS is very prudent with its dividend policy. It typically declares a dividend that is the next even number below its core earnings plus drop income.
Given that the company's core earnings + drop income went up by two cents in the fourth quarter of 2015, it is likely that the next dividend also will be increased by $0.02. If that were the case, the yield based on a recent closing price would be 16.4%.
CYS typically declares its first dividend of the year in March. Last year, it did so on 9 March, when it followed the $0.31 of core earnings plus drop income in the fourth quarter of 2014 with the $0.30 dividend payable in the April 2015. If the same pattern holds true this year, CYS is likely to follow the $0.29 of core earnings plus drop income of the last quarter of 2015 by declaring a dividend of $0.28 payable in April 2016.
If CYS does increase the dividend, it will be the first increase since June 2013, when the dividend increased from $0.32 to $0.34.
The Discount To Book Value Remains Steady
During World War II, the German forces in southern USSR were so under strength that they couldn't defend the entire line. The high command finally gave up trying and just left an entire sector undefended. They named this annoying problem that wouldn't go away the "Wehrmachtsloch."
The entire mREIT sector has developed its own Wehrmachtsloch. A persistent and seemingly unalterable discount to book value has developed for almost all of these stocks. So far, it has resisted all efforts to remove it, and in fact the discount has grown with time.
Let's take a look at the relationship between CYS' book value and stock price.
| Quarter | Book Value at Close of Quarter | Share Price at Close of Quarter | Discount to Book Value |
| --- | --- | --- | --- |
| 1Q 2015 | $10.53 | $8.91 | 15.4% |
| 2Q 2015 | $9.62 | $7.73 | 19.6% |
| 3Q 2015 | $9.59 | $7.26 | 24.3% |
| 4Q 2015 | $9.36 | $7.13 | 23.8% |
At a recent closing price of $6.81 on 11 February 2016, the discount to book value based upon the most recent figure supplied by CYS (as of 31 December 2015) was 27.2%. For stocks that used to trade at a premium rather than a discount, the reversal in fortunes is startling and somewhat discouraging for shareholders such as myself.
How high can the discount go? Nobody knows. We will be getting reads from the other mREITs in the next couple of weeks and have a better idea after that of what the current norm is. A 30% discount or even higher certainly seems quite possible.
Is is indisputable and almost trivial to point out that the ubiquitous discounts are due to souring investment sentiment for this entire class of investments. It really doesn't matter what the underlying details are for the individual stocks, the baby is being thrown out with the bathwater. I have been pointing out in recent articles such as here that Starwood Property Trust (NYSE:STWD), which for many, many months retained its premium, was bound to lose it. Recent price action indeed likely has eliminated STWD's premium. This happened despite learned and absolutely undeniable arguments from people pointing out that STWD should react differently than most other mREITs because it benefits from higher interest rates. It should go up... but it hasn't.
My response is always that it doesn't matter. I know the theory and what these securities should do. However, investor sentiment will always trump theory and even reality sometimes. When the bathwater gets thrown out, it all runs down the drain, not just the dirty part. CYS is part of a large herd that is out of favor.
We keep seeing headlines such as "Is the mortgage REIT business going out of business?" Scary stuff indeed. So, since the herd of investors don't like mREITs because the Fed is scaring everyone half to death, does that mean they cannot be good investments?
Heck no! That can be a good time to be judicious and start a position here or there. But you have to be willing to be patient and endure some pain before things become sunny again.
One encouraging sign is that when you add together the change in book value and the dividend, CYS actually showed a very small positive return for the quarter of $0.03. Given that the Fed raised rates during that span for the first time in almost a decade, any positive return was almost miraculous.
Rates have declined so far in 2016, so the book value may have rebounded slightly since 31 December 2015.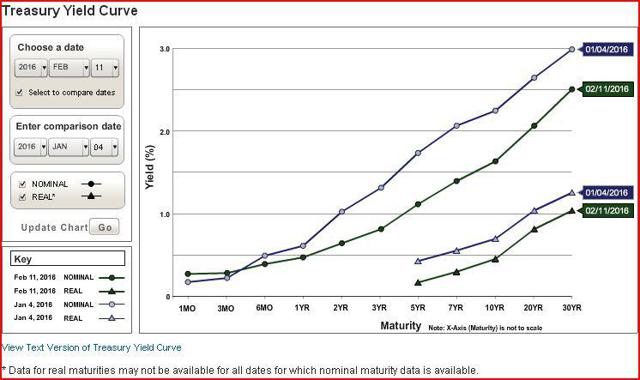 Source: US Department of the Treasury.
An increase in the book value, though, is not an unalloyed benefit. As shown above, the yield curve has flattened so far in 2016. Since mREITs earn their money off the spread between the long- and short-end of the curve, that could crimp future earnings.
Fears of negative interest rates are rising. How mREITs would react is uncertain. When asked during the conference call about the end game for his business should the US follow the path of other countries to negative rates, Chairman/CEO Kevin Grant said:
So we'll be able to generate a decent return when anybody else that owns these assets has really stopped buying. So I think you have to kind of tease out, the different pieces of negative interest rates to work through that and I think we'll be just fine.
Grant had a lot say about the viability of mREITS in general. His first comments, in fact, addressed that:
I would like to start by simply saying that the agency only mortgage REIT business model remains solid, especially in this low growth deflationary environment or agency mortgage production remains at a very high market share and there is a huge amount of cash in the world looking for government bonds as collateral.
That is kind of an unusual way to begin an earnings call -- that your entire business sector is viable -- but that illustrates the extent of the gloom that surrounds these investments. Either you have faith in the business model, or this most definitely is not the stock (or sector) for you. However, no matter how much faith you may have, the discount shows no signs of going away any time soon.
CYS Management Sees the Value
The worst thing in my view that management can do when the market sours on their business is pretend as if everything is just fine. While that may encourage investors in the short term, it only makes things worse. As events continue in the wrong direction, not only does the stock price continue lower, but management's credibility is destroyed along with it. Nothing will challenge your faith in a company more than that.
Let me be plain myself about this: the market does not like mREITs right now. There is no sign that they have hit bottom yet. That is up to imponderables such as the global economy, the US economy and how the Fed and Congress react.
Kevin Grant's conference calls are always fun because, while he couches his comments in the usual diplomatic ways, he lets his true opinion out in subtle and sometimes not-so-subtle ways. He called the current price "silly," which is about as direct as you can get about his own opinion.
Unlike ours, Mr. Grant's opinion matters in terms of the direction of CYS' share price.
| Quarter | Shares Bought | Dollar Amount | Average Cost |
| --- | --- | --- | --- |
| Q1 | 4,149,571 | $37.2 million | $8.95 |
| Q2 | 1,286,586 | $11.4 million | $8.87 |
| Q3 | 2,067,552 | $15.9 million | $7.67 |
| Q4 | 3,055,784 | $23.1 million | $7.54 |
Aggregating out the share buybacks during 2015 shows that the company took back in a total of 10,559,493 shares for $87.7 million at an average share price of $8.28.
Based upon the company's last Form 10-K filing for fiscal 2014, there were an average common shares outstanding of 161,950,000 (which already was down from 170.8 million in 2013). During 2015, then, CYS bought back just over 6.5% of the common. Over the last two years, management has bought back about 19.4 million shares, or 11.4% of the shares outstanding.
It is easy to see how the share repurchase program is benefiting shareholders. The dividend per share likely would be lower, as well as the overall share price by something approaching that 11.4% figure.
The company still has plenty of ammunition left for buybacks. As noted in the earnings press release:
As of December 31, 2015, the Company had approximately $160.8 million available under the share repurchase program to repurchase shares of its common stock.
As the table above shows, the company is using this authority regularly. At the rate it has been proceeding, CYS has enough funds authorized for buybacks to last for another couple of years. Grant stated during the call:
We've got so much flexibility. We are looking at the market every single day if the window is open and the math says do it, we're pretty much only limited by the 10(b)5 rules around trading volume limits and all that kind of stuff. So historically that's been our practice. Any day the window is open, we look at the market. If the math is there, we pull the trigger and most days, we max out what we can do.
Given that the dividend is around 15%, it is not difficult to see why buying back shares makes sense from a return on equity perspective.
Conclusion
There are many other interesting details from the latest CYS earnings report, which I encourage anyone interested in the stock to review. Here, i just wanted to parse out what I as a shareholder see as the highlights without getting bogged down in fine points. The dividend is secure, and could be raised by $0.02 for the next payout. The discount to book value has grown steadily over the past year and reflects an unsettled economic and rate environment. These factors have led CYS management to steadily reduce the share count via aggressive share buybacks, which is to investors' benefit. Overall, CYS appears to be weathering the storm in the mREIT sector well, though there are many twists and turns ahead as the Fed determines a proper rate path.
Disclosure: I am/we are long CYS.
I wrote this article myself, and it expresses my own opinions. I am not receiving compensation for it (other than from Seeking Alpha). I have no business relationship with any company whose stock is mentioned in this article.