It's been an eventful few days for The Wendy's Company (NYSE:WEN) which reported its preliminary results this week. The company is expected to now report a beat on its bottom lines, thanks to a rise in its operating margin. Despite this, the shares are down nearly 10% this week and have been downgraded by JPMorgan (NYSE:JPM).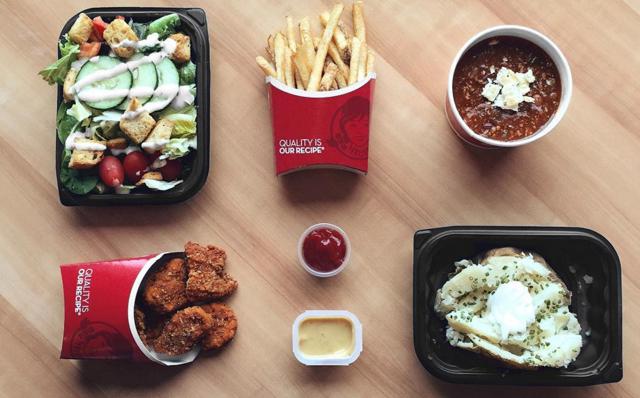 So what is next for Wendy's shares? We think most investors are wondering. Well, for a start, this selloff has been overblown in our opinion. The research note that JPMorgan put out explained that higher levels of capital expenditure were the reason behind the downgrade to neutral and the price target of $10.50. It is worth noting that this price target is still an upside of 14.3% from the current share price. Now, we have to agree that the level of capital expenditure does look somewhat worrying due to its high levels of free cash flow trending downwards, and last year headed into negative territory. This should be positive again next year, according to management.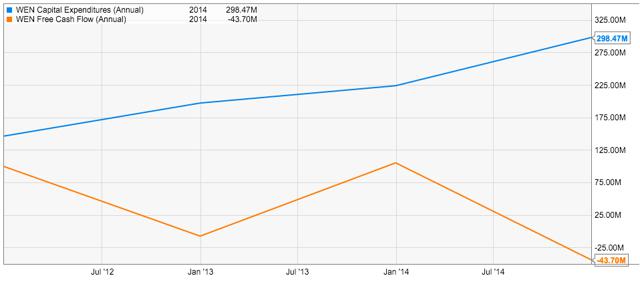 Source: Ycharts
Wendy's has been spending a lot of time and money on its Image Activation. Image Activation is just a fancy way of saying restaurant remodeling. The idea behind remodels, and part of the reason McDonald's is embarking on similar initiatives, is that people who dine in spend more money. If your restaurants are for whatever reason not inviting, then fewer customers will dine in. So this remodeling is designed to get more bums on seats and dollars spent. In such a competitive environment, you need to be providing the best customer experience you can. According to its earnings release:
"The company and its franchisees reimaged 450 total system restaurants and built 70 new restaurants in 2015, which has resulted in the reimaging of approximately 22 percent of the Wendy' restaurants as of the end of 2015. The Wendy's system remains on schedule to reimage at least 60 percent of its North America restaurants by the end of 2020."
It is going to be a very lengthy process, but we feel this is a necessary step and trust in management to create a strong IRR. With 22% of Wendy's restaurants now reimaged, we hope to begin hearing positive things from management about the reimaged restaurants to quell any further investor concerns.
The full-year results were a mixed bag in our opinion, but showed a lot of promise for the future. Although revenue was down year over year by 6.4%, operating profit was up by a huge 13.14%. Lower input costs helped increase operating margin by 260 basis points. The decline in revenue shouldn't necessarily be a worry to investors. It was a result of a reduction in company-operated restaurants. So, the operating profit, the 32% rise in net profit, and impressive same-store sales across the board are the key results we are focused on. All of which give us a lot of confidence moving forward and are the reason we have taken a long position.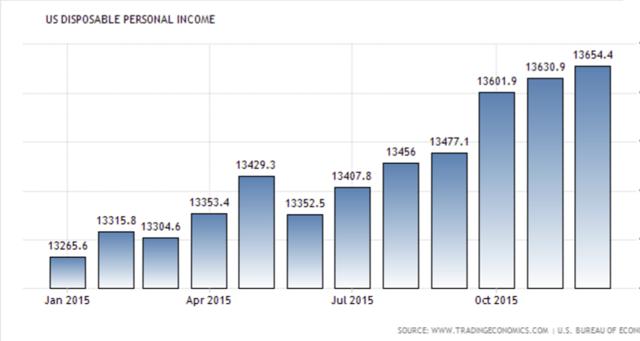 Source: Trading Economics
In the recent earnings presentation, management earmarked a correlation between increases in disposable income and increases in traffic in the quick service restaurant industry. With disposable income and wages rising, we have confidence that this will continue to fuel increases in traffic to Wendy's. We hope the reimaging of stores will help capture more revenue per visit. The future looks bright for the company and its investors. Management is aiming for restaurant margins of 20% in 2020, with a further 1,000 restaurants added to its network.
Because of this we expect earnings to grow at a strong rate of 14% per annum for the next 4 years, which we have no doubt will provide patient shareholders with strong returns. We are bullish on fiscal 2016, believing that the rise in disposable income together with further reimaging of stores and increasing margins, will help the company achieve earnings per share just outside its upper guidance. For fiscal 2016, management has guided with adjusted earnings per share of 35 to 37 cents, whereas we are forecasting 39 cents per share.
Using the industry average as our basis, we feel the shares should trade at an approximate price-to-earnings ratio of 26. Based on this, we have a price target of $10.14, or 10.45% return.
It has been a tough week for Wendy's, but we believe the good times are coming now for shareholders. We expect the share price to rise in line with earnings over the next four years, which makes this an opportune time to invest.
Disclosure: I am/we are long WEN.
I wrote this article myself, and it expresses my own opinions. I am not receiving compensation for it (other than from Seeking Alpha). I have no business relationship with any company whose stock is mentioned in this article.