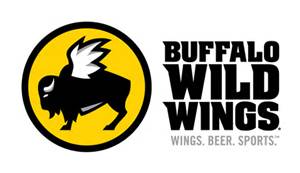 Buffalo Wild Wings (BWLD) is certainly a hot topic in the restaurant space. As the company has grown rapidly over the last few years, BWLD has had periods where the stock was very expensive and others where it was relatively cheap. I've covered BWLD a bunch of times and have had various stances on the stock depending upon the price at the time, as the story with BWLD has always been one of valuation. The business is terrific and always has been; it's just the price that has been the hang up. Back in October, the stock was crushed after earnings, and I said at the time that the then-current $155 price was a decent one at which to get long. The stock has moved down a bit since then, as Q4 earnings and guidance and a norovirus case at one of its restaurants has pummeled the stock.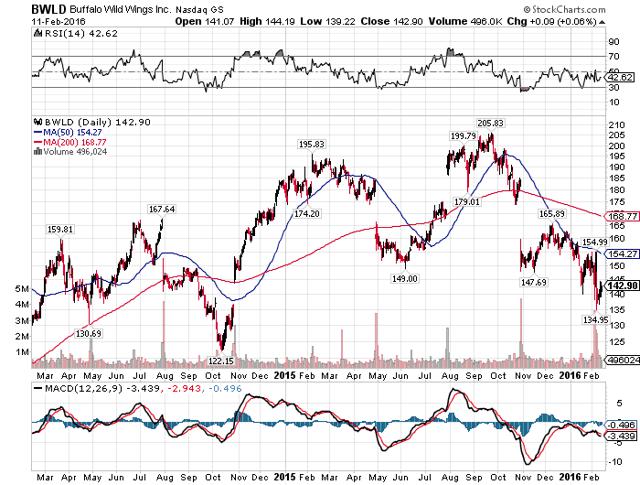 I've always been a huge fan of BWLD's model and its perpetual popularity. My family eats there fairly regularly as the food is good and is reasonably priced in a family-friendly environment. Plus, for sports fans, there are few places you can go that have so many options for live sports while you indulge. The model works as BWLD always reports very strong sales, but of late, other pressures have caused the stock to sell off.
Results in Q4 were a little soft as the company's comp sales grew 1.9% at company stores and were basically flat at franchised stores. Comp sales are always a big focus for BWLD as it is still in its growth stage and comp sales are of the utmost importance to investors. I'll admit I wasn't thrilled with the comp numbers, but there were other bright spots in Q4.
The company's cost of sales ratio fell 110 bps and its labor costs fell 20 bps during the quarter, two very positive developments. The company's food costs came into focus last year when the cost of supplying its trademark wings was rising and eating into profits. But BWLD has proven repeatedly it can save money elsewhere to make up the difference and Q4 was further proof of that. Margins are always in focus and BWLD's work with removing cost from its supply chain is paying off in a big way.
I thought Q4's results were fine other than revenue that was a little lighter than I expected. But reduction in the cost of goods and labor was terrific and more than made up for any perceived weakness in revenue. But guidance for 2016 underwhelmed investors and analysts alike as BWLD set the bar fairly low.
BWLD forecast about 8% unit growth for its company-owned stores in 2016 as well as positive traffic driving single-digit same-store sales growth. That isn't exactly a precise forecast and it could be argued that it isn't really a forecast at all; I don't think anyone expected negative or 10%+ SSS growth in 2016. The only thing I read into when I saw the "guidance" for SSS was that BWLD sees a lot of potential volatility in its revenue base this year and that's not great.
On the plus side, ex-wings, it expects further deflation in food costs. Even if labor costs are flat this year as a percentage of revenue, we could see some improvement in operating margins via lower food costs. BWLD has done a great job of removing costs from its model, and it has also just been lucky that commodities in general have decreased in price over the past year or two. That certainly looks set to continue so I expect we'll see some margin expansion in 2016 even if SSS disappoint.
BWLD's guidance of ~$6 of EPS this year was well below consensus, and since the report, analysts have been busy chopping guidance for this year and next year. Consensus has moved down from a pre-report level of $6.48 for 2016 to just $6.16 now, and while that is painful, if you believe in the BWLD story, it could be an opportunity to add some cheap shares.
I will say the norovirus confirmation is a really negative development; hopefully, this was an isolated case because if BWLD has an outbreak situation like fallen angel Chipotle (NYSE:CMG), the stock will go a lot lower than it already has. This additional uncertainty makes the case for owning BWLD harder to make, but investors can take some solace in knowing that the stock has already been hammered off of the news. Unless an outbreak occurs, the damage has been done.
At 19.4 times forward earnings, BWLD isn't a screaming buy on a valuation basis. But for a chain that typically trades comfortably into the 20s on a forward P/E basis, it is cheap relative to the recent past. There are certainly concerns; guidance for 2016 wasn't great and the norovirus development is terrible. However, if BWLD provided guidance it can easily beat and the norovirus turns out to be an isolated incident, BWLD is probably making a base right now. The fundamental story is intact; people love BWLD and will continue to, so its long-term future is still very much intact. And the rate at which it is growing its company-owned stores is adding a lot to the top line as costs diminish.
The two main risks I see for BWLD are the potential for a norovirus outbreak and slowing SSS. BWLD's guidance was vague and that scares me a little bit, but given the history of this company and a management team I have a lot of respect for, I'm erring on the side of the bulls here. All but a disaster has been priced in here and I think that is a good setup for a buy.
Disclosure: I/we have no positions in any stocks mentioned, but may initiate a long position in BWLD over the next 72 hours.
I wrote this article myself, and it expresses my own opinions. I am not receiving compensation for it (other than from Seeking Alpha). I have no business relationship with any company whose stock is mentioned in this article.