"You adapt, evolve, compete or die.", At the end of the day, the most important thing is how good are you at risk control."
The quote from Mr. Jones is quite appropriate given the environment that investors find themselves in these days. Last week it was all about whether the tide of selling could be turned, and could the bulls step up and hold the critical support levels. For the moment the "lows" have held.
Investors are asking themselves if the stock market's abysmal start in the new year is a harbinger of imminent economic disaster. Markets are plagued by increased volatility with fragile sentiment making the market vulnerable to wild swings and, of course, "corrections"
Excessive activity in the course of managing a portfolio gives an investor the illusion of control during these emotion filled times. That usually generates one thing, mistakes. Sitting around worrying about your portfolio is not going to help you or your portfolio. Put your plan in motion. (More on that later.)
You don't have to be irrationally long term, but focusing on the short term is just as irrational. Get your mind off the short-term swings in the market. There is nothing you can do to control the markets. Control what you can control; your emotions.
During times of market weakness, I turn to dividends as I start to reposition from high beta names. I accomplished most of that last December and continue to do more of the same now.
Rarely do dividends fall, and when they do it's not nearly as much as the stock market. Over all one-year periods since 1945, the worst drop in dividends was a -19% fall. Over three-year periods, the worst drop was -18%. And dividends have never fallen over a five-year period in that time.
Since 1945, total dividends paid are up sixty-six fold.
The average growth rates for one, three and five years were 5.8%, 19.8% and 33.9%, respectively. By investing in stocks, you not only get fairly stable cash flows, but you also get an income stream that tends to grow faster than the rate of inflation. This is a highly under appreciated aspect of investing in the stock market.
Dividend growth rates should probably mean different things to different investors depending on their needs. For those investors in need of income for spending purposes, this information shows that stocks can provide an effective, inflation beating stream of income over time.
Statistics show that in the last 45 years a globally allocated 60/40 stock/bond portfolio has never had a negative rolling 5-year return. Of course, it's not easy to maintain a 5-year time horizon, but if you have less than a 5-year time horizon, maybe you shouldn't be owning stocks in the first place. "Short termism" has been the bane of investors for quite some time. It rears its ugly head in times like these where the markets aren't necessarily agreeing with an investor's plan or strategy.
Certainly near-term caution is warranted after the sharp drop in oil and equity prices. The ongoing investor angst over the Fed's initial rate hike, the "contagion" fear, this time from the European banking system, and other issues, brought the Dow and the S&P back down to the low end of this range that has been in place since last August.
Strategist calls to "sell any rally" or even "sell everything" have become the new mantra. Is this a classic sign of a bottoming pattern or are they really telling us another 2008 crisis is here? The typical decline of 12% for the major stock averages this year actually understates the pain for most investors since the average listed stock is already in its own bear market with a decline of 20% or more from its 52-week high.
Caution, Yes. Panic, No.
THE FED
Chair Yellen sat in front of Congress this past week in what can only been described as a circus. Ms. Yellen acted as the ringmaster and Congress played the part of the circus clowns.
Ms. Yellen noted:
"Strong gains in the job market last year and a continued moderate expansion in economic activity."
But she also stated:
"Financial conditions in the United States have recently become less supportive of growth, with declines in broad measures of equity prices, higher borrowing rates for riskier borrowers, and a further appreciation of the dollar. These developments, if they prove persistent, could weigh on the outlook for economic activity and the labor market."
The negative feedback loop is firmly in place as it seemed the entire testimony was taken to be negative. On the one hand, investors took some of the words to mean that the Fed may still be on track to raise rates soon. The words "A rate increase is off the table for March" were not heard, and anyone expecting them to be uttered is living in a fantasy land.
On the other hand, the tepid economic outlook now being presented by Chair Yellen sent chills down the spine of market participants, indicating things aren't so great with the economy. So at the end of the day, no one came away pleased. Somehow the idea of no rate hike and no recession is not a consideration in the minds of investors at the moment.
ECONOMY
Morgan Stanley noted:
"Lower oil prices have clearly not been the economic boon many had previously assumed. Note the recent fall in Industrial Production as energy prices have fallen.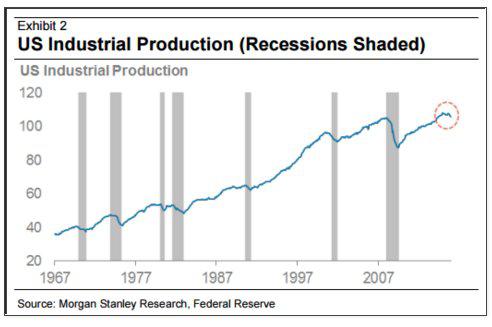 "But it is also important to recognize that many 'broad' measures of economic health, such as U.S. industrial production, can be significantly affected by weakness in oil."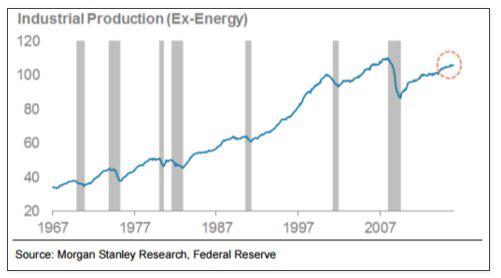 Measures of industrial production continue to show growth outside of the energy sector. The decline, in other words, is sector specific. It is not broad based as it was prior to previous recessions.
According to Tim Duy:
"What makes a recession a recession is that the decline in (Industrial Production) activity is felt widely throughout the economy. In comparison to past recessions, the decline in manufacturing activity now is not well disbursed. During a recession, the vast majority of manufacturing industries are declining. We are nowhere near that point. In other words, even manufacturing, arguably the most distressed sector of the US economy, is not in recession. And if manufacturing is not even in recession, it is difficult to see that the US economy is in recession."
Josh Lehner said:
"Right now, seven sub sectors are contracting year-over-year, below what is typical in past recessions when sixteen sub sectors registered declines, on average. Taken together, this does paint a picture that is closer to an industry specific shock (in energy). The pain is not as widespread within industrial production."
From the WSJ:
"Manufacturing, moreover, continues to be of less importance to the US economy. US employment in manufacturing is less than 10% of the total."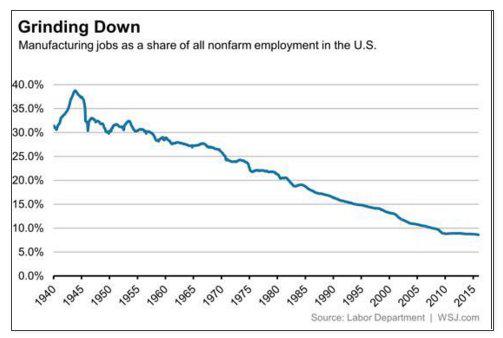 Perhaps it is time to put this in perspective instead of looking at it as a precursor to recession.
The recent JOLTS report is the strongest print of the expansion.
"First, total separations were moderate. The headline reading for gross job openings came in above expectations. accelerating sharply to near expansion highs, but these two readings belied the true strength in the details. The total job openings rate matched the all-time high recorded in July of 2015. Quit rates accelerate as job openings have remained high and wage gains have accelerated. Even more encouraging, layoffs and other firings are back to all-time lows as a percentage of employment. Despite concerns over oil patch layoffs and headline job cuts from some major corporations, actual data show that employers are desperate to cling to labor in aggregate, with extremely low firing rates despite concerns over the economic outlook."
Retail sales showed that the consumer continues to plod along at a decent spending pace. The 0.2 percent gain matched the previous month's advance that was initially reported as a decline. Once again indicating that taking ONE headline (December sales) and running with it is foolish.
Bricklin Dwyer, an economist at BNP Paribas in New York, said:
"Consumer fundamentals still look very strong. We had really strong incomes at the end of last year, and that's going to feed through to consumption."
Global Economy
Bespoke Investment Group provides us with a look at the Global Manufacturing PMI situation.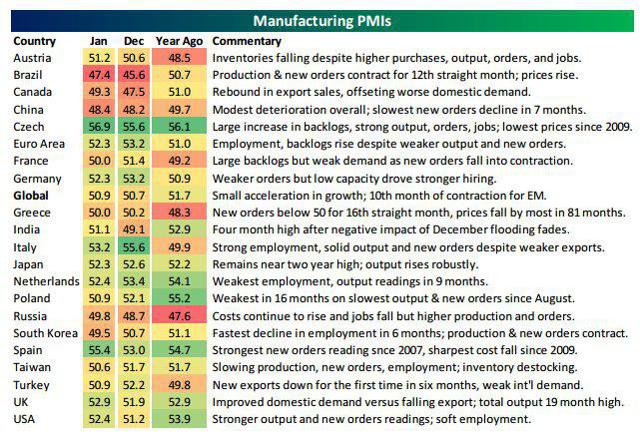 Comments provided by Markit Research
German industrial production fell in December.
Christoph Swonke, economist at DZ Bank AG, noted:
"It's a big surprise and it's disappointing that production didn't become more dynamic at the end of the year. On the optimistic side, the economic recovery in the Eurozone as a whole is still on track, and demand from other European countries is still on track."

"Industrial production went through a dry spell at the end of 2015. Given the improved order intake in the final quarter, companies are likely to extend their production again somewhat at the start of the year."
European banks remain under pressure. Deutsche Bank closed down 9.5% in European trading to its lowest level since the Credit Crisis in 2009, as its CDS (credit default swaps) continue to head higher.
According to Macro Strategies, Brean Capital:
"European bank stocks, which have been under pressure for some time, saw those declines accelerate recently. More importantly, with far more risk of impacting global markets is the recent rapid deterioration in credit spreads. It started with more complex instruments such as CoCos ([contingent convertibles) but has impacted the entire credit curve for a large number of European banks."
So, just what is a CoCo bond? According to Bloomberg, it is a "contingent convertible" capital instrument, or CoCo, a type of bond designed by regulators after the financial crisis. The bonds allow banks to skip interest payments without defaulting, and they are designed to convert to common equity or suffer a principal write down if a bank runs into trouble. This provides a buffer in times of stress while inflicting losses on CoCo investors. Of course, if a payment is missed and the CoCos convert, it is dilutive to existing shareholders.
The last time we witnessed this type of weakness was the Eurozone sovereign debt crisis scare in 2011. I say scare because neither European banks nor U.S. banks, which were said to have major exposure to the Eurozone debt issues, failed. The markets eventually rebounded.
Last Friday, Deutsche Bank announced that it would buy back 5 billion of its bonds. I may be naive but I don't think a bank that is illiquid would proceed in that manner (sarcasm intended).
Perhaps the only contagion out there is "fear", and "fear" spreads like a wildfire.
The High Yield Bond Market Revisited
According to Deutsche Bank:
"Falling energy prices have had an exaggerated effect on high yield spreads. But the risk is nothing like that of mortgages which brought on the Great Recession. Today's high yield debt exposure is 1/15th the size of mortgage debt in 2006."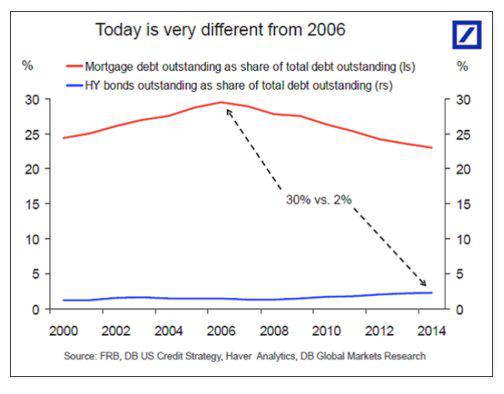 CreditSights reports what I have discovered and posted on this situation:
"The face value of high yield bonds to energy companies is slightly under $200 billion, and investors who mark their holdings to market have already experienced losses of about 33 per cent. For comparison, the US corporate debt and asset backed securities market is worth more than $11 trillion. Meanwhile, U.S. banks have lent about $105 billion to energy companies."

"The small size of this exposure, the structure of the loans, and the particular types of companies doing the bulk of the borrowing all make the risk to bank balance sheets relative low."
I have repeatedly attempted to make the point that high yield spreads outside of the energy sector are not signaling a notably high risk of the massive default issue that many are talking about.
Gene Neavin, a well respected high yield bond authority, states in a recent interview:
"The fundamentals are fine, credit quality is fine and defaults will be very, very low. We think investors can earn mid to high single digit returns in high yield this year."

"When investors feel more comfortable about the U.S. economy and about the risks coming out of China," he said, "risk assets, including high yield, will rebound."
EARNINGS and VALUATION
Earnings
Brian Gilmartin reports:
"With about 60% of the S&P 500 having reported Q4 '15 financial results, SP 500 earnings growth "ex-Energy" is +2.10%, with revenue growth just barely positive at +0.90%."
2015 S&P 500 earnings expected to be flat to +/-1% and now 2016's bottom up EPS estimate reflecting low single digit growth, two years of what could be essentially zero earnings growth is a "P/E compressing event" for the stock market for sure. How much of that has already been priced into the market is anyone's guess.
The gain in the USD sliced $9 off of S&P earnings in 2015. Add in Energy's $16 hit and one can now see how earnings growth came to a complete halt. Many knew that these two headwinds would impact earnings. I wonder how many of the 20/20 hindsight club actually saw $25 of S&P earnings being taken away.
The one bright spot is that the USD has been flat now for three quarters and is now down 4.5% from the December 2015 high.
Valuations
As stocks have fallen from their highs last July, the dividend yield for the S&P 500 has risen up to 2.38%. With the yield on the 10-year Treasury note now all the way down to 1.78%, that means the S&P 500's dividend yield is now 60 basis points higher than the yield on the 10-year Treasury. That is the highest level seen since July 2012. It's simple, for this to happen, either investor expectations for long-term equity returns have changed, or investors are really scared.
Bespoke Investment Group assembled this chart highlighting the S&P 500's returns where its dividend yield exceeded the yield on the 10-year Treasury by 50 bps or more. For each of the prior three periods, the S&P 500 saw positive returns over the following one, three, six, and twelve months, with median returns that are significantly above average.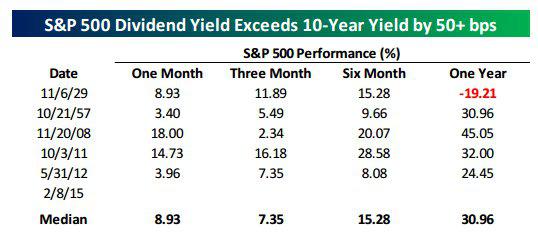 Source: Bespoke
Obviously, past performance doesn't guarantee that returns in the current period will be similar to what has been seen in the past. What these numbers do show, though, is that when equities have suddenly yielded more than Treasuries in the past, longer-term returns have been above average. Therefore, it may not be wise to dismiss the results shown.
This recent Seeking Alpha article provides more insight into the dividend yield model. Seeking Alpha author George Schneider put together this "Editor's Pick" missive on the value of investing in companies that provide solid income.
CRUDE OIL
It's hard to see a bottom here. Even the lower USD, higher crude correlation has disappeared. The USD has leveled off and weakened somewhat in the last 3 months. It is now off 4% from the December highs, but that has not helped bring any price strength to the crude oil market.
The International Energy Agency report that highlighted excess supply did not help the weak price situation.
"The global oil surplus will be bigger than previously estimated in the first half, increasing the risk of further price losses, as OPEC members Iran and Iraq bolster production while demand growth slows."
Another story popped up last week indicating a meeting was about to take place to discuss production cuts. For the moment that curtailed the free fall as WTI settled the week at $29. If nothing else, it stopped the "short sellers" in their tracks.
THE TECHNICAL PICTURE
This past week the markets flirted with a Dow Theory sell signal. On Thursday, the DJIA closed at 15,660, six points below the trigger point which stands at 15,666. I doubt many Dow theorists would interpret that 6 point deficit to announce a full fledged sell. In addition, the price action of Boeing (BA) on that day shaved about 60 points off of the index.
Be that as it may, I will be watching this index closely to see if there is a definitive close below 15,666, the August closing low.
Dow Theory is either in a buy or sell signal at all times and is only reversed when the longstanding rules and definitions are met; otherwise, the current signal remains in place. The current signal has been a buy signal since December 2011 and was last reaffirmed in December 2014. A bearish reversal would require 1) a lower high by at least one of the indexes and 2) then a breakdown by both the DJ Industrials and the DJ Transports.
We have seen the lower highs, and the Transport average has already slid below the August low. With all eyes on oil and the credit situation, not many have noticed that the Transports have rallied 10% off of those lows registered on January 20th. That is in stark contrast to the S&P's roller coaster ride, which finds that index flat in the same time period.
Is this a bounce or a potential turnaround that may now turn the index to a leadership position?
Moving on to other indices, the Nasdaq sits on the cusp of a bear market, as it is down 19% from its recent high. In order for the Nasdaq to hit the 20% bear market threshold from its high in July, the index would have to close below 4,175. As of the close of trading this past week (4,331), the Nasdaq support levels have held. Bulls need to see this continue, as once the Nasdaq officially enters a bear market, history suggests the declines have been staggering. The average decline has been 36.79% over a period of 217 days.
The daily chart of the S&P shows the retest of the lows and the overhead resistance levels that the S&P faces now with the descending moving averages.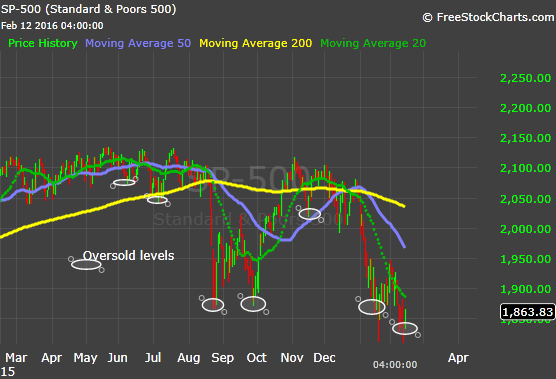 How much more the bulls can drive this rally is an unknown. However, in my view, nothing really happens unless the 20-day MA (1,884) is overtaken.
As the averages deteriorated this week, and with the specter of a Dow Theory sell signal, I brushed off the notes I shared in past missives on how I plan to proceed if and when I start to change investment direction.
Last week I selectively sold calls on a few positions. Names like, Apple (AAPL), Facebook (FB), Nvidia (NVDA), etc.
The next step, which has not been implemented, would be to add "in the money" put positions on stocks that I feel would be good candidates for that strategy.
Each name is reviewed independently using both technical and fundamentals as a guide. Technical analysis trumps fundamentals when the market is exhibiting "fear". Fundamentals get tossed aside when emotion takes over.
Here is another criteria that I feel is important. Take a look at names that are above their respective August lows. At the moment, I have decided to leave those names alone.
Once candidates are selected, the entire process is then automated using real time quotes with alarms to put these hedges in place. That removes the "should I, shouldn't I" emotional game that investors get themselves caught up in.
When it is time to take drastic measures, the final step will be to short the major averages using leveraged ETFs to capture gains on the short side, while the portfolio is protected to some degree.
INDIVIDUAL STOCKS
I mentioned the S&P dividend yield earlier, not to be outdone, the Dow 30 now yields 3%. Many of the Dow components also bring strong cash flow and balance sheets to the table.
The S&P 500 Banks trade at their cheapest price to book since the first quarter of 2009.
Equity on US banks' balance sheets currently stands at $1.7 trillion. In 2006, just before the financial crisis, it was under $1 trillion. US banks could charge off every energy loan and others and still have more equity on their balance sheets compared to 10 years ago. Food for thought.
So far this season, the average Health Care stock has fallen 0.64% on its earnings reaction day, while it is showing the best earnings beat rate. That is the worst performance of any sector.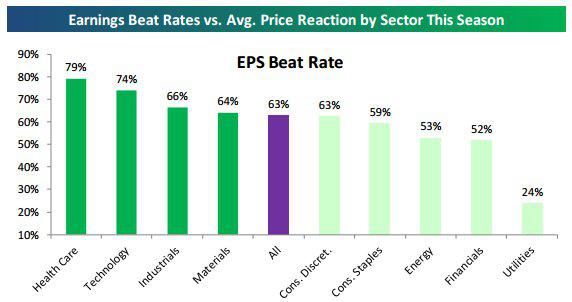 Source: Bespoke
This suggests to me that investors are viewing Healthcare as if it has peaked. For those that believe that is not the case, it sets up opportunities that should be researched and acted upon. Earnings have hardly peaked for many of these companies. Instead, it is all about the anti-drug rhetoric, and that is sheer "noise".
I spoke earlier about the value of dividends during a market downturn. A stock I mentioned last week, Cisco (CSCO), presents a nice example. The company reported a positive earnings quarter, but the real news was the 24% dividend increase, and the added $15 billion stock buyback. With the new $1.04 per share dividend, the shares yield 4.2%.
Investors need to start looking at companies whose dividend yields are greater than their bond yields. There are quite a few, Merck (MRK) is one and CSCO is another. If you believe the bond market is telling you that these companies are financially strong because of those bond yields, then you have to take a good hard look at adding these types of situations to your portfolio. They will weather any storm much better than most other stocks.
SUMMARY AND CONCLUSION
There is plenty of evidence to suggest we are not in a recession or about to enter one. That evidence could be wrong and so could I, but the economy generally doesn't go into a recession until excesses have built up in the system. No boom, no bust.
However, there are historical examples which I have shown in past missives that suggest bear markets can take place without the backdrop of an economic recession. This has happened roughly one out of every five years since the late 1930s. If this does turn out to be one of these non-recessionary down markets, then based on historical data we're about halfway through the "average" loss scenario.
Perhaps the bickering that takes place regarding the "will we", "won't we" have a recession is wasted energy. After all, a bear market is a bear market. However, the difference just might be the duration and extent of the decline that is at stake and of concern. If this present market scenario plays out without a recession, most of the "pain" may have already been felt.
Throw a recession into the mix as events unfold, and it opens the door for the chance of additional downside. Therefore, it still pays to keep reviewing the economic data for more warning signs.
Without a doubt, the stock market is a leading indicator of economic activity. For that reason, it is one of the components in the index of leading indicators. Investors need to pay attention to it for sure. But, unfortunately, the stock market also throws off a lot of false signals. The latest one was 2011, with a peak to trough decline of 21%, with no recession in the mix.
Will it be Deja Vu all over again? A market decline that takes the S&P back to the 1,700 level? No one really has that answer. One concern for the bigger picture, however, is that the longer the stock market stays depressed, the greater the risk that at some point consumers get nervous and begin to spend more slowly and businesses become reluctant to hire.
A recession then becomes a self fulfilling prophecy. If one doesn't believe that is possible, just look at the $2 trillion in market cap that the S&P has lost in the first 6 weeks of 2016, and how investors and consumers feel about it.
I can tell you what is not helping the bullish story. The recent rhetoric of "Everything Wall Street is evil" from the political candidates. As investors turn to the political landscape that is present, this uncertainty has now been added to the list of unsettling issues that investors face.
Let's not forget the financial media personalities and pundits competing to outdo one another with doomsday prognostications for higher ratings by feeding the anxiety of already frightened investors to become captive frightened listeners.
The self ordained gurus are warning of another financial meltdown. Some political candidates (future leader?) state that "Wall Street is evil". European banks have us worried that it's 2011 all over again, and on and on.
Concern yes, panic, no. If an investor has a plan and remains steadfast without irrational behavior, they can avoid turning into a cowardly lion.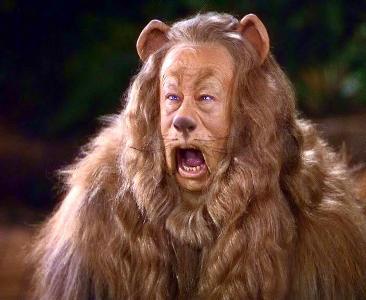 Best of Luck to all!
Disclosure: I am/we are long AAPL, CSCO,MRK,FB,NVDA.
I wrote this article myself, and it expresses my own opinions. I am not receiving compensation for it (other than from Seeking Alpha). I have no business relationship with any company whose stock is mentioned in this article.