I would like to look at the industry of custodian banks in the US and to see whether there is a potential for the investments in one of the companies. This industry has a high level of concentration. According to IBISWorld - an Australian research company, the top four firms accounted for 82.4% of total industry revenue in 2015. These companies are State Street Corporation (NYSE:STT), JPMorgan Chase (NYSE:JPM), The Bank of New York Mellon Corporation (NYSE:BK) and Citigroup (NYSE:C). From my analysis I will exclude JPMorgan Chase and Citigroup because they have many other activities not related to the custodian banking, but I will add one smaller player - Northern Trust Corporation (NASDAQ:NTRS).

What type of products and services do the companies provide? Normally, it is the back-office functions: accounting, record-keeping, cash management, foreign exchange, brokerage and other trading services, investment manager and alternative investment manager operations outsourcing, securities lending, compliance pricing and performance analytics.
According to IBISWorld, for the period between 2015 and 2020, the industry revenue is expected to grow at an average annual rate of 3.5% to $33.4 billion, up from $28.1 billion.
The profitability of the industry depends on the scale. The bigger the player in the market, the cheaper it could provide the services. Therefore, the scale required to be profitable makes new entrants unlikely. It should be noted that many customers like mutual funds, pension funds, etc., may pressure to get the custodian services as cheap as possible.
State Street Corporation operates in more than 100 geographic locations in the US, Canada, Europe, the Middle East and Asia. The company has 2 lines of business:
Investment servicing. Products include custody, accounting, daily pricing and administration, master trust and master custody, record keeping, cash management, foreign exchange, brokerage and other trading services, and securities finance;
Investment management offers active and passive asset management strategies across equity, fixed-income and cash asset classes. Products are distributed directly and through intermediaries using a variety of investment vehicles, including exchange-traded funds, or ETFs. STT is best known for its SPDR ETFs commonly known as "spyders".

For the financial year 2015, STT reported $10.360 billion in revenue (up by 0.8% from the year before) and net income of $1.848 billion (down by 5.6%). As of 31/12/2015, it had in $27.508 trillion of assets under custody and administration (down by 2.4%), $2.245 trillion of assets under management (down by 8.3%) and $191.6 billion in deposits. The revenue sources are servicing fees (48%), management fees (11%), trading services revenue (11%), securities finance (5%), processing fees (5%) and interest income (20%).
The Bank of New York Mellon Corporation is a global leader in providing services that enable institutions and individuals to manage and service their financial assets in more than 100 markets worldwide. Similar to STT, BK provides services in investment servicing and investment management areas.
In its recent financial year, revenue was $15.2 billion and the net income was $3.053 billion. The company had 28.9 trillion in custody, $1.63 trillion in assets under management and 2$79.6 billion in deposits.
The source of revenue: Investment servicing fees (47%), investment management and performance fees (23%), foreign exchange revenue (5%), financing fees (1%), distribution and service fees (1%) and interest income (20%).
Northern Trust Corporation is a provider of asset servicing, fund administration, asset management, fiduciary and banking solutions for corporations, institutions, families and individuals worldwide. The corporation focuses on managing and servicing client assets through its two client-focused reporting segments:
Corporate & Institutional Services (C&IS): Asset servicing and related services, global master trust and custody, employee benefit services, fund administration, investment operations outsourcing, investment risk and analytical services, securities lending, foreign exchange, cash management and treasury management, and brokerage services;
Wealth Management: Provides trust, investment management, custody, and philanthropic services; financial consulting; guardianship and estate administration; family business consulting services focused on high-net-worth individuals and families and established privately-held businesses, including the specialized services to individuals and family offices in the United States and throughout the world with assets typically exceeding $200 million.

The revenue for the financial year 2015 were $4.07 billion (up by 9% from the year before) and net income was 973.8 million (up by 5.6%). As of December 31, 2015, Northern Trust Corporation had $117 billion in banking assets, $6.072 trillion in assets under custody and $875 billion in assets under management.
The revenue sources are trust, investment servicing fees (63%), foreign exchange trading income (6%), treasury management fees (1%) and interest income (23%).
Comparisons
Visual comparison of the revenue and net income is provided below. It looks like there is no significant difference between the companies regarding activities, except for the size of the businesses, and NTRS is involved in wealth management.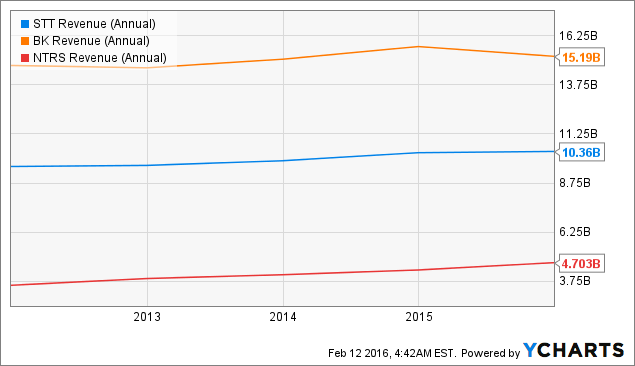 STT Revenue (Annual) data by YCharts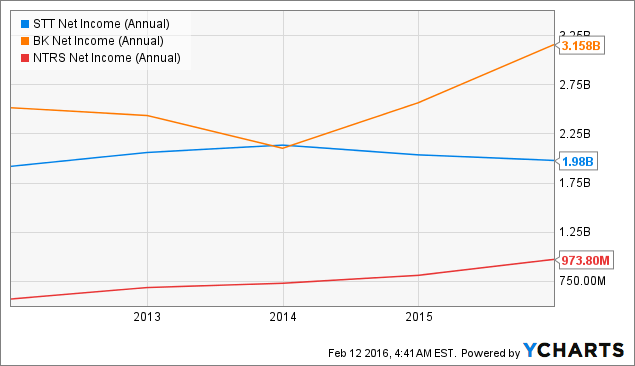 STT Net Income (Annual) data by YCharts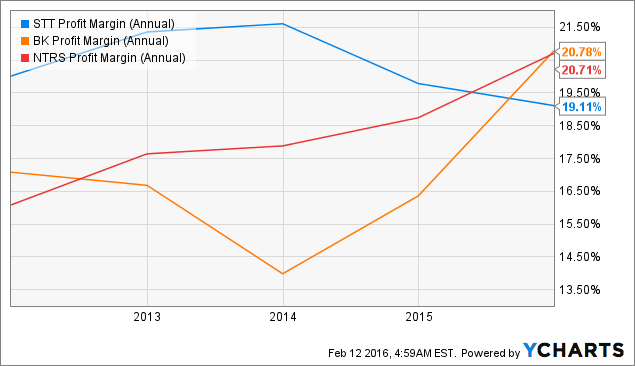 STT Profit Margin (Annual) data by YCharts
Stock performance
The stock performance for the past five years is presented in the chart below. It seems that all three stocks move the same, especially in the last two months.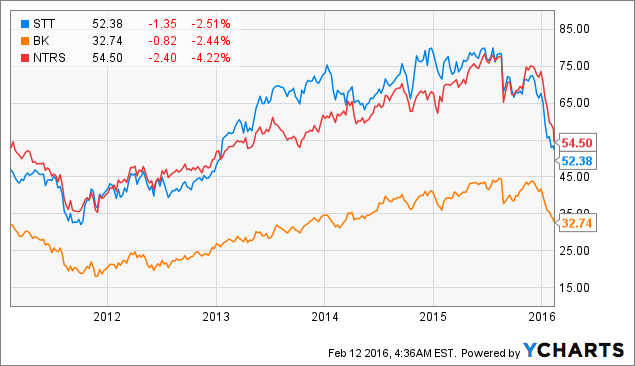 STT data by YCharts
Looking at the five-year total returns for these companies, it seems that STT outperformed the others until November 2015, but now, there is a difference between STT and NTRS, and a bit better than BK. The 5-year total return is provided below.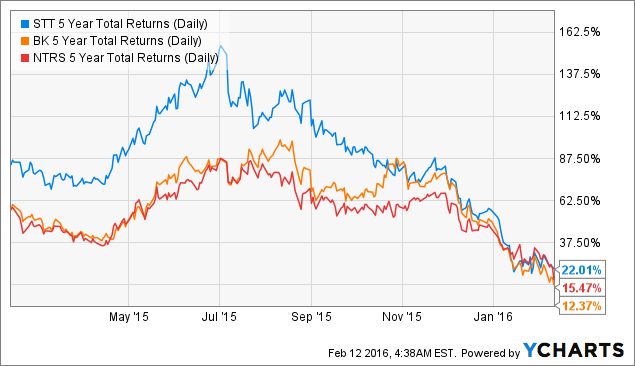 STT 5 Year Total Returns (Daily) data by YCharts
Estimates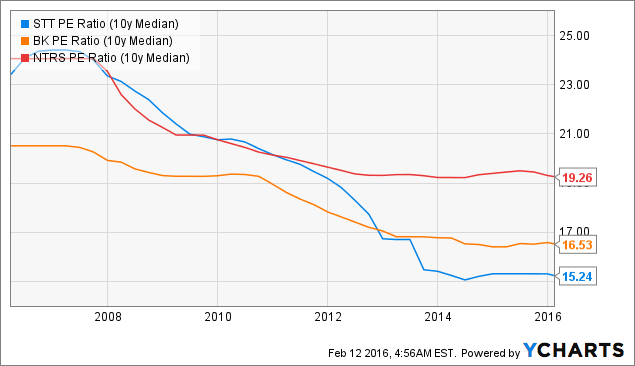 STT PE Ratio (10y Median) data by YCharts
| | | | | | |
| --- | --- | --- | --- | --- | --- |
| The State Street Corporation | 2014 | 2015 | 2016 | 2017 | 2018 |
| EPS estimates (calendar year) in $ | 5.09 | 4.89 | 4.9 | 5.55 | 6.24 |
| EPS growth rate | | -3.9% | 0.2% | 13.3% | 12.4% |
| Stock price using min P/E of five years (9.4x) | | | 46.06 | 52.17 | 58.66 |
| Stock price using average P/E five 5 years (14.75x) | | | 72.28 | 81.86 | 92.04 |
| | | | | | |
| --- | --- | --- | --- | --- | --- |
| The Bank of New York Mellon Corporation | 2014 | 2015 | 2016 | 2017 | 2018 |
| EPS estimates (calendar year) in $ | 2.39 | 2.85 | 3.02 | 3.43 | 3.83 |
| EPS growth rate | | 19.2% | 6.0% | 13.6% | 11.7% |
| Stock price using min P/E of five years (8.0x) | | | 24.16 | 27.44 | 30.64 |
| Stock price using average P/E five 5 years (15.09x) | | | 45.57 | 51.76 | 57.79 |
| | | | | | |
| --- | --- | --- | --- | --- | --- |
| Northern Trust | 2014 | 2015 | 2016 | 2017 | 2018 |
| EPS estimates (calendar year) in $ | 3.41 | 3.9 | 4.06 | 4.56 | 4.95 |
| EPS growth rate | | 14,4% | 4,4% | 12,3% | 8,3% |
| Stock price using min P/E of five years (12.8x) | | | 51.97 | 58.37 | 63.36 |
| Stock price using average P/E five 5 years (19.09x) | | | 77.51 | 87.05 | 94.50 |
The industry has two main revenue drivers. First, it is the economic situation and the level of the interest rates. Now, it looks like the interest rates will stay suppressed for the longer period of time, and increases in interest rate will happen at a very slow pace. Thus, the revenue growth coming from interest earned will have moderate impacts on those companies in few upcoming years.
The second revenue driver, the revenue coming from the assets under management, taking into account current volatility and the drop in the markets at the beginning of 2016, will fall in 2016 and could stay flat in 2017.
After having analyzed these companies, I struggle to conclude which one is the better option for investment. Except the size, they look very similar to me. Different parameters vary, in some case, one parameter is better for one company, another for another. But I do not see the element that would put one above all. It should be said that, historically, NTRS has higher P/E valuations than the other two. But the EPS growth perspectives are not so much superior than the other two.
If size matters, then BK is the obvious choice. The same applies if we look at the valuation and expected EPS growth rate until 2018. For me, BK is a better choice because of lower valuations than NTRS, but they have similar growth prospects.
Risks
There is very limited risk that a new entrant will come and steal the "traditional" custodian banks' business. To do that, a new entrant would require accumulating trillion dollars in assets under custody. That will not happen in a short period.
The biggest risk for those companies could come from technological innovations, e.g. blockchain which is used in Bitcoins that many start-ups and stock exchanges have started to experiment with. Blockchain is a distributed ledger technology that would allow banks to settle trades in real time (instead of waiting three days for the deal to clear) and underwriting loans in a day (instead of waiting two weeks). The banks could start to execute same-day currency trades at optimal exchange rates, spending a fraction of the costs required in the past.
If the technology is developed and widely adopted, it will negatively affect the services required from STT, BK and NTRS because some custodian bank services will not be required anymore. To address this risk, custodian banks are also involved in the development of different technologies. For example, STT, BK and NTRS participate in a project run by a financial technology firm called R3, alongside such financial companies like Bank of America, HSBC, Deutsche Bank, Morgan Stanley, Mitsubishi UFG Financial Group, National Australia Bank, and the Royal Bank of Canada. To illustrate the real threat, it should be noted that in 2015, Nasdaq introduced Nasdaq Linq, a block chain-based digital ledger for transferring shares of privately held companies.
Disclosure: I/we have no positions in any stocks mentioned, and no plans to initiate any positions within the next 72 hours.
I wrote this article myself, and it expresses my own opinions. I am not receiving compensation for it (other than from Seeking Alpha). I have no business relationship with any company whose stock is mentioned in this article.