Many of my fellow SA contributors have commented on the tremendous fall of LinkedIn's (LNKD) valuation.
Some have argued persuasively that the precipitous drop of almost half its share price since February is just the beginning and LNKD could go to $20 per share from its current $101 share price. (see David Trainer's How Low Can It Go? $20 per share)
I won't predict future share prices, but I will share how I look at this as a founder and executive in a private cloud company.
My business partner and I have often talked about how we actually run two businesses in our cloud/SaaS company.
Growth Company - The company and all the cost structure that grows the current recurring revenue above its current state. This cost structure is the investment we are making in the future, including primarily R&D and Sales and Marketing. The growth company is a calculated investment in client acquisition costs to acquire a long-term client life value that is predictable and valuable.
Operating Company - The company and all of its cost structure to support current clients and maintain that recurring revenue at a zero to low growth rate for the coming years.
LinkedIn is like many SaaS/cloud companies in that it has very high gross margins. Its most recent year (MRY) gross margins are 86%. Most SaaS/Cloud companies gross margins exceed 70% as do many of the enterprise software companies such as Oracle (NYSE:ORCL) and Microsoft (NASDAQ:MSFT).
This gross margin leverage in its "operating company" gives LinkedIn's management very significant levers from which to shift the profits and cash flow from the bottom line to fund their "growth company."
Tomasz Tunguz of RedPoint penned a recent article highlighting the 57% percent drop in SaaS valuations and showed how multiples have collapsed, particularly in the high growing cohorts. I've copied his excellent visual of forward revenue multiples here: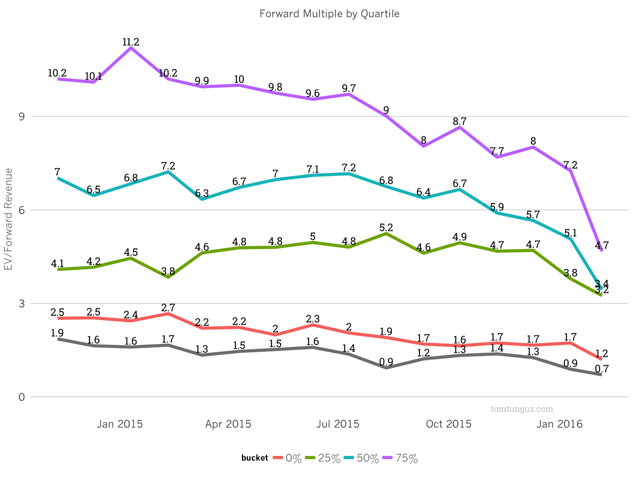 Consider the scenario that LinkedIn's management could conclude and implement. If "Mr. Market" is now not willing to pay for its considerable 30%+ growth rate over companies' valuations at lower growth rates, LinkedIn could drop huge costs out of the company in as little as a quarter or two, generating significant cash flow and EBITDA.
A pro-forma view of that company could be viewed as significantly undervalued compared to valuations of companies like Oracle and Microsoft.
For example, LinkedIn invests 50.3% of its revenues into Selling General and Administrative costs or $1.53B in MRY. LinkedIn could drop that to a comparable 21%-22% very quickly and probably still maintain some levels of growth (I believe more than 10%). That move alone drops more than $750M into the net income lines and EBITDA lines. Microsoft and Oracle invest 21.72% and 22.84%, respectively, in SG&A.
And, LinkedIn is investing 24.16% of its MRY revenues in R&D or $726M. Management could pull the lever and drop this investment to a comparable 12%-14% of revenues and drop an additional 10% of revenues or $290M to the bottom line.
Those two moves shift significant resources produced from LinkedIn's "operating company" away from LinkedIn's "growth company" to the bottom line, producing huge profitability and operating leverage of over $1B in incremental cash and EBITDA.
As I consider what would happen to growth, the interesting thing is that I think LinkedIn could still maintain double-digit growth. It has pricing leverage with its tremendous market presence that could overcome churn. And its existing customers will upgrade and be cross-sold at a much lower selling cost than LinkedIn must spend for the higher levels of bookings growth. I believe it is feasible that even after cutting 50% of the sales/marketing costs out and 50% of the R&D out, LinkedIn would still continue to grow at a low double-digit growth rate.
Continuing this fictitious scenario, how would LinkedIn be valued?
Consider a hypothetical LinkedIn now growing at 10%-15% per year and now producing the following cash flow and earning metrics:
| | | |
| --- | --- | --- |
| Metric | Current (MRY) | Low Growth Scenario |
| EBITDA | $257M | $1.3B |
| Cash From Operations | $507M | $1.5B |
| Free Cash Flow | $297M (MRQ) | $1.3B |
Mature enterprise software companies such as Microsoft and Oracle are characterized by slowing growth rates, high profitability, and high margins. LinkedIn's "low growth scenario" would begin to mirror a mature enterprise software company. How does "Mr. Market" value these companies?
| | |
| --- | --- |
| Mature Enterprise Software | EV/EBITDA |
| Microsoft | 11.61 |
| Oracle | 14.62 |
Using those valuation multiples on a hypothetical example of LinkedIn which shifted to a low growth mode producing much higher EBITDA and cash flows would yield these kind of enterprise values:
$1.3B (EBITDA) x 11.61 = $15.1B
$1.3B x 14.62 = $19B
Current enterprise value: $11.28B
This suggests a 32%-68% upside on the current stock value.
LinkedIn could quickly switch to a low growth profile, shifting tremendous cash and EBITDA to the bottom line mirroring a mature enterprise software company's performance such as Microsoft and Oracle. I believe that transition could occur in as little as one business quarter.
Most SaaS and cloud companies which have high margins (top quartiles are probably > 70%) are investing very high percentages of their revenues into sales costs and R&D costs. Most of these companies have similar operating leverage to LinkedIn.
The theory is that the macro environment (slower IT spending) will affect LinkedIn's growth profile. I believe its operating leverage here to shift costs from sales/marketing to the bottom line trump any small shift in IT spending.
But, the inverse of that is not true. Oracle and Microsoft could not suddenly invest much more of their cash flow and EBITDA resources to suddenly become high growth companies. Oracle has not grown in the double digits since 2011, with either negative growth or low single-digit growth rates since then. Microsoft has done better with one double-digit growth year in 2014 (11.5%) and two single-digit growth years since 2011. And both will struggle in a low growth macro environment.
I do want to give full recognition to what Mr. Trainer and others have raised as concerns about LinkedIn's management decisions around stock based compensation which have the affect of diluting non-management shareholders.
In 2016, stock compensation will jump again, to an estimated $630 million from $510 million last year, about double the $319 million in 2014. Over the years, LinkedIn investors have been diluted by a factor of nearly three: Shares outstanding have ballooned to 130 million from 46 million in 2010. That will rise about 5% again this year.
I hope others will take the universe of SaaS/cloud companies and build pro-forma views of these companies showing a "normal" SG&A and R&D investment ratios reflecting a steady state "operating company." This would show the true reflection of the underlying intrinsic value of the company which is now covered up with growth investments. Perhaps a good starting point is with the current SaaS tracking universe published by Bessemer Venture Partners.
No offense to Mr. Trainer and other's opinions that LinkedIn is heading to $20. I'm personally a buyer at $101. This story only gets better after three more years of +20%-30% growth rates and it's not a bad story if management cuts that to 10% now.
Disclosure: I am/we are long LNKD.
I wrote this article myself, and it expresses my own opinions. I am not receiving compensation for it (other than from Seeking Alpha). I have no business relationship with any company whose stock is mentioned in this article.
Additional disclosure: I am an owner/executive in a private SaaS/Cloud company.