In the latest Commitment of Traders report (NYSE:COT), we saw for the sixth consecutive week gold long build up their positions while short speculators ran for the exits. Speculative long traders are now at their highest levels since last October, while the ratio between longs and shorts dropped to around 30% - the lowest levels since early November. All of this was based on Tuesday's report, which didn't include gold's meteoric rise on Thursday - when we see next week's report it should show that these positions are probably even more tilted towards the longs.
We will get a little more into this but before that let us give investors a quick overview into the COT report for those who are not familiar with it.
About the COT Report
The COT report is issued by the CFTC every Friday, to provide market participants a breakdown of each Tuesday's open interest for markets in which 20 or more traders hold positions equal to or above the reporting levels established by the CFTC. In plain English, this is a report that shows what positions major traders are taking in a number of financial and commodity markets.
Though there is never one report or tool that can give you certainty about where prices are headed in the future, the COT report does allow the small investor a way to see what larger traders are doing and to possibly position himself accordingly. For example, if there is a large managed money short interest in gold, that is often an indicator that a rally may be coming because the market is overly pessimistic and saturated with shorts - so you may want to take a long position.
The big disadvantage to the COT report is that it is issued on Friday but only contains Tuesday's data - so there is a three day lag between the report and the actual positioning of traders. This is an eternity by short-term investing standards, and by the time the new report is issued it has already missed a large amount of trading activity.
There are many different ways to read the COT report, and there are many analysts that focus specifically on this report (we are not one of them) so we won't claim to be the exports on it. What we focus on in this report is the "Managed Money" positions and total open interest as it gives us an idea of how much interest there is in the gold market and how the short-term players are positioned.
This Week's Gold COT Report
This week's report shows speculative traders once again cutting their short positions for a sixth straight week, while speculative longs jump into the gold trade.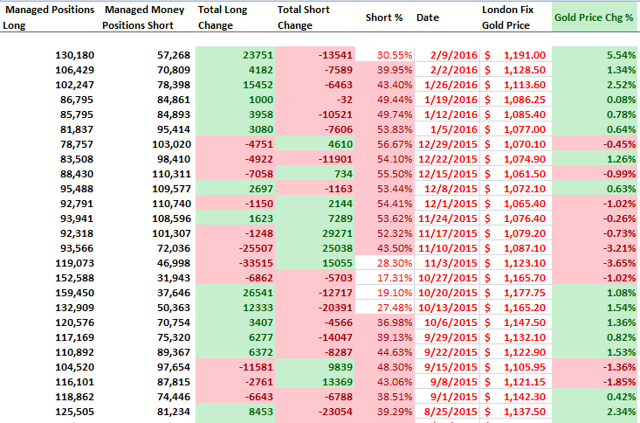 After six straight weeks of increasing long positions and decreasing short positions, the speculative portion of the gold market is at a much more balanced position than late last year. Additionally, since this report is dated to 2/9/16 and doesn't include Thursday's $50 jump in the gold price, the current positions probably have many more longs and much fewer shorts - we're probably going to see our seventh straight week of increasing longs and declining shorts when next week's report comes out.
Going back to the historical data, our records show that we have never seen seven straight weeks of declining shorts (six weeks has been seen a few times). On the long side, we saw eight straight weeks of rising long positions in 2012 as the gold price rose from $1597 to around $1775, which is a bit greater than a 10% gain. The other time that we have seen such a number of increasing speculative longs, was back in September of 2010 as we saw seven straight weeks of gains that took the gold price from $1168 to around $1265. So while the long side of the gains isn't unprecedented, the size of the gains that we have just seen in gold during this streak (from around $1070 to the current $1238 - slightly under 20%) is a bit unprecedented - at least since COT records began in 2006.

What Does This Mean For Investors?
While we are still long-term believers in gold and see no reason to sell physical or core positions, we do feel in the short-term positions are a bit too bullish. We think next week's report will show seven straight weeks of long increases and short decreases as the price of gold is significantly higher than this report's closing data - which has never happened since our data series began.
Thus for investors who do manage their positions using short-term indicators, now may be a good time to take some profits and wait for another lower entry point. Thus lightening up on the gold ETFs (SPDR Gold Shares (NYSEARCA:GLD), PHYS, CEF) and the gold miners may be a prudent move. We stress that this call is only for those who trade gold in the short term - we are still long-term bullish on gold as even at $1240 it is still undervalued as both a hedge against financial system risk and simply on mine supply fundamentals.
What could go wrong with our short-term call? If something in the system breaks or we see a gold supply shortage issue (COMEX default?) then the speculative positioning on the COT report really will mean nothing as the price should rocket. That's why we stress investors should maintain their core and physical gold positions despite the short-term overbought nature of gold. But in the short-term assuming none of these events occur, we see gold pulling back a bit as traders lock in gains and shorts re-enter the market.
Disclosure: I am/we are long SGOL, SIVR.
I wrote this article myself, and it expresses my own opinions. I am not receiving compensation for it (other than from Seeking Alpha). I have no business relationship with any company whose stock is mentioned in this article.