A stock investment is more than just a ticker oscillating up and down on a screen, it is a small portion of a real entity. If one looks at a stock as a piece of a business, the investor would be unwise to depend on volume, candlesticks, or any type of technical analysis. Although proper entry points and strike marks are sometimes essential for maximizing profits, understanding a business for what it is creates the real gains in the long run. Exhibit A - Warren Buffett. Buffett has developed an investment strategy based on Benjamin Graham's value-oriented style. A stock moves entirely independent of its previous movements and is completely manipulated based on real business issues; namely: internal business operations, assets, and growth.
However, despite genuinely believing in DCF models, ratio valuations, and other value - oriented methods of stock picking, I make sure never to over look the arguably most important aspect of the business - management. Management makes the business run, regulates financial health, seizes growth opportunities, and inevitably, cause the stock to go up. I believe that Starbucks (NASDAQ:SBUX) is a prime example of a company that exemplifies excellent financial strength, growth opportunities, and stellar management.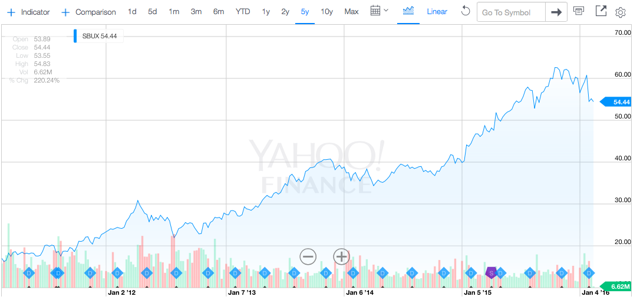 Howard Schultz, CEO of Starbucks, has been able to successfully compound his company's stock at an incredible rate. Over the past 5 years alone, SBUX has grown over 300%. Schultz's success has been largely due to his persistence to increase operating margins, up same store sales growth, and add new stores across the world. Although many believe Starbucks has largely exhausted most of its growth potential and doesn't warrant a PE ratio of 30+, I believe, with Schultz and his management team leading the way, Starbucks has even more room to grow.
Key points of growth for the future:
1. Transformative Experience
2. Technological Advancements
3. Organic Growth
Transformative Experience
Starbucks is no longer a simple coffee shop. Although its earlier success was fairly dependent on its unique, Italian-style niche, going forward, in order to continuously spur growth, Starbucks is changing it shopping experience. In Seattle, Starbucks has started something called the Starbucks Reserve Roastery and Tasting Room. This giant complex further enhances the coffee-drinking experience and will generate new forms of income for the company. Pictures of the roastery are depicted below: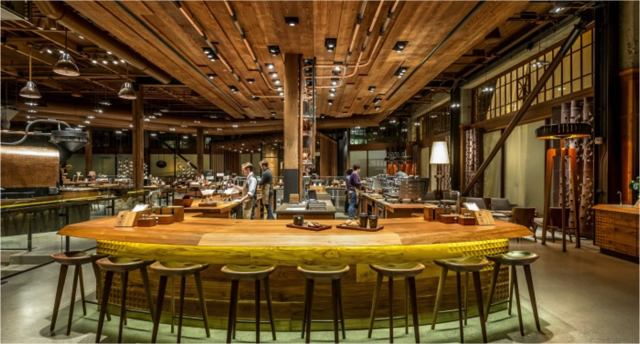 On top of the roastery, Starbucks has also started mobile truck, express, and drive-thru only stores. These innovative and transformative coffee outlets will further enhance growth beyond just adding new stores and generating above average same-store sales growth.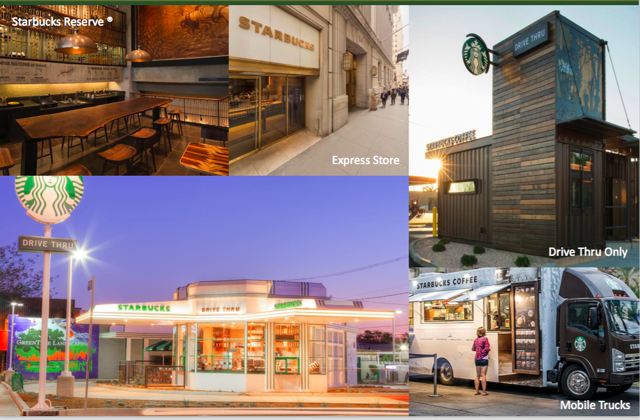 In order to further diversify its source of income and veer away from standard in-store revenue streams, Starbucks has created numerous partnerships and initiative. By partnering with Pepsico, Tingyi, and Teavana and by expanding its presence to grocery aisles and K-cup production lines, Starbucks intends to enhance the out-of-store experience.
Technological Advancements
Leading into 2016, the management team at Starbucks has demonstrated continued persistence regarding technological advancements. Starbucks has issued a robust card program, delivery systems, Mobile Order & Pay, and a Spotify partnership. Each one of these programs are set in place to minimize time in line, enhance customer experience, increase operating cash flow, and boost same-store sales growth. 35% of orders were prepaid, 1 in 7 Americans bought a Starbucks gift card for the holidays, and 21% of orders were delivered through mobile orders. The way companies do business is changing, and Starbucks is leading the way in innovation and leading the trend.
Organic Growth
Although Starbucks intends to expand its business model and diversify operations through external initiative, restaurants are generally valued heavily on organic growth and same-store sales increases. The following excerpt is taken from a shareholder letter from CEO, Howard Schultz:
"Globally, we drove 7% rise in comparable store sales and opened 1,677 net new stores in fiscal 2015. Specifically, our Americas segment delivered 7% comp growth, and throughout the China-Asia Pacific region, our new class of company-operated stores are generating record profit. China is already our largest market outside of the U.S., and future investment in the region will secure our premium leadership position. In Japan, following the acquisition
of our company-operated stores, and as we celebrate our 20th anniversary there, we are positioned for growth as never before. In Europe, the Middle East, and Africa (EMEA), our improvement efforts are yielding success, as demonstrated by fiscal 2015's remarkable 14% margin."
Not only has Starbucks demonstrated continued comparable store sales, it intends to construct thousands of more stores every year going forward. Although Starbucks already operates in over 23,000 stores world-wide, Howard Schultz has demonstrated his eagerness to grow the company further by pledging to double the amount of stores in China over the next five years.

Key Ratios
Operating Margin - 18.72% (Industry - 5.38%)
ROE - 30.73% (Industry - 8.39%)
ROA - 14.40% (Industry - 4.42%)
EBITDA Growth (3Y) - 23.30% (Industry - 4.90%)
Bottom Line:
Although Starbucks has appreciated considerably over the past few years, I believe it has plenty of room to grow. Even though the market is heavily volatile right now and SBUX will most likely fluctuate between the $50-$60 range, it is worth taking a closer look at the stock. If you are investing for the long term, SBUX has great internal and external growth potential.
Disclosure: I am/we are long SBUX.
I wrote this article myself, and it expresses my own opinions. I am not receiving compensation for it (other than from Seeking Alpha). I have no business relationship with any company whose stock is mentioned in this article.