Introduction
Ventas (NYSE:VTR) is a real estate investment trust that invests primarily in real estate designed to serve the healthcare industry. The company was originally found as a spinoff in 1998 and has grown to be a huge company with a 6% dividend yield and a $16 billion market cap. That makes it one of the largest healthcare investment trusts in the world, larger than Healthcare Property Investors (NYSE:HCP), a $12 billion company.

However, the company has been dragged down by an overall correction in Healthcare REITs. HCP has been the leader of the pack in this regard, seeing its stock price fall from a high of $54 in mid-2013 down to $26 recently. Much of this decline has been since the start of the year, with the company's stock falling from $38 at the start of the year to current prices of $26.
Ventas has been affected by this overall drop in healthcare prices. The company's stock has fallen from $80 in early-2015 down to recent lows of just over $48. Similar to Healthcare Property Investors, Ventas has seen its stock drop from just over $56 at the start of the year to current prices of just over $48. That represents a drop of almost 20% for something Ventas was not involved in.
Investment Thesis
Now that we have an understanding of Ventas overall, it is now time to talk about the investment thesis for why Ventas represents a good pick.
Ventas has a long-term track record for excellence and real estate investments. The company has sustained excellence in the field along with strong future growth prospects. These things have allowed the company to pay an increasing dividend that has grown even stronger with the recent share price decline.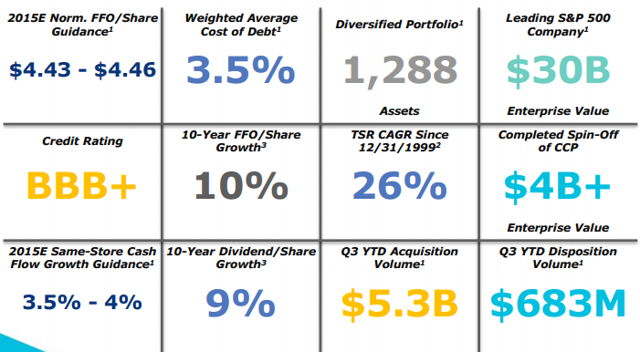 Ventas Fact Sheet - Ventas Investor Presentation
Now that we have an overview of the company, let us look at some of the facts about the company. Unlike HCP, Ventas has a diversified portfolio of almost 1,300 assets, meaning issues with any one company won't be enough to threaten the company's earnings. The company estimates 2015 FFO/share to be approximately $4.43-$4.46, more than enough to cover the company's $2.92 annual dividend yield.
At the same time, the company managed to completely spin off CCP, more than $4 billion worth of enterprise value spun off. The company's 10-year dividend growth per share has been 9%, impressively high, while the company's cost of debt is relatively low at 3.5%. At the same time, the company has maintained an investment growth credit rating. Together, these things should help the company's long-term potential.
Future Needs
Now that we have talked about the investment thesis for the company, it is now time to talk about the future needs in the Healthcare REIT industry.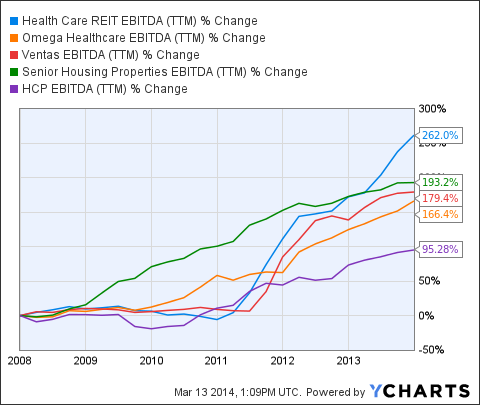 Healthcare REIT Share Price Change - YCharts
Healthcare REITs have seen an impressive growth in their stock price up until the REIT crash of 2013. These companies experienced a minimal dip from 2008-2011 during the major crash before recovering to new highs in 2013. Such increases were fueled by overall increases in the healthcare industry caused by rapidly increasing spending.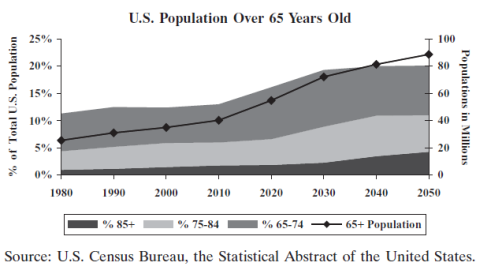 U.S. Population Changes - U.S. Census Bureau
The options in Healthcare REITs are even greater. The United States has huge populations that are rapidly becoming more than 65 years old. This is expected to increase, especially as millennials become more than 65 years, many of whom are expected to live to 80 years or more. As a result, many of these older patients will need senior homes, hospital space, etc. This will result in rapid growth of Healthcare REITs.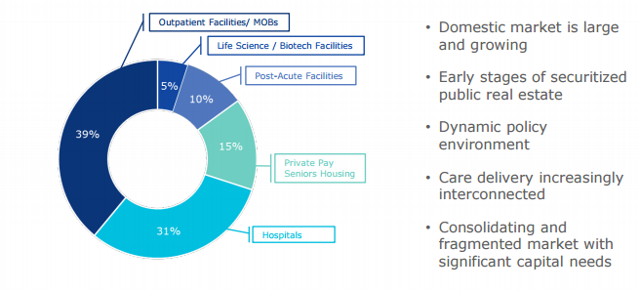 Healthcare Market Size - Ventas Investor Presentation
Healthcare REITs are a $1 trillion market, a large portion of which is not owned by the public. At the same time, these markets are rapidly growing and well diversified across hospitals, senior housing, and outpatient facilities. While these are the early stages of the market, Ventas understands the significant capital needs necessary to consolidate the markets. As the company is growing, Ventas will bring additional income.
Ventas Margins
So far, we have talked about the investment thesis for Ventas along with the future needs in the overall Healthcare REIT industry. Now let us talk more about Ventas' ability to keep growing in such an environment and to pay what us investors care about here - dividends.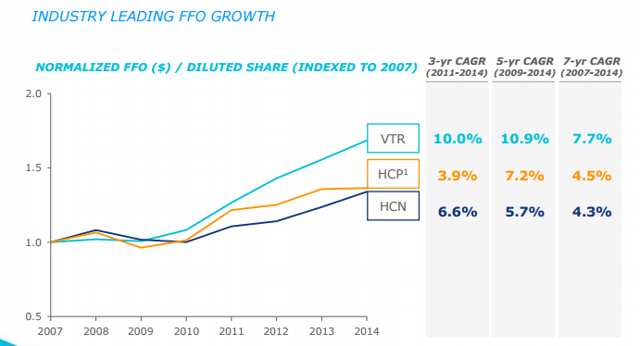 Ventas FFO Growth - Ventas Investor Presentation
Ventas has managed to increase its normalized FFO in terms of $/share over the long run. The company's 7-year returns, which include the time period before the 2008 crash, is 7.7% a year, ahead of both of the company's competitors.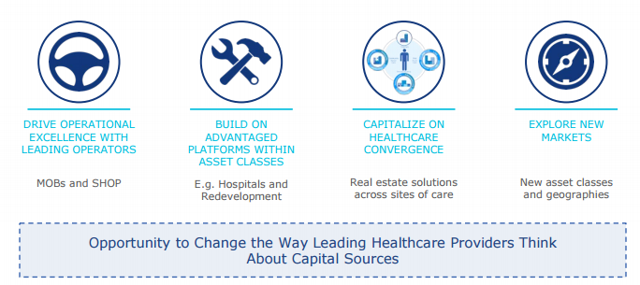 Ventas Growth Opportunity - Ventas Investor Presentation
At the same time, the company is interested to use its advantages as one of the largest Healthcare REITs to continue growing. The company is planning to capitalize on healthcare convergence where the Healthcare industry is looking for lower costs. Democratic presidents who want to lower healthcare costs might support such a consolidation.
Global REIT Real Estate Ownership - Ventas Investor Presentation
At the same time, Healthcare represents a small percentage of the global REITs. In the hotel industry, which has been noticeably more consolidated, 50-55% of all assets are owned in REITs. The fact that number is just 12-15% for Healthcare means that the sector can quadruple its assets before growing to large even compared to other common REIT industries.
Conclusion
Throughout these articles we painted a picture of Ventas by discussing an overview of the company along with the investment thesis for Ventas, overall market growth, and Ventas' ability to continue earning in the growing industry.
The company lives in a rapidly growing industry and offers a 6% dividend yield. The company's investment-grade credit rating, along with 3.5% cost of debt, means the company can take on debt to rapidly grow taking advantage of a rapidly growing industry.
Disclosure: I am/we are long VTR, HCP.
I wrote this article myself, and it expresses my own opinions. I am not receiving compensation for it (other than from Seeking Alpha). I have no business relationship with any company whose stock is mentioned in this article.