Things have gotten a little crazy in this market. There has been indiscriminate selling, extreme fears that we are in another 2008-style Financial Crisis, and there are record levels of short positions in oil right now. Once again, some investors believe the world is ending and this has caused a significant decline in the stock market. I think this is the buying opportunity that many investors had hoped for, but now that it is here, many are afraid to buy in the midst of all this fear and pessimism. This is the time to put emotions away and remain disciplined. That means you don't make big panic moves that are contrary and detrimental to your long-term goals. It also means that you should consider buying at least a little, while other investors are fearful and selling their stocks at cheap prices.
If you want to go bargain hunting, there is a lot of opportunity in small caps as well as in the oil sector, which has been brutally hammered. There is such extreme negativity against oil and stocks in this sector right now, and that could be a very bullish contrarian indicator. There are a few other signs I see, that could be indicating oil is now at or near a bottom. One of the best signals I see right now of a potential oil bottom, is the fact that Chevron (NYSE:CVX) and Exxon (NYSE:XOM) have been trading so well, in a very weak market for stocks and oil. In fact, both of these stocks have even been in an uptrend lately. Take a look at the charts of these two major oil firms below: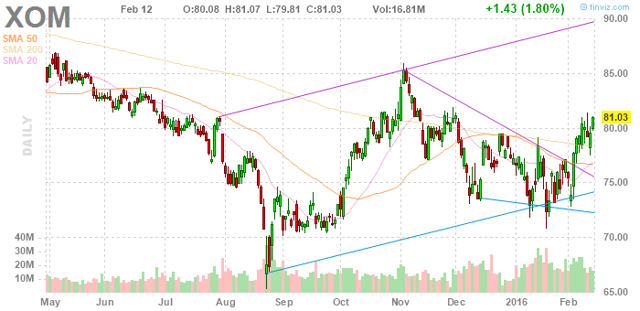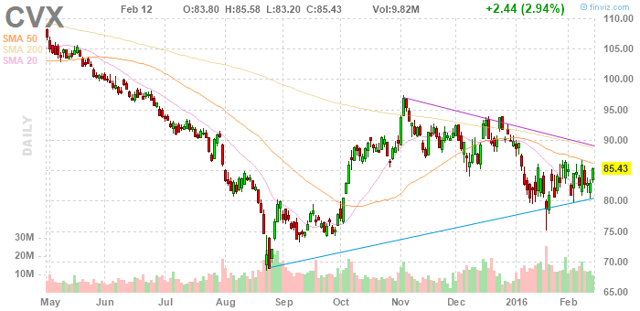 The fact that major oil stocks like Chevron and Exxon are already showing signs of having bottomed out and have even started to trend higher, is very significant. This could be a leading indicator that oil is at or near the bottom now, and that it is poised to rebound later this year as production declines. The market knows that these companies are going to survive, and eventually thrive in the future, as weak players go out of business and as oil rebounds. Look at the chart of the United States Oil Fund (NYSEARCA:USO) below and you can see that oil is now significantly lower today than what we saw at the time of the "end of the world is coming", during the Financial Crisis. Oil demand is much stronger today and so are global economic conditions, so this tells me the decline in oil prices is really about a temporary oversupply that will not last.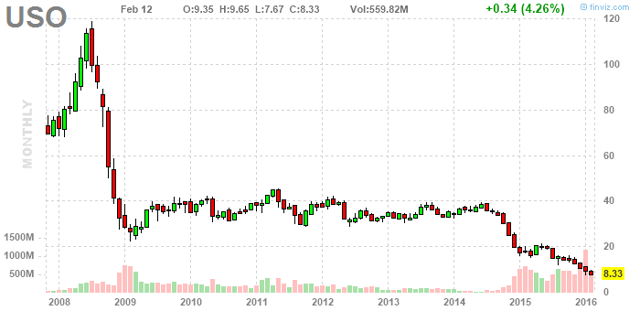 There are still many predictions for oil to fall to $20 or even $10 per barrel, and while anything is possible, investors have to decide what is most probable. I don't see $10 oil as being in the cards, but let's not rule out $20 oil just yet. Barron's recently had a cover story titled "Here Comes $20 Oil". This kind of cover story is often the type we see at market bottoms. Investors who remain on the sidelines or sell stocks now in fear of the potential for $20 oil are missing a huge point. Even if we see oil in the low $20 per barrel range, investors have to reflect on whether this is sustainable, and clearly it is not. The International Energy Agency reports that the demand for global oil is running at about 97 million barrels of oil per day. There is no way that the oil industry can provide that much oil at even $30 per barrel, on a sustained basis. So while it is possible to see some kind of $20 per barrel trade, on a panic low day, it really is not relevant in the long term. That is why major oil stocks like Chevron and Exxon are already trending higher. To put it in other terms, let's say I decide to sell a barrel of oil for $20 to my friend. That is about as relevant as some type of short-term blip (low oil $20 price trade) for a day, or even a few days or weeks in the market. There is no way I could keep selling oil to my friend for $20 or even $30 per barrel, just like there is no way oil companies are going to be able to provide the world with 97 million barrels of oil per day for the long term, at these low prices. This is what investors will start focusing on, especially as we get closer to the second half of 2016, which is when production cuts will really start to impact oil inventories.
There has been some talk between OPEC members about cutting production. However, even if OPEC does not take action, the market forces are already at work and this will start to have real impact in 2016. A number of analysts have already projected that oil will rebound by about 50% in the second half of 2016. That may seem like a lot, but that would still only take oil back above $40 per barrel. A recent Bloomberg article states:
"Analysts are projecting prices will climb more than $15 by the end of 2016. New York crude will reach $46 a barrel during the fourth quarter, while Brent in London will trade at $48 in the same period, the median of 17 estimates compiled by Bloomberg this year show. A global surplus that fueled oil's decline to a 12-year low will shift to deficit as U.S. shale output falls, according to Goldman Sachs Group Inc.

U.S. production will drop by 620,000 barrels a day, or about 7 percent, from the first quarter to the fourth, according to the Energy Information Administration. Meanwhile, the International Energy Agency forecasts total non-OPEC supply will fall by 600,000 barrels a day this year. That may pave the way for a rebound as lower prices have stimulated global demand. Oil is the "trade of the year," according Citigroup Inc., which is among banks from UBS Group AG to Societe Generale SA that predict a gain in the second half."
Another point to consider is that oil has dropped from about $100 per barrel to just around $27. That represents a decline of $73 per barrel in the price of oil. This implies there is just not that much room left for oil to drop or for shorts to squeeze out of this trade. If you are short oil now, you can hope for another few dollars of downside, but does that last and is the potential downside of another $5 to $10 drop in oil worth risking the potential upside of multiples of that? Being short oil and stocks in this sector has been really great for a long time now, maybe even too good to be true. I think many shorts in the oil sector are now complacent, and it is now an extremely crowded trade. A recent Zero Hedge article confirms that short interest is near record highs for oil, it states:
"As SocGen writes this morning, "we have seen extreme short positioning building up in the oil futures market. The quantity of short positions opened is at an all-time high for Brent, and still high for WTI futures."
When oil reverses, a huge herd of shorts will be rushing to cover and that could lead to a massive short squeeze. Many events could suddenly send oil much higher from these low levels whether it is a production cut by OPEC, continued production cuts from oil companies, geopolitical events, or even just a change in sentiment. Let's remember how tricky it can be to predict the price of oil. Just a couple years ago, many investors were certain oil would never go far below $100 per barrel and even Goldman Sachs (NYSE:GS) notoriously predicted that oil was going to $200 per barrel. That turned out to be one of the worst predictions ever for oil. That is one more reason why investors should start ignoring extreme predictions whether analysts are predicting lows of $20 per barrel or extreme highs of $200. It is time to use some common sense at this moment of extreme fear. Are you still putting gas into your car these days? Are you probably going to be putting gas in your car next year, in 5 years, etc ? I think I will be and I that is why it makes sense to buy oil assets now, while very few investors are interested in this sector.
I also believe that when there is a sustained rally in oil prices, we will also see a major rally in the markets as a bottom in oil will cause huge sigh of relief. With this in mind, it makes sense to consider averaging into oil stocks and other beaten down sectors, especially small cap stocks that have been hit the most. If you want to read about one of my top small cap picks to buy in this pullback, check out Supervalu (NYSE:SVU), which is a $4 bargain at just at about 6 times earnings. I wrote about Supervalu in this article. Please follow me for future updates and stock picks.
Data is sourced from Yahoo Finance. No guarantees or representations
are made. Hawkinvest is not a registered investment advisor and does
not provide specific investment advice. The information is for
informational purposes only. You should always consult a financial advisor.
Disclosure: I/we have no positions in any stocks mentioned, and no plans to initiate any positions within the next 72 hours.
I wrote this article myself, and it expresses my own opinions. I am not receiving compensation for it (other than from Seeking Alpha). I have no business relationship with any company whose stock is mentioned in this article.