Well it certainly had been a terrible two months for shareholders of Skechers USA (NYSE:SKX) until this week when the company reported fantastic earnings. Those that bought in at the start of December have had a rollercoaster of a ride that had seen the shares climb a little higher before plummeting over 13%. Now they are back to where they started, but this time it could be very different, as we expect a shift in sentiment and the shares to climb higher.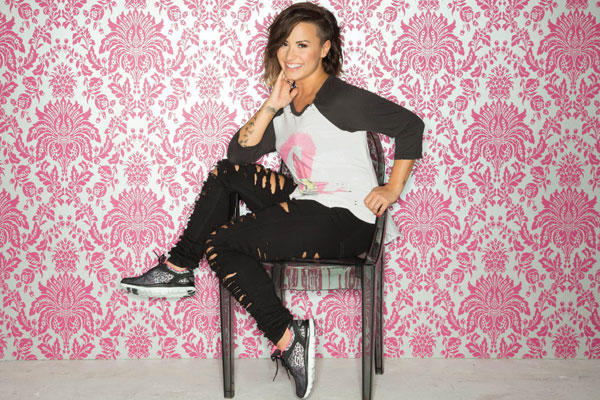 We go on about it a lot, but one of our key focuses this year has been health and wellness. The rise of health and well being - and athleisure as a bi-product of it, has shown no signs of slowing down. All over the world there are initiatives to get people active and improve lifestyles. So with more and more people getting active, the market for footwear is growing rapidly, especially internationally.
The product assortment that Skechers has is very strong, as is its endorsements with high profile celebrities such as Sugar Ray Leonard, Demi Lovato (pictured above), and Meghan Trainor. We also like the way the company responds to pop culture events like it did with the Star Wars special releases. We see it as being a little boost to sales, but also a good marketing strategy that has the potential to go viral on social media.
Skechers has shown just how strong the athleisure demand is in its latest earnings report with its impressive growth. For the full year it grew its international wholesale business by 58.8% (an increase of $405.2 million). Overall in fiscal 2015 sales grew by 32.3% to $3.147 billion, in comparison to sales of $2.378 billion in fiscal 2014. On the bottom line net income increased a whopping 67.1% to $231.9 million compared to net income of $138.8 million in the previous year.
We are always pleased to see earnings growing at a quicker rate than revenue. We believe it shows management is running the business with high levels of efficiency. So, this is very positive for us. The strong balance sheet is another positive in our opinion. We like companies with low levels of debt and strong levels of liquidity. Rather pleasingly Skechers satisfy these requirements with a current ratio of 2.72 and total long term debt of just $84 million compared to cash and equivalents of $507 million.
According to its Q4 report, the company has plans to open up to 340 new stores by the end of fiscal 2016. This represents an almost 25% increase it its store count, bringing its total to over 1,650 stores. While the company has not advised where these will be located, we anticipate the focus will be on international locations. Management aims to increase its international sales to 50% of total sales, from 41% today, within the next two to three years. At the rate sales are growing internationally we would not be surprised if it reaches this milestone within eighteen months. The international athleisure trend, a great product assortment, its aggressive store expansion, and incredible demand from China (triple-digit year over year growth), will be the catalysts to making this happen faster than predicted in our opinion.
Because of this we envisage earnings to grow at a compound annual growth rate of 22% for the next five years. Considering this growth rate is 10% per annum higher than what analysts are expecting for Nike (NYSE:NKE), we feel it would be highly likely for the shares to start trading at a higher price-to-earnings ratio in line with Nike's. Currently Nike trades at around 27x earnings, whereas Skechers trades at just 20x earnings. Another stock benefiting from the athleisure trend, Lululemon, trades at 31x earnings, so we feel 27x earnings is more than fair for Skechers. Shown below you can see the difference between valuations. We fully expect this gap to start closing over the next few months as sentiment shifts positively.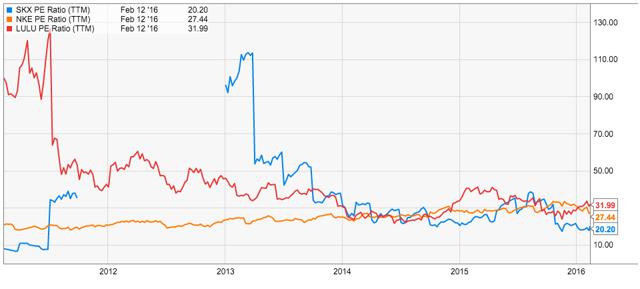 (Source: Ycharts)
Because of the positive growth that lay ahead we have forecast earnings per share of $1.97 for fiscal 2016. A rise of 31% year over year. At 27x earnings this gives us a one-year price target of $53.19. This represents massive upside of 75%, and as crazy as that sounds our price target still falls short of its 52-week high of $54.53.
For us, this investment is a no-brainer with fantastic upside potential, and one we have great confidence in despite the volatile markets.
Disclosure: I am/we are long SKX.
I wrote this article myself, and it expresses my own opinions. I am not receiving compensation for it (other than from Seeking Alpha). I have no business relationship with any company whose stock is mentioned in this article.