What a week for investors in healthcare real estate investment trust HCP, Inc. (NYSE:HCP). The healthcare REIT fell off a cliff last week when the company reported a fourth quarter loss and gave a weak growth and revenue outlook that upset shareholders.
HCP reported a fourth quarter loss of $599.2 million, or $1.29/share, on February 9 which compares against a net profit of $196.1 million, or $0.43/share, in the year ago quarter. HCP's Q4 loss was driven by impairment charges totaling $829.6 million that brought the REIT's total 2015 impairments to a whopping ~$1.45 billion. According to HCP's footnotes in the earnings release, the majority of its impairment charges in Q4-15 related to its investment in HCR ManorCare [emphasis mine]:
For the three months ended December 31, 2015, other impairments, net include impairment charges of: (NYSE:I) $817 million related to our HCRMC DFL investments and (ii) $19 million related to our equity investment in HCRMC, partially offset by impairment recovery of $6 million related to a loan payoff in our hospital segment. For the year ended December 31, 2015, other impairments, net include: $1.3 billion related to our HCRMC DFL investments, (ii) $112 million related to our Four Seasons unsecured notes, (NASDAQ:III) $46 million related to our equity investment in HCRMC, partially offset by (iv) impairment recovery of $6 million related to a loan payoff in our hospital segment.
HCR ManorCare is the REIT's biggest tenant and experienced some trouble in the skilled nursing segment in the fourth quarter. As per HCP's earnings release:
The post-acute/skilled nursing ("SNF") industry and HCRMC continued to experience a challenging operating environment in 2015, due to the ongoing change in reimbursement models which reduces rates and lowers census, the result of shorter lengths of stay.

The level of performance was below expectations and uncharacteristic for the fourth quarter, which has historically been strong due in large part to increased census and the annual Medicare rate increases on October 1.
Investors generally don't take news about deteriorating conditions in one of a company's core businesses lightly. And that was what happened: Shareholders immediately used the opportunity and stormed out the door, selling shares as quickly as they could. HCP's share chart visualizes the panic playing out last week.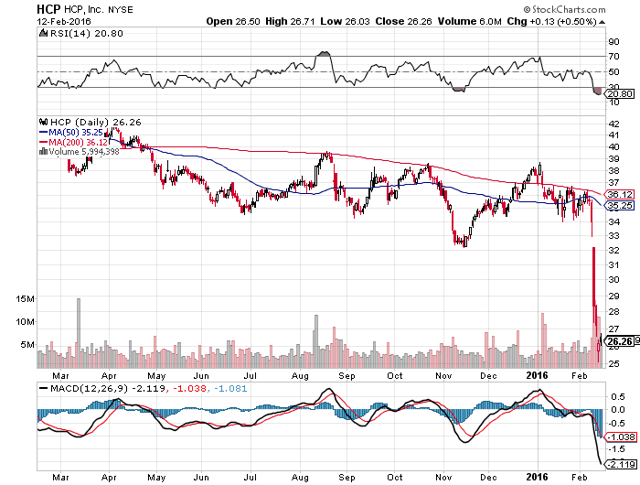 Source: StockCharts.com
Including last week's crash, which saw HCP decline ~23%, total YTD losses amount to ~31% for HCP shareholders...and we are just six weeks into the new year. Bad.
So the question here is: Should you buy the sell-off, or stay far away on the sidelines and not touch a potentially burned stock?
Investors do have a point selling the stock after the company warned of reduced growth moving forward. But, in fairness, there are also reasons to buy the REIT in light of the recent sell-off. And here they are:
1. HCP has increased its dividend for 31 years consecutively and is a constituent of the S&P 500 Dividend Aristocrats Index. Yes, sometimes business headwinds throw a curve ball even to established companies, but HCP has done a good job for shareholders over time.
2. A couple of insiders made a move last week and took advantage of the meltdown. Among the insiders was Lauralee Martin, HCP's President and Chief Executive Officer, who bought 25,000 shares at a weighted average price of $25.39 on February 11. Total transaction value: $635k.
3. As is often the case when bad news break, investors rush through for the door at the same time, overreacting in the process. This in turn might open up a buying window for more opportunistic income investors since HCP is now widely oversold. The Relative Strength Index flashes a value of 20.80. A contrarian signal.
Your Takeaway
HCP has shocked investors last week with its HCR ManorCare Update and impairments that ripped a whole into its earnings statement. That said, though, insiders have used the REIT's meltdown to buy stock. Further, HCP has a respectable track record and is part of a group of "Dividend Aristocrats", which are companies that have increased their dividends for 25 consecutive years. The REIT will fight tooth and nail to defend that reputation. HCP has most recently declared a quarterly dividend of $0.575/share, annualized $2.30/share, which brings HCP's yield to 8.76%. Speculative "Buy for Income".
Disclosure: I/we have no positions in any stocks mentioned, and no plans to initiate any positions within the next 72 hours.
I wrote this article myself, and it expresses my own opinions. I am not receiving compensation for it (other than from Seeking Alpha). I have no business relationship with any company whose stock is mentioned in this article.