Frequent readers will know that preferred shares have started to grab my attention in the mREIT sector because they offer some of the same price failures as the common stock without having the same book value fluctuations. This can make the preferred share sector a fairly interesting area for both long term investors and short term traders willing to learn the sector. For the long term investor the strategy is to find the lowest risk issues and try to get acceptable prices on them. While mREITs are inherently risky, there are some issues trading below par value that run with less leverage and less credit risk. Those mREITs should be less exposed to the potential for a sudden failure of the company.
Today I spent a few hours updating my tables and gathering more data on preferred shares so I can incorporate a larger portion of the of the sector. Of course, some mREITs don't have preferred shares so it won't be possible to utilize the entire sector. The ones that did come up were:
| | |
| --- | --- |
| (NASDAQ:AGNC) | American Capital Agency Corp. |
| (NYSE:AMTG) | Apollo Residential Mortgage |
| (NYSE:ANH) | Anworth Mortgage Asset Corporation |
| (NYSE:ARR) | ARMOUR Residential REIT |
| (NYSE:CMO) | Capstead Mortgage Corporation |
| (NYSE:CYS) | CYS Investments |
| (NYSE:DX) | Dynex Capital |
| (NYSE:MFA) | MFA Financial Inc. |
| (NASDAQ:MTGE) | American Capital Mortgage Investment |
| (NYSE:NLY) | Annaly Capital Management |
| (NASDAQ:NYMT) | New York Mortgage Trust |
| | |
The number of preferred issues significantly outnumbers the number of mREITs though. Fortunately some of these mREITs have multiple preferred issues which increase the chances of finding a bargain. I expanded on previous tables to establish the following: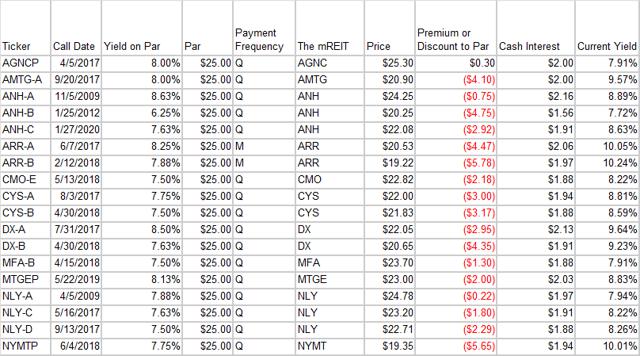 The payment frequencies of Q or M simply stand for quarterly or monthly. The rest of the table should be fairly self-explanatory.
There are a few areas that I still want to work on such as comparing core earnings for the entire mREIT to the dividend on preferred shares. However the challenge there will be the ability of an mREIT to distort core earnings.
On the other hand I think comparing total tangible equity to the liquidation preference on the total preferred shares might be a fairly useful metric that would be more resilient to accounting differences.
Things That Stand Out
Annaly Capital Management has three kinds of preferred shares. The A series continues to perplex me because it trades at a weaker current yield than the others and a smaller discount to par value. I just don't see the rationale for these factors occurring at the same time. All else equal, I'd prefer a larger yield and a larger discount to par value if we are only talking about one mREIT. The A shares are eligible to be called, but that is a minor issue so long as shares are trading below the liquidation value. In previous analysis on the preferred shares I've occasionally seen the A shares trading at a premium to liquidation preference. Currently the mREIT to be doing that is American Capital Agency Corp.
If I were aiming to buy preferred shares from NLY, I'd be looking at the C and D. The larger discount on D combined with what is currently a stronger yield. In past analysis I've seen the D shares with a larger discount than A or C but each time the yield was slightly weaker on the D than the C.
Shares of MFA-B stand out for being tied with AGNCP for the second lowest current yield within the spreadsheet. They do trade at a respectable discount to par value but it is smaller than most of the mREITs.
The weakest yield goes to ANH-B, but there is some rational behind that because that series of shares includes a conversion option. The option is exceptionally far out of the money, but investors who are very curious in ANH might try to project if the common shares per preferred share ratio will be increasing over time.
My pick for the most risk to par value would be NYMTP, so it is reasonable for it to also have one of the highest yields. My second pick would've been ARR-A and ARR-B which are the other two entries above a 10% yield. Keep in mind that inefficient prices in the mREIT sector are more likely to appear for short times, so most of the prices should look fairly reasonable on a relative basis.
Strategy
I'm contemplating some of these preferred shares as long term buy and hold investments, but I'm also contemplating taking advantage of the weak liquidity by analyzing the ranges that each preferred shares trade in and what price ranges I think the shares would be attractive at so I could establish desirable entry and exit points. In short, I haven't decided which technique to employ and it is possible I might do both in different names at the same time. The idea behind trading is primarily to take advantage of the inefficient pricing that comes as a function of poor liquidity in these markets. The volatility between high and low prices for the day is substantially higher than I would expect it to be when considering the week to week or month to month prices.
For a full disclosure, I may go long in any of these preferred shares or in some of the common shares. Currently, my only position in the mREIT sector is being long DX.
Disclosure: I/we have no positions in any stocks mentioned, but may initiate a long position in DX over the next 72 hours.
I wrote this article myself, and it expresses my own opinions. I am not receiving compensation for it (other than from Seeking Alpha). I have no business relationship with any company whose stock is mentioned in this article.
Additional disclosure: Information in this article represents the opinion of the analyst. All statements are represented as opinions, rather than facts, and should not be construed as advice to buy or sell a security. Ratings of "outperform" and "underperform" reflect the analyst's estimation of a divergence between the market value for a security and the price that would be appropriate given the potential for risks and returns relative to other securities. The analyst does not know your particular objectives for returns or constraints upon investing. All investors are encouraged to do their own research before making any investment decision. Information is regularly obtained from Yahoo Finance, Google Finance, and SEC Database. If Yahoo, Google, or the SEC database contained faulty or old information it could be incorporated into my analysis.