For most of 2015, we recommended that readers be wary of any investment in Iconix Brands (NASDAQ:ICON) as we warned of accounting irregularities and instability in the executive suite. Then last October, we changed our stance to one of cautious optimism. We were, and remain, enthusiastic about new CEO Peter Cuneo, a proven winner who took Marvel Entertainment from bankruptcy to a sale to Disney for $4.3 billion at the end of 2009.
As Mr. Cuneo assumed leadership of Iconix, the company immediately cut company earnings estimates and announced a review of financials we expected to result in a restatement available sometime in the first quarter of 2016. While painful, that suggested a better foundation for the company. We felt that the market had priced in the worst news.
Unfortunately, our cautious optimism was met with a sledgehammer. Just before Iconix announced third quarter earnings in November, management slashed the company's outlook again and announced an SEC investigation focused on the accounting treatment of the company's joint ventures. Overnight, literally, the stock fell from $16.14 to $7.20. The change in company guidance was as follows:
| | | | |
| --- | --- | --- | --- |
| | Previous 2015 | New 2015 | 2016 |
| Licensing Revenue | $410-$425 million | $370-$380 million | $370-$390 million |
| Other Revenue | $5-$15 million | 0 | 0 |
| Non-GAAP diluted EPS | $2.00-$2.15 | $1.35-$1.40 | $1.35-$1.50 |
| GAAP diluted EPS | $2.24-$2.39 | $1.55-$1.60 | $1.08-$1.23 |
| Free Cash Flow | $170-$190 million | $170-$175 million | $170-$185 million |
Since the reduction in guidance, the stock has traded as low as $4.67 per share, although it closed Friday at $6.80 per share. The headwinds for the company are still significant.
The company's 2.5% 2016 $300 million convertible notes are due in June, 2016 - only four months away
With almost $1.5 billion in total debt, the company remains highly leveraged. Adjusted EBITDA to interest is a slim 1.1x.
The company has experienced significant weakness in its men's and home brands, with revenues down almost -9% and -19% respectively year-over-year for the last quarter.
Despite the disappointments, Iconix has held its free cash flow estimates around the $180 million level. Meeting that guidance will be important as the company seeks to deleverage over time. While we do not publish a HOCS score for the 2.5% 6/2016 bonds because of the near-term maturity, the HOCS score for Iconix 1.5% remains steady, though not remarkable. It comes in at 53 overall/52 growth/54 safety.
Company Description
Iconix' business strategy is to acquire existing brands and then license the rights to third parties. It is a "business-lite" strategy because Iconix manages the marketing, merchandising and licensing of the brand while the licensee manages everything else including design, manufacturing, inventory and sales. Iconix has acquired a portfolio of 35 global brands in the women's & men's fashion, household and entertainment categories including well- known names such as London Fog, Joe Boxer and Fieldcrest. Iconix has had particular success with its direct-to-retail program where it licenses a brand exclusively to a single retailer. Examples include Danskin now exclusively licensed to Walmart, Mudd exclusively licensed to Kohl's and Material Girl exclusively licensed to Macy's.
More recently, Iconix branched out into the entertainment space by purchasing the Strawberry Shortcake brand for $105 million and an interest in the Peanuts brand. Iconix bought an 80% controlling stake in the Peanuts brand for $175 million with the remaining 20% held by the family of Charles Schulz, the creator of the Peanuts characters.
Entertainment has been the bright spot recently in the product mix for Iconix as the chart below outlines.
3 months ended September 30,

9 months ended September 30,

2015

2014

Change

2015

2014

Change

(restated)

(restated)

Licensing and other revenue:

Men's

20,220

24,433

-17.2%

64,041

73,552

-12.9%

Women's

34,519

32,998

4.6%

114,670

114,435

0.2%

Home

9,108

10,968

-17.0%

28,122

33,189

-15.3%

Entertainment

25,088

23,213

8.1%

72,122

78,158

-7.7%

Corporate

-

18,680

NM

-

38,690

NM

Total

88,935

110,292

-19.4%

278,955

338,024

-17.5%

Operating income (loss):

Men's

4,084

10,818

-62.2%

30,798

40,895

-24.7%

Women's

26,449

27,022

-2.1%

94,144

97,170

-3.1%

Home

7,486

8,959

-16.4%

22,847

27,944

-18.2%

Entertainment

8,409

8,742

-3.8%

23,964

24,351

-1.6%

Corporate

-23,253

7,873

NM

-46,424

9,167

NM

Total

23,175

63,414

-63.5%

125,329

199,527

-37.2%

Lic & other rev by category:

Direct-to-retail license

34,510

34,949

-1.3%

119,061

124,178

-4.1%

Wholesale licenses

41,733

45,963

-9.2%

124,436

132,535

-6.1%

Other licenses

12,692

10,700

18.6%

35,458

42,621

-16.8%

Other revenue

-

18,680

NM

-

38,690

NM

Total

88,935

110,292

-19.4%

278,955

338,024

-17.5%

Source: Company Filings
Iconix has recognized the deterioration in its retail brands and has made plans to invest in the businesses. Iconix has increased its advertising and headcount budget by 15% each for 2016. These increases signal a shift in business model from acquisition-related growth to organic growth. Success in the shift should help the company over the longer term as it moves away from funding acquisitions through leverage to a more balanced growth strategy via its existing brands.
Over time, we think the company may also continue to shift more of its business to the entertainment segment. In addition to being a business that Mr. Cuneo understands well, the entertainment industry offers the potential for higher profile and more enduring brands.
Leverage
In addition to the $300 million 2.5% 2016 convertible note and the $400 million 1.5% 2018 convertible note, Iconix also has $828 million in outstanding senior secured notes and variable funding notes under a bankruptcy remote facility due 2043. That facility includes a step-up in the interest rate in 2020.
The most immediate concern for Iconix is to refinance the convertible note due in June and Iconix had circled the end of 2015 as its deadline. The deadline came and went and although the refinance is still incomplete, Iconix has received an initial offer from Advent Capital, the largest holder of the 2016 bonds as of the latest available filings. Advent is proposing to refinance the bonds with a new 2021 Senior Secured Convertible Note backed by a first lien on Iconix' unencumbered assets outside the senior note and a junior lien on the rest of the company's assets.
The offer letter is largely responsible for the divergence in the prices of the two convertible notes. On Friday, the 2018 bond was quoted at 53.22 versus the 2016 bond which was quoted at 90.16. Certainly, Advent's offer letter is propping up the 2016 bond as it looks like the note will be refinanced. However, if Iconix closes the Advent deal under the proposed terms, the 2018 convertible would be junior to all debt, including the new 2021 bond.
Iconix ended the quarter with $188 million of cash. $110 million is in the U.S. and $78 million is held outside the US. Of the $110 million in the U.S., $52 million is restricted by the secured notes, leaving only $48 million that could be applied to any restructuring of the convertible bond. Despite the imminent need to refinance the 2016 convertible bonds, Iconix management has expressed its preference not to repatriate its cash held overseas, but rather to reinvest that money in its international business.
Fourth Quarter Earnings Preview
In addition to meeting the usual consensus estimates, Iconix needs to address three other key issues when it releases its fourth quarter 2015 earnings in the next few weeks.
1. Revenues from the Peanuts Brand
Fox released the new Peanuts movie last November and the movie has generated almost $130 million in gross revenue so far according to Box Office Mojo. Iconix was looking for $100 million in revenue from the Peanuts brand in 2015 and 2016. The success of the movie should allow for Iconix to meet or beat those revenue estimates. Anything less would raise eyebrows.
2. Iconix should be making progress toward projected 50% EBITDA margins.
The company estimated that EBIDTA margins for 2015 would be about 43%, improving to 50% this year. That is an important step in maintaining cash flow and rebuilding the company. EBITDA margins should be increasing with each successive earnings report.
3. Given the broad trend to Internet shopping, how did direct-to-retail sales fare?
Iconix' direct-to-retail agreements are predominantly with traditional department stores and big box retailers such as Wal-Mart, Target, Kohl's and Macy's. These retailers have disappointed as of late as shopping shifts to the Internet. With Iconix brands already lagging in the men's and household segments, direct-to-retail brands may be a disappointment. In addition to increasing its budget to shore up its brands, Iconix should articulate how the company is positioned to deal with the shift to online shopping.
Conclusions
Iconix has its believers. The UK retailer Sports Direct International plc has purchased a 14.4% interest in Iconix in the open market. Over time, Sports Direct could use Iconix as a vehicle to purchase brands for the company to sell in its stores. For now, Sports Direct could strike a marketing deal for Iconix' sports-related brand Umbro.
But it is up to Iconix to do the heavy lifting and reduce leverage through growth. After having been stung in November with the sudden drop in guidance, the market is understandably jittery and the stock trades at a low 4.8x 2016 adjusted EPS guidance.
For aggressive investors who believe in Mr. Cuneo's track record and want to build a position, we recommend a combination of the equity and 2018 convertible note, though the equity naturally has more upside than the convertible. On the other hand, middling performance by the company generating just enough to refinance the 2018 bond would probably favor the convertible bond holder. The bond could be paid off at par while the stock meanders.
Still, both investments are clearly speculative. The company is under investigation by the SEC, the retail environment continues to be difficult, micro-cap stocks are taking the worst of it in the market downturn and many of the company's brands are just at the start of a turnaround. There could be little left over for the 2018 convertible bondholders in a worst-case scenario given the holdings of the company are brands, not physical assets.
Fourth-quarter earnings should provide investors a better understanding of where the company is in its restructuring. There should be plenty of opportunity to make money should financial results improve. For now, though, file it under high risk, high return.
The following statements are for illustrative purposes only. As mentioned, Iconix will be restating financials and the numbers below should not be relied upon to make investment decisions.
Credit Waterfall: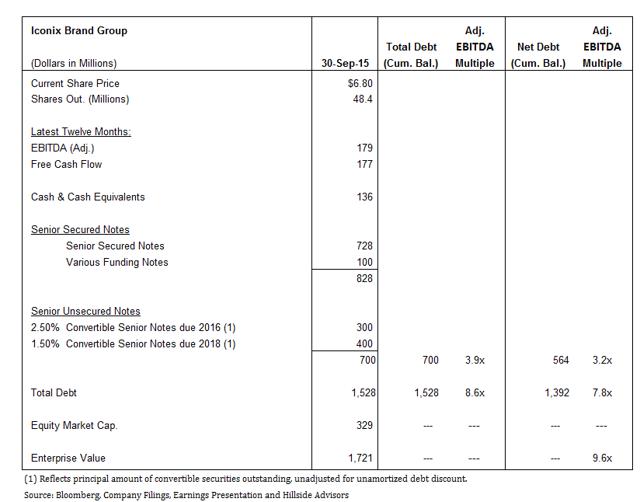 Financial Summary: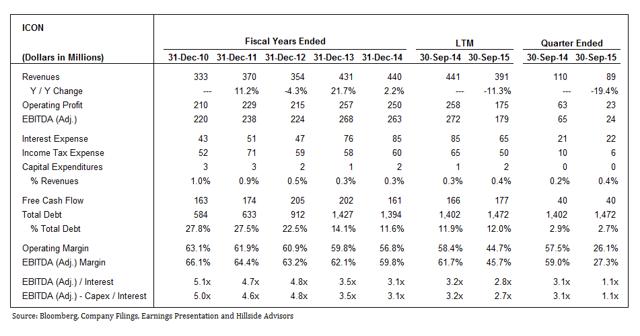 Disclosure: I/we have no positions in any stocks mentioned, and no plans to initiate any positions within the next 72 hours.
I wrote this article myself, and it expresses my own opinions. I am not receiving compensation for it. I have no business relationship with any company whose stock is mentioned in this article.
Additional disclosure: Originally published 2/8/16 in Hybrid Vigor, the convertible market weekly.