A couple weeks ago, I came out with an analysis predicated on data provided by the EIA (Energy Information Administration) in its Drilling Productivity Report regarding the Permian Basin and what the future looks like for the region under the current drilling environment. My overall conclusion was that there's a reasonable chance that we could see a drop in production from there this year but that the drop, in most circumstances, would be small at best. Now, however, with fresh data from the EIA out, the situation is beginning to look more bullish and it could be this basin, which has seen its production rise even as the number of rigs operating there fell, that serves as a tipping point for U.S. oil production.
A look back at my data
In my previous piece, I highlighted what the situation would look like if three core assumptions were to come true. The first is that the number of rigs in the region continue to fall by eight units per month. While this may be hard to fathom, the fact of the matter is that, the lower oil prices stay, the more that drilling rigs will come offline. Using fresh data provided by the EIA, I discovered that the rig count in January of this year came out to 199 units, slightly lower than the 202 units I estimated we would see for the month. By taking new data from the Baker Hughes (NYSE:BHI) rig count, which estimates that there are 180 rigs in operation in the region right now, I figured that, sticking true to my prior estimate, we would see at least eight more rigs come offline this month.
Another indicator that I had to estimate relates to the monthly decline rates of wells in the Permian. In the graph below, you can see the estimated decline rates for every month since January of 2007 (the furthest back that data goes). Unfortunately, it seems as though we've leveled off at a decline rate of 4% so, given this plus the historical trend of the decline rate curve, I'm looking at three different scenarios regarding what the decline rate of wells should be in the future; a conservative estimate, where the decline rate is 3%, a moderate estimate (which is the most probable right now), with a decline rate of 4%, and a liberal one (which is fairly unlikely at the moment), with a decline rate of 5%.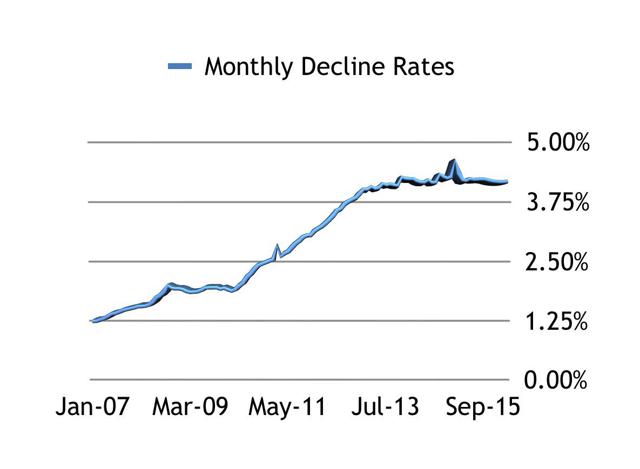 *Source: Created by author with data from the EIA's Drilling Productivity Report
The last assumption I had to make relates to rig productivity from month to month. In the graph below, you can see the historical trend that rigs have taken from a productivity standpoint for every month since January of 2007. This graph is extremely volatile but the data provided by the EIA implies that the trend has been toward lower improvements in productivity over the past several months, with the average since August of 2015 (through the March 2016 numbers the EIA forecasted) coming out to 0.82% per month. To be on the conservative side, I'm going to assume that this number, moving forward, will be 1% each month, just as I have in the past.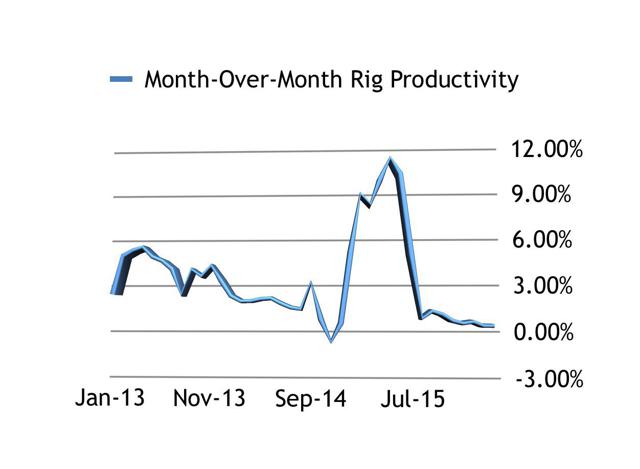 *Source: Created by author with data from the EIA's Drilling Productivity Report
After taking all of this data, I was able to forecast what production in the Permian should look like in each month of this year, which can be seen in the table below. Based on my findings, I had estimated that the low 3% decline rate scenario would yield production of 2.137 million barrels per day by the end of 2016, 116,375 barrels per day above the 2.02 million barrels per day seen in December of 2015. Under the moderate scenario, which is where investors should pay the most attention, production would be 1.96 million barrels per day, a modest decline, and under the liberal scenario, investors should expect production to drop to nearly 1.798 million barrels per day.

*Source: Created by author with data from the EIA's Drilling Productivity Report
But the picture has changed... materially
Keeping true to my new assumptions, the picture looks much more bullish now than it did a month ago. According to the table below, the conservative scenario should result in production rising to just 2.042 million barrels per day this December, an increase of just 20,634 barrels per day year-over-year. In the event that the probable moderate scenario comes to fruition and decline rates continue to average 4% each month, production by year-end should hit 1.883 million barrels per day, a decline of 137,781 barrels per day. Meanwhile, the liberal scenario should yield output in December of this year totaling 1.737 million barrels per day, a drop of 284,188 barrels per day year-over-year.

*Source: Created by author with data from the EIA's Drilling Productivity Report
In the table below, I decided that it would be a good idea to compare last month's forecast to the month before and to see what the new data implies in terms of output. What we can see is that, if one of my forecasts turns out to be accurate, oil production in the Permian will be between 61,198 barrels per day and 95,741 barrels per day below where I originally thought it would be. When you add this to the changes that I'm expecting to see in the other oil-producing regions for the year, this looks to be quite material.

*Source: Created by author with data from the EIA's Drilling Productivity Report
Takeaway
Moving forward, I intend to continue analyzing this space. Based on my findings, it looks as though the massive falloff in rig counts in operation could be setting us up to see a sharp decline in production in some key regions, as well as moderate (and previously unexpected) declines in production in places like the Permian which has, up until now, seemed to defy the energy price downturn. Ultimately, although I expect prices of crude to be volatile in the months to come, this should prove very positive for long-term investors in this space like myself.
Disclosure: I/we have no positions in any stocks mentioned, and no plans to initiate any positions within the next 72 hours.
I wrote this article myself, and it expresses my own opinions. I am not receiving compensation for it (other than from Seeking Alpha). I have no business relationship with any company whose stock is mentioned in this article.