In a low interest rate environment, covering payouts was a big problem. With yields in the high yield market continuing to rise, this problem is becoming history.
Instead, NAVs have replaced high yield bond funds as the real problem, as the bond market's continual default discounting hurts the value of these funds' portfolios. This means bond funds that need to churn their portfolios for various reasons are at a higher risk, while those that can hold to maturity are insulated from the volatility in the market.
Understanding the Dividend Issue
The Bank of American Merrill Lynch US High Yield Master II Effective Yield breached 10% last week on Thursday:

This is the first time we've seen junk yields this high since the financial crisis, and is very much a reversion to the mean from a historical perspective: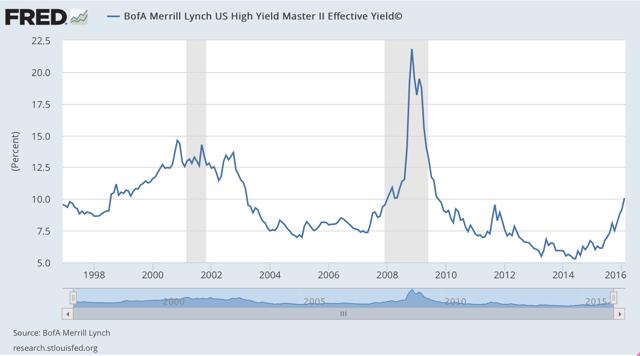 Meanwhile, spreads have risen between high yield debt and U.S. Treasuries: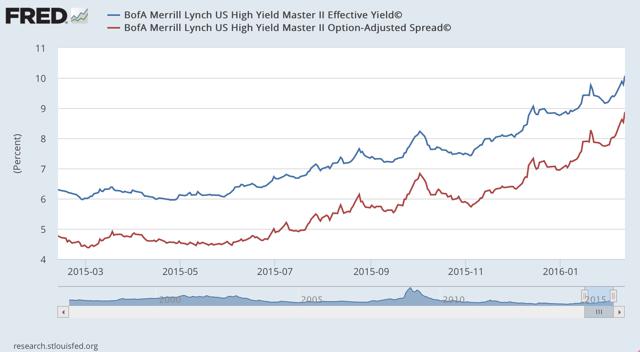 This is a good thing for leveraged bond funds, which borrow money at rates tied to Treasuries (or, in some cases, the LIBOR) and use that money to buy high yield issues.
The only problem with leverage is the risk of a margin call. To avoid excessive leverage, some bond funds have sold off holdings and delevered in the last 18 months while bond values have fallen. This has also meant forced selling of issues at a loss, although mutual funds and open-end funds have certainly suffered from this much more than closed-end funds, since they are forced to sell when investors demand to redeem their investment, which they can do at any time.
For closed-end funds that aren't forced to sell off their holdings, and especially for funds that have access to capital to buy new bonds today, they are faced with the opportunity to buy high yield bonds paying over 10%, which is 60% more than high yield bonds paid a year ago.
This also means that closed-end high-yield bond funds paying 10% on NAV or less will have no problem maintaining that payout without leverage, provided they have the capital to buy new issues. If their distributions aren't too high (which would only be possible if they trade at a high premium), then it should be easy for them to sustain double-digit payouts to stockholders.
Finding Funds that Fit the Bill
This makes it easy to choose CEFs at this point in the market. All we need to do is:
Choose funds with a payout below 10.07%
Choose funds not trading at a premium
Choose funds with relatively low leverage
How can we find them? The good people at CEFAdvisors collect data on CEFs including their price, NAV, distribution, portfolio quality, and many more data points. According to CEFAdvisors, there are 37 CEFs in the high yield world: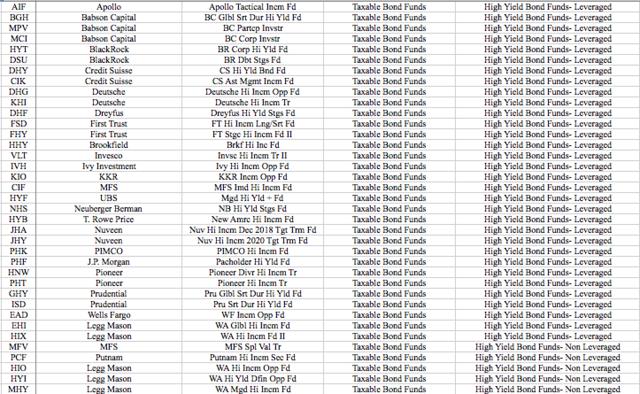 (Source: cefadvisors.com)

Of these, 32 are trading at a discount of 1% or more and 24 are trading at a discount over 10%. Of those 24 trading at a 10% or higher discount, 13 are paying out less than 10% of NAV as distributions.
Three of these funds are non-leveraged: the Western Asset Managed High Income Fund (NYSE:MHY), yielding 9.67% on NAV, the Western Asset High Income Opportunity Fund (NYSE:HIO), yielding 9.68%, and the Western Asset High Yield Defined Opportunity Fund (NYSE:HYI), yielding 9.99%. Since these funds are similar in strategy, management, and discount (about 10.7% for the three), the higher yielding HYI is probably the best choice of these three.
The remaining 10 are levered funds with various discounts and yields: Putnam High Income Securities Fund (NYSE:PCF), Deutsche Bank High Income Opportunity Fund (NYSE:DHG), BlackRock Debt Strategies Fund (NYSE:DSU), First Trust High Income Long/Short Fund (NYSE:FSD), Invesco High Income Trust II (NYSE:VLT), Prudential Global Short Duration High Yield Fund (NYSE:GHY), Neuberger Berman High Yield Strategies Fund (NYSEMKT:NHS), New America High Income Fund (NYSE:HYB), Pioneer Diversified High Income Trust (NYSEMKT:HNW), and Credit Suisse Asset Management Income Fund (NYSEMKT:CIK). These funds NAV yield and current price discount are as follows:

Based solely on the yield and current price discount, CIK, HNW, HYB, GHY, and FSD are particularly appealing, although the long/short strategy of FSD makes it risky. GHY's short duration focus is particularly attractive, as it will also mean greater liquidity to buy new issues-but also means its distribution coverage will rely on lower credit quality purchases as shorter-term bonds pay lower rates.
This, however, is only a first step. These funds should further be screened for portfolio makeup, fees, historical performance, portfolio credit ratings, energy exposure, and geographical diversification. Nonetheless, at current higher junk bond rates, any of these are relatively attractive options for producing a portfolio of CEFs that provides a high rate of current income with a relatively lower risk of portfolio value declines, thanks to the large discount to NAV of each of these funds.
Shameless Plug: Many readers have asked me for more detail on the junk bond and CEF worlds. I've begun a free newsletter that provides monthly summaries of the high yield world. Please feel free to visit my site and sign up.
Disclosure: I/we have no positions in any stocks mentioned, but may initiate a long position in CIK, HYI, HNW over the next 72 hours.
I wrote this article myself, and it expresses my own opinions. I am not receiving compensation for it (other than from Seeking Alpha). I have no business relationship with any company whose stock is mentioned in this article.