General Electric (NYSE:GE) recently declared a $0.23/share dividend, inline with the past few quarters, which will be payable to investors on April 25, 2016. The consistent quarterly dividend should come as no surprise, because the company previously disclosed that the dividend would not be raised throughout 2016.
The fact that we (i.e. investors in General Electric) are not getting a dividend increase in 2016 should not necessarily be considered a negative, because the company has the potential to pay a significantly higher dividend once the investments that are being made today begin to payoff.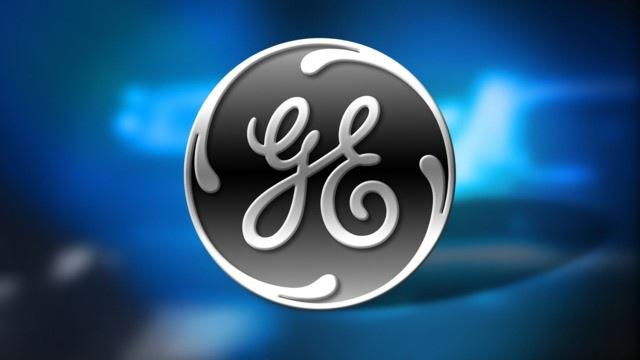 Additionally, General Electric's current dividend yield of ~3.3% is above the industry average (will expand on this below), and the company has multiple long-term prospects in place that will not only lead a growing dividend in future years but that will also contribute to an increasing share price. Therefore, investors should consider the frozen dividend for 2016 a prudent decision that was made by a management team with the future in mind.
Above Average Dividend Yield
General Electric has consistently raised its dividend since the Financial Crisis, so in my opinion, the frozen dividend for the current year is not a cause for concern. The current dividend is still well below the quarterly dividend of $0.31/share that the company paid before the infamous dividend cut in 2009, but, on the other hand, the quarterly dividend has been raised from $0.10/share to the current $0.23/share that was first initiated in late 2014.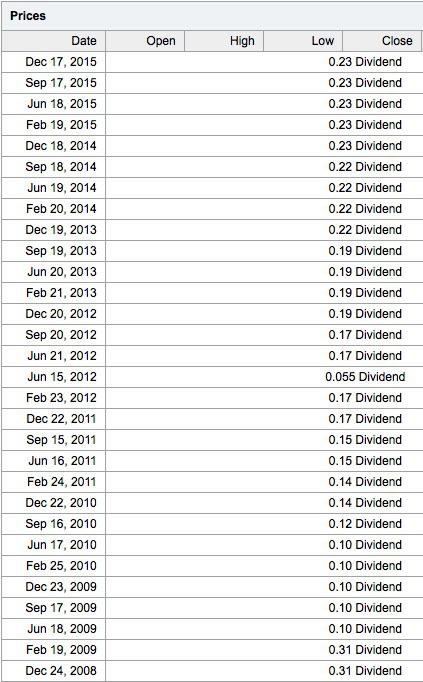 (Source: Yahoo! Finance)
Moreover, the company's dividend yield is still well above the industry average of 2.5%.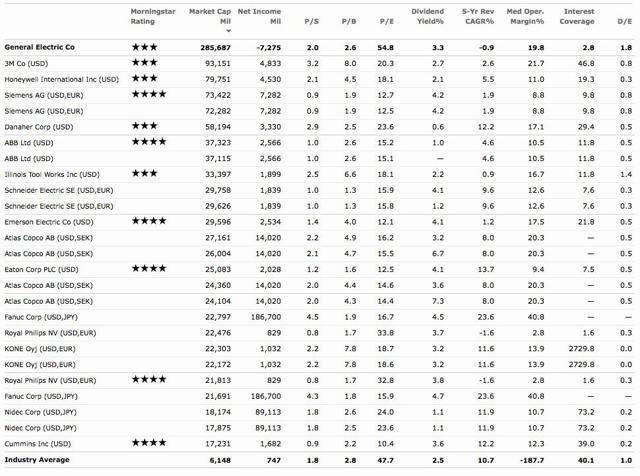 (Source: Morningstar)
More importantly, General Electric's dividend yield is higher than its closest peers, 3M Co. (NYSE:MMM) and Honeywell (NYSE:HON), by a wide margin.
Payout Ratio
Let's now take a look at how General Electric compares to 3M Co. and Honeywell when it comes to the estimated payout ratios for the next two years.
| | | | | |
| --- | --- | --- | --- | --- |
| | GE | HON | MMM | |
| 2016 Earnings Estimate | $1.51 | $6.59 | $8.23 | |
| 2017 Earnings Estimate | $1.77 | $7.25 | $8.92 | |
| | | | | |
| Current Dividend | $0.92 | $2.38 | $4.44 | |
| | | | | Avg. |
| 2016 Estimated Payout Ratio | 61% | 36% | 54% | 50% |
| 2017 Estimated Payout Ratio | 52% | 33% | 50% | 45% |
(Source: Yahoo! Finance --see here, here, and here)
For General Electric, the payout ratio picture is not as rosy as the analysis of the current dividend yield, as the company's estimated 2016 and 2017 payout ratios (using the current annual dividend) are higher than the average for the three companies. Keep in mind, General Electric is in the process of transitioning into a more-industrial focused company and that the next two years is a period of time when the management team plans to heavily invest for the company's future. See "General Electric: Investors Must Remember That This Is A 2018 Story" for further detail on this topic.
Is The Frozen Dividend For 2016 Actually A Good Thing For Investors?
Everyone likes a raise, myself included, but in some circumstances forgoing a raise now will put you in a better position to prosper in the future. General Electric not raising the dividend in the current year is a prime example of this.
Management has been committed to the plan of transitioning this storied company into an industrial-powerhouse that is less reliant on the financing business, and this longer-term plan will require investment dollars. This alone is a reason for the company to make the prudent decision to forgo a dividend raise in 2016.
General Electric has already made several key investments/decisions that will not payoff in the near-term, but that will greatly benefit earnings in the quarters and years ahead. One example is the Alstom (OTCPK:ALSMY) acquisition, which is only estimated to positively impact 2016 earnings by ~$0.05/share but that is estimated to impact 2018 earnings to the tune of $0.15-0.20/share.
Another example is the company staying committed to its Oil & Gas segment, which is a topic that I have written about in the past. There is no denying the fact that this segment is currently in a challenging operating environment, but investments in this area are vital to the success of the segment in the upcoming years.
No one knows where oil and gas prices go from here, but the one thing that we do know is that these commodities will be important to the global economy for at least the next few decades. Therefore, General Electric staying committed to this segment is the right decision.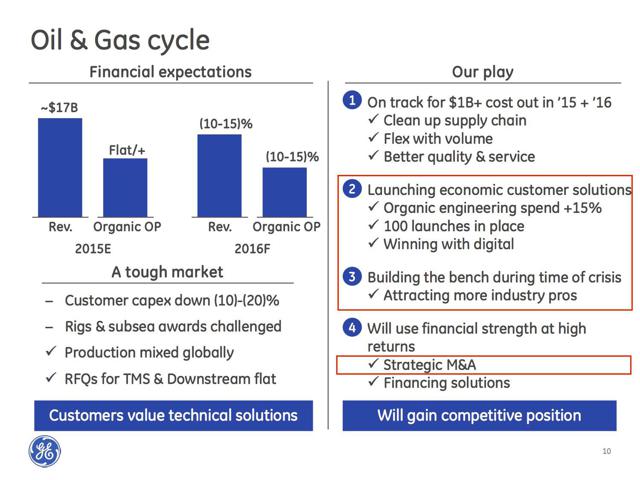 (Source: Outlook Presentation --edited by author)
I have previously discussed the cost cutting initiative that is underway for this segment, but investing in a down market is just as important. General Electric has plans to better serve its customers by providing equipment (and services) that will make the customers' operations more efficient. This is key to the success of oil and gas companies around the globe, especially in a low commodity price environment, so General Electric will indeed gain a competitive position by making investments in the current environment. This may not payoff in 2016, or even 2017, but over the next few years the company will be rewarded.
To answer my own question --yes, the frozen dividend for 2016 is a good thing for long-term investors. Allocating capital to internal operations is sometimes a better option than returning the capital to shareholders, and I believe that this is the case for General Electric for 2016.
Bottom Line
General Electric's share price has been pulled down with the broader market sell-off, but shares are still fairly valued based on estimated 2016 earnings. The company recently reported mixed Q4 2015 results, but the next few years look promising for this large conglomerate. There should not be a rush to purchase shares of General Electric, but investors looking to build a position in GE should use any significant dips as a buying opportunity because this company has the long-term prospects in place to create a tremendous amount of shareholder value through 2018.
If you found this article to be informative and would like to hear more about this company or any other company that I analyze, please consider hitting the "Follow" button above.
Disclaimer: This article is not a recommendation to buy or sell any stock mentioned. These are only my personal opinions. Every investor must do his/her own due diligence before making any investment decision.
Disclosure: I am/we are long GE.
I wrote this article myself, and it expresses my own opinions. I am not receiving compensation for it (other than from Seeking Alpha). I have no business relationship with any company whose stock is mentioned in this article.