We often say that we should buy when there is blood on the street. Buying shares of companies evolving in a suffering industry always looks like a perilous move, but it could also be a source of great reward. This is why I chose to take a look at the rail industry. There is bad news in this sub-sector:
First, the low price of fuel put truckers back in business as competitors.
Second, coal doesn't have the spotlight at the moment and suffers from the overall cheap energy commodity environment.
Third, it was a bad year for intermodal sectors as the fracking industry slowed down drastically, following oil prices.
However, we can agree these factors are temporary. The need for efficient and low cost transportation across vast countries like the USA and Canada will always remain. Therefore, railroad companies were there a hundred years ago and will be there in the next century. We are just at the right time to buy these companies while they are going through a darker period. As a dividend growth investor, I've found 4 rail companies that caught my attention due to their dividend history. Let's take a look at them.
Union Pacific Railway (NYSE:UNP)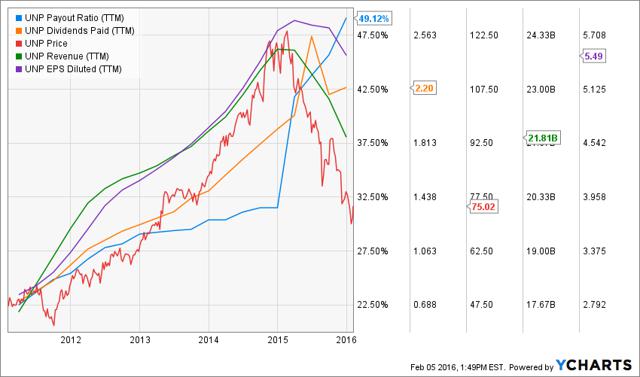 Source: Ycharts
Union Pacific is a transportation company focusing on railroads. Its Union Pacific Railroad covers 23 states across the western two-thirds of the US.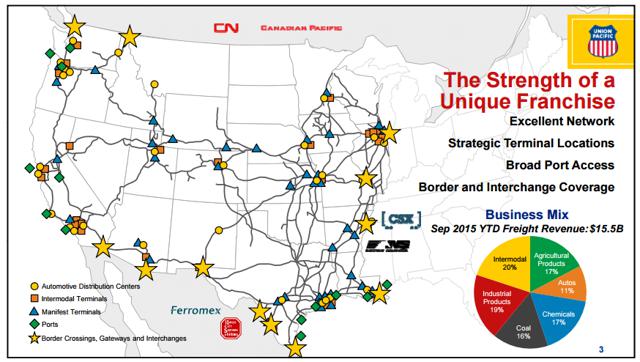 Source: UNP Investor Presentation
UNP operates 32,000 miles of rail with 8,500 locomotives. While the company used to be being very active in the coal industry, it serves various sectors:
10% for Automotive (+7% in volume vs. 2014)
17% Agricultural Products (-2%)
17% Chemicals (-5%)
20% Intermodal (-8%)
19% Industrial Products (-15%)
17% Coal (-17%)
Source: UNP Investor Presentation
Let's be honest, while UNP shows an interesting profile in term of rail services and basic fundamentals, the stock price took a serious beating in the past 12 months dropping by about 40%. While the company is hurt by the current economic situation, management is investing for the future:
"Given the decline in volume, we have taken a hard look at our capital plan and continue to invest for safety, productivity and where returns meet our threshold of reinvestability," said Rob Knight, Union Pacific chief financial officer. "These investments will create value for our customers and strong returns for our shareholders in the years ahead."
Union Pacific Railway is currently getting leaner and more profitable while its stock price goes down. Since the company is active on the western part of the continent, it benefits from a privileged ability for shipping towards Asia. This looks like the perfect time to enter a position in such an important railroad company.
CSX Corporation (NYSE:CSX)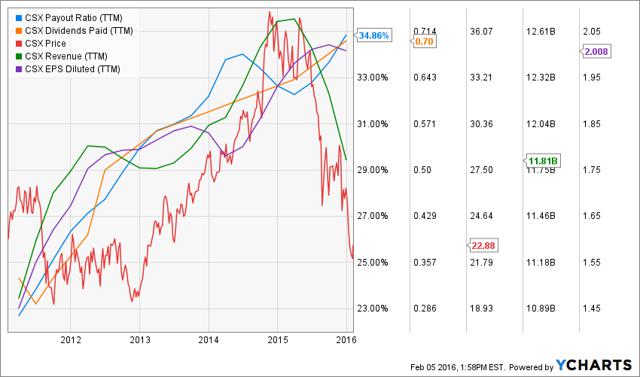 Source: Ycharts
CSX is smaller than UNP in terms of railroads and coverage. The company is more concentrated in the eastern part of the continent while UNP deserves the western part. CSX serves nearly two-thirds of the American population through a network spanning 23 states, the District of Columbia and two Canadian provinces. Its railroad covers 21,000 miles linking over 70 ocean, river and lake port terminals along the Atlantic and Gulf Coasts, the Mississippi River, the Great Lakes and the St. Lawrence Seaway.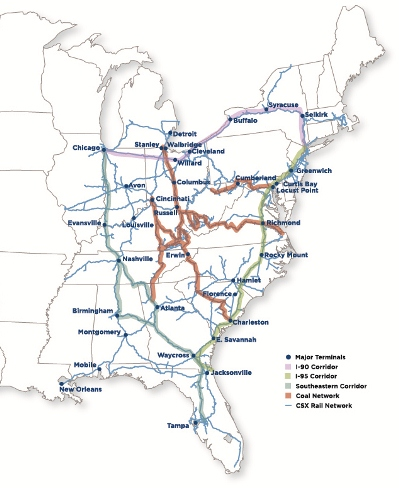 Source: CSX website.
In numbers, the company…
Operates an average of 1,500 trains per day.
Transports an average of 20,000 carloads per day.
Transports more than 6.5 million carloads of product and raw materials a year.
Maintains a fleet of more than 4,000 locomotives.
Maintains a fleet of approximately 70,000 freight cars.
CSX is suffering from similar problems to UNP as 20% of their revenues come from coal transportation:

Management expects another challenging year for 2016. What I like about their recent presentation is that they are not trying to sell us that coal is coming back. Instead, they present a coal industry in transition while CSX expects to benefit from stronger housing construction business generating more product transportation. At the moment, the housing sector represents 5% of their business but it could grow in the upcoming years.
Canadian Pacific Railway (NYSE:CP)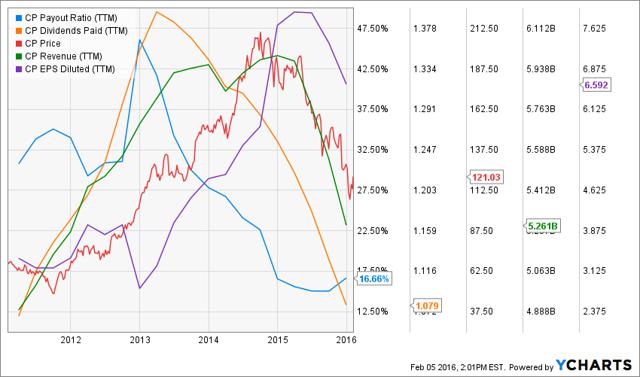 Source: Ycharts
As with the other railroad companies, CP is well diversified among several industries: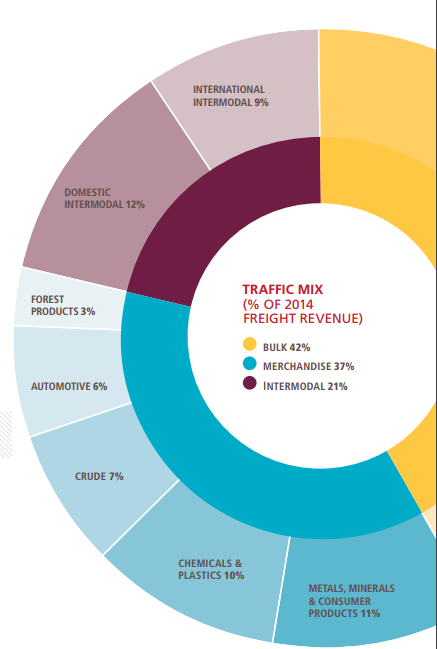 Source: CP website
in 2012, CP appointed a leader in the railroad industry as CEO; Hunter Harrison. Since then, the company has improved its operating margin (now slightly under the mark of 60%) as costs were cut and operations improved. Recently, the company declared a record year and Mr. Harrison commented on his recent success:
"While the North American economy braces itself for more headwinds, we remain optimistic about the future and CP's continued growth," said Harrison. "Despite the challenges, we expect 2016 to bring an operating ratio below 59 while generating double-digit EPS growth - a testament to the strength of our operating model and plan for the future."
Canadian National Railway (NYSE:CNI)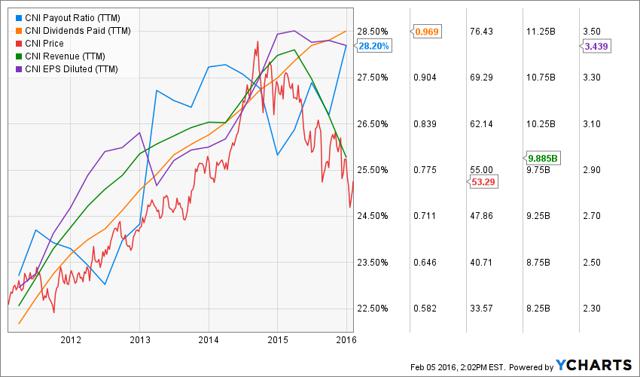 Source: Ycharts
Founded in 1918, Canadian National Railway is the largest railway in Canada and has significant operations in the United States. The rail network extends from the Atlantic to the Pacific Ocean through Canada, and also extends southward to the Gulf of Mexico through the United States. The total mileage of track exceeds 20,000.
The company is divided into seven commodity groups:
-Petroleum and Chemicals
-Metals and Minerals
-Forest Products
-Coal
-Grain and Fertilizers
-Intermodal
-Automotive
Since we expect more Canadian exports to the US for the years to come due to the currency exchange, CNI is in the driver's seat to benefit from massive transportation of goods across the border. The company has access to many ports leading to better transportation: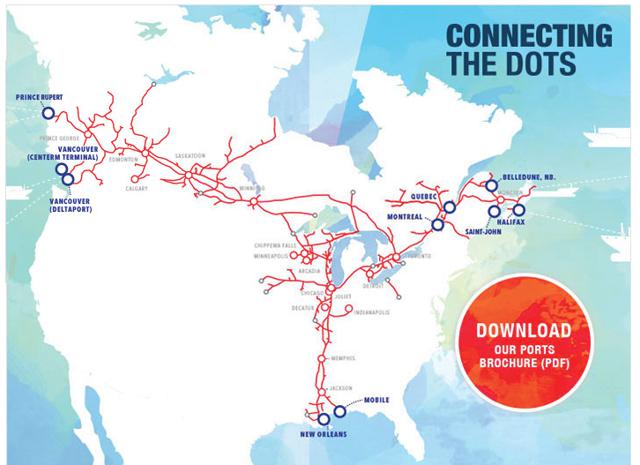 Source: CNI website
Canadian National Railway has been a model of operating ratio in North America. It is able to maintain an operating ratio under 60% (was 54% last quarter). In comparison CP is at 59.8%, CXV at 71.6% and UNP at 63.2%. Why is this metric so important? Because the biggest downside of operating a rail company is linked to the high cost of maintenance. A company that is able to maintain a lower expense level in percentage of its revenue definitely has a great advantage on any of its competitors. In this category, CNI is the best in class.
The company's tability to generate enormous cash flow protects it from the current economic downturn in transportation. This will enable management to keep raising its dividend aggressively as they did over the past few years.
Comparison by the Numbers
Now that we have taken a look at the big picture for each railroads, let's compare them with some important metrics:
| | | | | | | | | | | | |
| --- | --- | --- | --- | --- | --- | --- | --- | --- | --- | --- | --- |
| Symbol | Name | Dividend Yield (NYSE:TTM) | Dividend Per Share (5 Year Growth) | Payout Ratio | Cash Dividend Payout Ratio | Revenue (5 Year Growth) | Normalized Basic EPS (5 Year Growth) | PE Ratio | Price to Free Cash Flow | Free Cash Flow | Cash from Operations |
| CNI | Canadian National Railway | 1.82% | 13.21% | 28.20% | 40.92% | 4.17% | 9.37% | 15.45 | 22.44 | 1906.15 | 4025.30 |
| CP | Canadian Pacific Railway | 0.89% | 1.33% | 16.66% | 24.12% | 1.69% | 12.11% | 18.38 | 26.58 | 733.80 | 1925.72 |
| CSX | CSX | 3.07% | 16.47% | 34.86% | 84.90% | 2.12% | 8.10% | 11.35 | 27.77 | 808.00 | 3370.00 |
| UNP | Union Pacific | 2.94% | 27.42% | 49.12% | 31.92% | 5.16% | 14.58% | 13.64 | 8.86 | 7344.00 | 7344.00 |
I'm concerned about CSX high cash payout ratio compared to the other companies (84.90% while the other three shows an average of 32.32%). This may be why CSX shows a higher dividend yield than its peers. On the opposite end of the spectrum, CP doesn't offer much to dividend growth investors with a meager yield of 0.89%. It's 5 year dividend growth rate is barely existent compared to its peers (1.33% vs an average of 19.03% for the three others.
Upon this chart, it seems that both CNI and UNP shows stronger fundamentals. Both companies meet my 7 investing rules as well. They are #1 and #2 in almost all categories. While CP and CSX had a hard time showing a 5 year revenue growth over 2%, CNI and (4.17%) and UNP (5.16%) shows more than double the growth. Plus, both railroads generate a lot more cash flow than its peers.
Final Thoughts
If I had to buy only one railroad company, I would probably go with Canadian National Railway mainly because it has the best operating ratio of its industry. This is a very important metric as the railroad industry is cyclical and we are currently in the downside of the cycle. Profitability is a synonym of stability in such periods.
Disclaimer: We own shares of UNP and CNI in our Dividend Stocks Rock Portfolios.
Disclaimer: The opinions and the strategies of the author are not intended to ever be a recommendation to buy or sell a security. The strategy the author uses has worked for him and it is for you to decide if it could benefit your financial future. Please remember to do your own research and know your risk tolerance.
Disclosure: I am/we are long UNP, CNI.
I wrote this article myself, and it expresses my own opinions. I am not receiving compensation for it (other than from Seeking Alpha). I have no business relationship with any company whose stock is mentioned in this article.