Food and drinking places account for approximately 2% of gross domestic product and over 70% of the accommodation and food services industry.
In this article I want to discuss the biggest 14 restaurant stocks of the US and give you an overview of the strongest and weakest stocks.
The stocks in this article are seen below.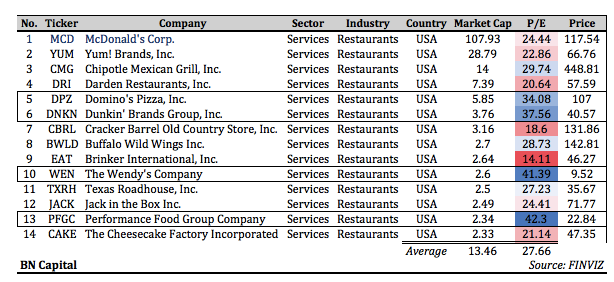 McDonald's is by far the biggest company with a market cap bigger than all other 13 companies combined. Most companies are valued around 2-3 billion USD.
The average PE ratio of these companies is 27.66 and about 7 points higher than the service sector average. Which means restaurant stocks have higher futures expectations than the average service stock.
Note that the two biggest companies (McDonald's and Yum) make most money outside of the US. McDonald's has 31% of sales exposure in the US while it gets 40% from Europe. Yum Brands has an even smaller US exposure of just 22% while it is extremely China dependent with an exposure of almost 53%.
The outlook for US food service & drinking places sales is declining since early 2015. The expectations which are represented by the ISM accommodation & food service industry are slowing and confirmed by the official retail sales for the food service sector as seen below.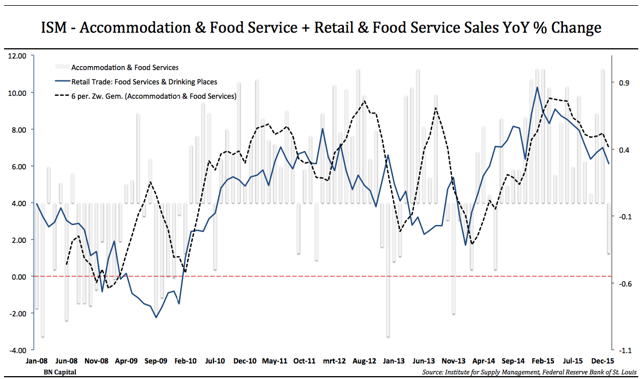 Although the fact that food service sales are still growing at above 6%, the decline in growth made it harder to compete in an already competitive business.
Therefore in times like this companies with high profitability have a better change to outperform their peers.

McDonald's beats all peers when it comes to bottom line profitability. The yellow M beats the average score by more than 10 points. Dunkin' and Chipotle are on place two and three while Performance Food Group, Wendy's and Buffalo Wild Wings have the worst profitability. In all fairness however we need to conclude that all companies (excluded top 3) are close to the average.
This business is extremely competitive and these figures confirm that.
When it comes to management effectiveness, in particular the useful use of assets, Domino's, Chipotle and Yum Brands/McDonald's are the clear winners. All far above the average 10.9% ROA.
Also important to note is that companies in a competitive business not always have the most solid balance sheet. I put the current ratios in the table to give a quick overview. And yes, of course this is just an overview and not an in-dept balance sheet analysis. I want to make clear that 7 out of 14 companies have a current ratio below 1. Four companies have an ratio as low as 0.6 and are therefore in danger of not servicing short-term liabilities.
Past Performance
When it comes to historical stock price returns there are three clear winners. McDonald's, Domino's and Cracker Barrel had the best returns and the lowest volatility.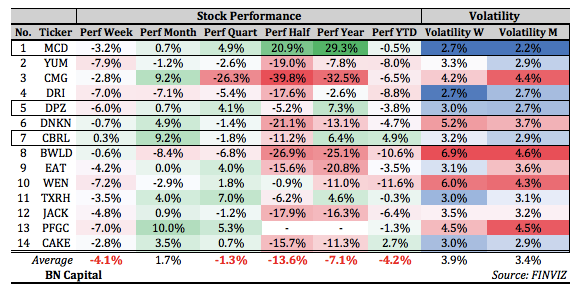 All charts of the five best performing stocks compared with the Restaurant ETF BITE look like this: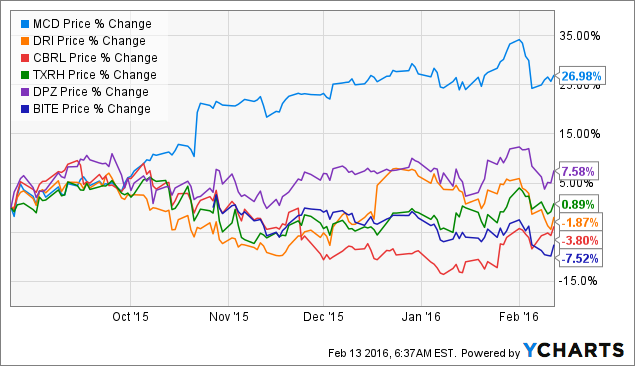 More important than past performance is the future outlook and the price you pay to be a part of the success. Therefore the following table might give you a good overview of growth expectations and valuation.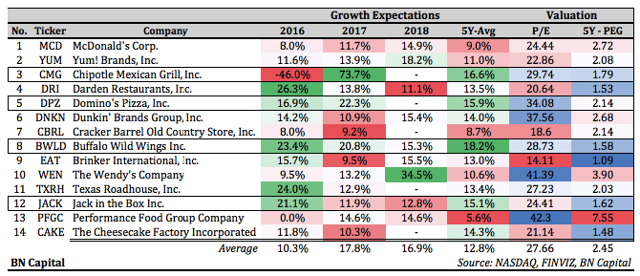 There are four stocks that have strong growth expectations. These stocks are Chipotle, Domino's, Buffalo Wild Wings and Jack in the Box. All of these stocks plus Darden, Brinker International and The Cheesecake factory have a favorable PEG ratio. In other words the price for future growth is relatively low.
When it comes to 2016 growth, Chipotle is the worst performer mainly due to the health issues the company faced. However, most of it is already priced in.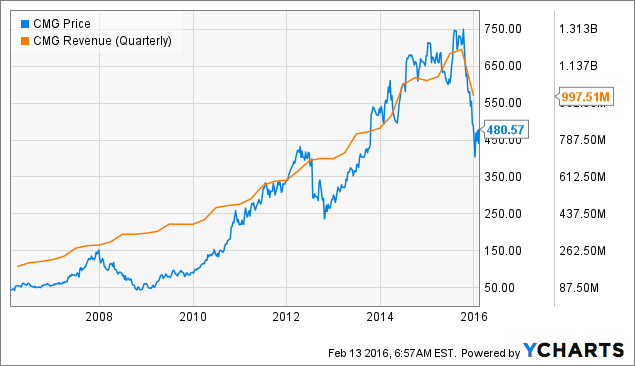 Analyst expectations are shown below.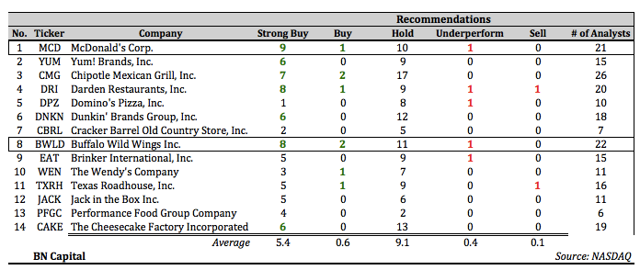 It is almost impossible to get a clear picture from the expectations. Cracker Barrel and Performance Food Group have 'just' seven analysts covering the companies. McDonald's, Darden and Buffalo Wild Wings have the most strong buy recommendations.
Overall the scoreboard looks like this:

To summarize this article I advise to focus on BWLD, MCD, CMG and DPZ if you are interested in buying restaurant stocks. However I do not recommend you to go outright long under the current market circumstances. I wrote an article covering the market outlook and it would be irresponsible to advise any outright longs other than bonds and other safe haven trades.
Regarding valuation, management effectiveness, margins and growth, the stocks I just mentioned are clear outperformers and likely to keep outperforming in an increasingly competitive restaurant industry.
I hope you enjoyed reading this article. I am happy to answer any questions and would love to have your opinion on whether I should continue making articles about industries or should focus on something else.
Disclosure: I/we have no positions in any stocks mentioned, and no plans to initiate any positions within the next 72 hours.
I wrote this article myself, and it expresses my own opinions. I am not receiving compensation for it (other than from Seeking Alpha). I have no business relationship with any company whose stock is mentioned in this article.