There is a lot of fear in this market and most stocks are down significantly in the past few weeks. Some investors and analysts are talking about another 2008-style financial crisis and that is causing a rush into gold and other perceived safe havens like bonds. I think this is a mistake and it makes much more sense to take advantage of the big pullback in the auto stocks. If you buy stocks after a significant market correction and when there is extreme fear, you are likely to be getting some bargains.
Just take a look at the CNN Money "Fear & Greed" Index which is based on a number of factors. The index takes all this data which then produces a reading between 1 (fear) to 100 (greed). This index has a current reading of 18 out of 100 which indicates "extreme fear". This level of fear is historically indicative of a market bottom or a potential buying opportunity. It usually never pays to sell stocks when there is this level of pessimism and fear in the market. Needless to say, all of this negative sentiment and fears over a potential recession has taken a toll on General Motors (NYSE:GM):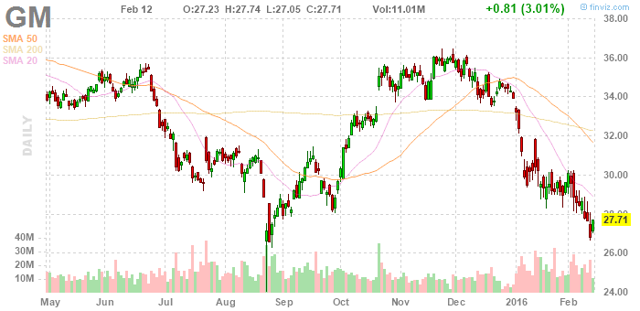 Take a look at the chart above and you can see that this stock is now near the levels where it bottomed out in the "Flash Crash" last August. That was a great buying opportunity as it quickly rebounded to around $39 per share. Many investors wonder why shares of auto giants like Ford (NYSE:F) and General Motors are trading at pathetically low price to earnings ratios of about 5, and I think it could (partially) be because this industry might have a highly capable new player in the future. If Tesla (NASDAQ:TSLA) can achieve what it has with its relatively meager resources, just imagine what Apple (NASDAQ:AAPL) can do to this industry. Just to put things into perspective: Tesla has a market cap of about $25 billion, and Apple just earned a profit of $18 billion in a single quarter. The potential for Apple to enter the car market is something to consider, but I would not let it keep me out of General Motors, especially with the yield it offers.
Auto sales in the U.S. have reached record levels lately, and the auto market in Europe is finally starting to rebound. There are some believers in "peak auto" right now which suggests that things are so good, they can never get better for the automakers. I don't agree with this and I believe that the record level of sales could continue for at least a few years. Interest rates remain extremely low (and in some countries rates are going even lower), fuel prices are also very low, and the job market in the U.S. continues to improve. These 3 major trends don't appear to be going away any time soon, so all of these factors could support auto sales for years to come. Besides, remember when there were many who believed in "peak oil"? That was the idea that we had found all the oil there was to easily find, and therefore reached a peak for oil reserves, and we all know how false that turned out to be.
Analysts expect GM to earn $5.51 per share in 2016, and $5.80 in 2017. This implies a price to earnings ratio of just about 5 times earnings. This is extremely cheap and analysts are expecting higher profits for next year, which also does not confirm a "peak auto" theory. The dividend is another huge positive: An annual dividend of $1.52 per share offers a yield of about 5.5%. This is an extremely generous yield, especially when compared to bonds (even high-yield) and GM could continue to raise the dividend in the future since the payout ratio is just around 30%. GM has a strong balance sheet with about $20 billion in cash, and that also gives it the financial strength for more dividend increases. That level of cash is equivalent to about $13, on a per share basis. GM has about $63 billion in debt, but when you consider the cash and also the fact that it generates about $154 billion in annual revenues, the debt level is relatively low.
It did not take the markets a long time to realize that GM shares did not belong at around $27 during the August flash crash lows, and I don't think it will take long this time either. Many macro factors remain extremely supportive for the auto industry and the 5.5% yield will pay investors to wait for a rebound. For all of these reasons, GM is one of my top large cap picks to buy in this market correction. If you want to read about one of my top small cap picks to buy in this pullback, check out Supervalu (NYSE:SVU), which is a $4 bargain at just about 6 times earnings. I wrote about Supervalu in this article. Please follow me for future updates and stock picks.
Data is sourced from Yahoo Finance. No guarantees or representations
are made. Hawkinvest is not a registered investment advisor and does
not provide specific investment advice. The information is for
informational purposes only. You should always consult a financial
advisor.
Disclosure: I am/we are long GM, F, AAPL, SVU.
I wrote this article myself, and it expresses my own opinions. I am not receiving compensation for it (other than from Seeking Alpha). I have no business relationship with any company whose stock is mentioned in this article.