If Apple (NASDAQ:AAPL) wants to shift its focus to high-margin enterprise with IBM (NYSE:IBM), it should spin off its retail operations into a new company for investors who like retail. I may be wrong, but I see retail investors as accountants and tech investors as geeks. Retail and technology require different employee skill sets. Retail margins tend to be lower, and they don't garner market caps approaching a trillion dollars like AAPL's in early 2015. They are different investments.
Apple retail, particularly the Genius Bar, has been an important part of Apple's strategy that enabled capture of large market share in the US. But that market may be reaching saturation, and some say a huge smartphone cycle is coming to an end. Apple seeks new avenues of growth and one of those is through its partnership with IBM, but it needs to shed excess baggage to grow in that direction.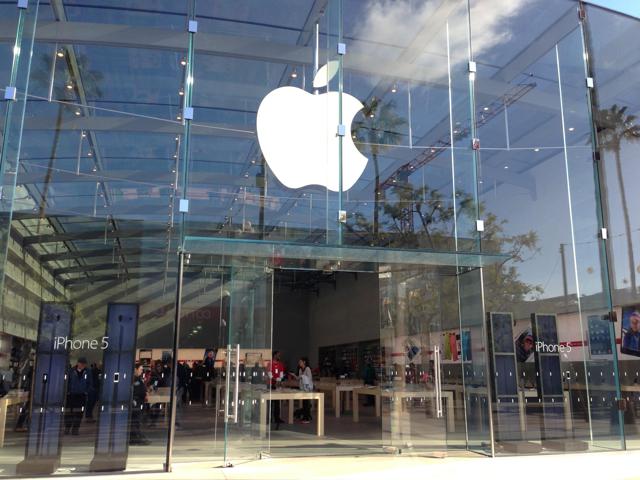 Apple pays rent on its stores which are leased. Apple's total operating leases are an off-balance sheet liability valued at $8.4 billion, assuming an asset life of 20 years and discount rate of 4.48% - method of Koller; using Damodaran's method lease PV = $11 billion.
In the chart below, you'll find Apple's PP&E (blue line), PV of capitalized operating leases (yellow line) and unamortized R&D asset (green line). All three assets are growing but growth in the lease has slowed, and in 2015, accounted for only 3% of total assets while PP&E for 8% and the unamortized research asset for 6%.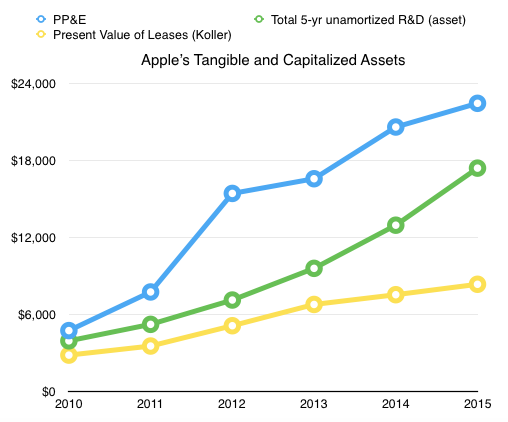 Though relatively very small, shedding the PV of operating leases could be viewed as a way to lighten up on assets, which Apple's management may already have in mind. When I gleaned the data in the following chart from the 10-Ks, I at first thought I had discovered that Apple the retailer was in decline. A second and better thought is that the decline in future minimum lease payments is an engineered decline in retail, which accounts for most of the operating leases that are broken out for retail in the 10-K.
Rapid increases in future minimum retail lease payments declined sharply after 2013 (green line scaled to right axis). Also shown is growth in the number of retail stores, which was linear from 2009 through 2013, but began to slow in 2014 (blue line scaled to left axis):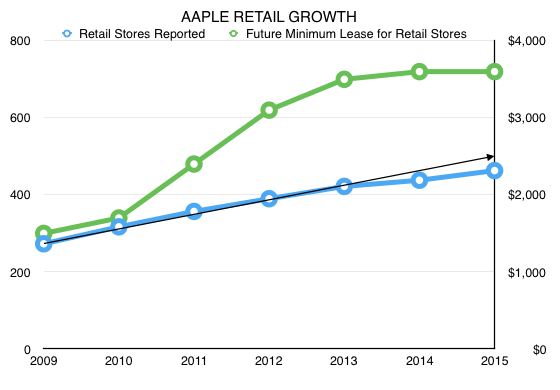 As of September 26, 2015, Apple had a total of 463 retail stores. Those figures are not available in form 10-Ks for 2014 or 2013 and were determined from the numbers of new stores, data which was provided.
Apple reported 110K full-time equivalent employees in its 10-K for 2015. This was up from 92.6K in 2014; half of them were in retail operations. Transferring 55,000 employees to "Apple Store Company" (new ticker) would substantially reduce SG&A, which was over $22 billion in 2015. Since I'm not an accountant, I'm not taking this any further, but the point is that relatively asset-light Apple could get significantly lighter in its journey into other-than-retail ventures such as enterprise.
Like many other US corporations, Apple is buying back large numbers of shares. Apple's share count at the end of FY15 was 16% lower than at the end of FY12, such that the 34% decline in market cap from its $0.77 trillion high is not entirely due to the 30% decline in stock price. As long as the stock "languishes," Apple should keep reducing share count, even though the critics might decry "financial engineering" as they do with IBM ad nauseam.
To grow again, Apple will plow cash into R&D-based expansion, which could come out of free cash flow, repatriation of funds held in overseas accounts or that which is freed up from retail leases and employee expenses. The green line in the 1st chart above shows that growth in capitalized R&D assets is indeed accelerating. And for the quarter ending December 26, 2015, the R&D expense of $2,404 million, or 3.17% of revenue, was up y/y from $1,895 million, or 2.54% of revenue.
However, a small uptick in R&D spend will not convince Wall Street. R&D was 8-9% of revenue when that percentage peaked during the years before release of the first iPhone in June 2007. The earnings multiple peaked shortly thereafter. Y-o-Y growth in the number of retail stores peaked at 25% in FY 2008. If revenue declines as Apple transitions, AAPL's stock will be shunned by Wall Street just like its new partner IBM.
In his book, Unstoppable: Finding Hidden Assets to Renew the Core and Fuel Profitable Growth, Chris Zook cites numerous examples of companies that had to shrink to grow again. One of the examples I found most compelling was that of General Dynamics (NYSE:GD), which sold unprofitable businesses to engineer its own revenue decline from $10 billion in 1991 to $3 billion in 1996 before it began to grow again. By focusing on three core business, GD's profits fell below zero only during the first of a five-year transformation, then began a long period of vigorous growth (see footnote 1).
IBM is cited as another example of a company that has had to shrink in order to grow. In 1985, the early PC era, IBM had 405K employees. Headcount fell to 374K in 1990 and 225K in 1995. Then in 1996, Gerstner made Global Business Services an independent unit separate from the sales unit, and headcount again rapidly expanded along with revenue growth, which became 40% of IBM's total, and rocketed IBM's enterprise value (see footnote 2). Investors who stayed long and did not wait to jump on the bandwagon until 1998 were rewarded for their patience.
As an investor who has come to appreciate transition periods that bring temporary declines in revenues and stock price, I have recently purchased IBM's shares. Since I have a strong preference for tech over retail investments, I will wait for Apple to get further along in what I believe will be a transition away from retail. When Apple spins off the retail business, revenue will abruptly decline - that will be time to buy Apple, the leaner device and software company. Right now Apple is still too large for me - "consider the scale of the investment."
Footnotes:
1. General Dynamics stock price, revenue, and EPS as it shrunk to grow between 1991 and 1996: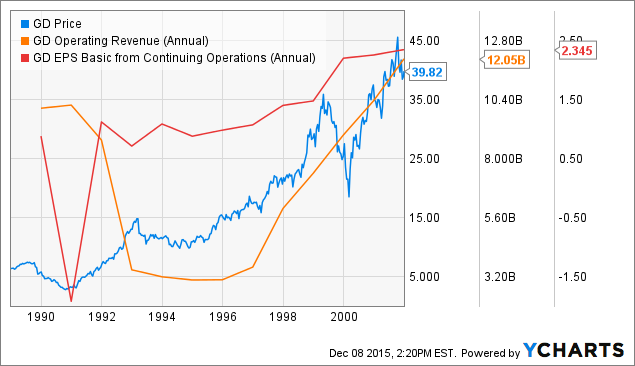 2. IBM workforce overlaid with enterprise value since 1990.
Disclosure: I am/we are long IBM.
I wrote this article myself, and it expresses my own opinions. I am not receiving compensation for it (other than from Seeking Alpha). I have no business relationship with any company whose stock is mentioned in this article.