Last week, I wrote on Omega Healthcare Investors (NYSE:OHI) and HCP, Inc. (NYSE:HCP), two healthcare REITs that have been beaten down hard because of their impact associated with troubled skilled nursing operators. In one article, I explained that "HCP's competitive advantages are under attack" as "risks are now elevated" due to "worsening conditions with its largest tenant, HCR ManorCare (around 25% of NOI)."
In another article, I explained that HCP is not the only REIT with troubled skilled nursing operators as Genesis (NYSE:GEN), OHI's largest tenant, has around 7.1% exposure (based on NOI). In my article, I summarized the differences in OHI's and HCP's exposure and the reason that I have maintained a BUY on OHI and a HOLD on HCP.
OHI has a more diversified skilled nursing portfolio than HCP
OHI's coverage ratios are much better than HCP
All of OHI's leases are net lease, so there is no operator risk (like HCP)
OHI is a pure play skilled nursing REIT
The bottom line is that OHI's dividend is much safer than HCP. Although HCP has a long (31-year-old) track record for paying and increasing dividends, the latest impairment announcement related to ManorCare ($836 million in Q4 and $1.5 billion in 2015) reflect more downside risk (likely rent cut for ManorCare) and the possibility of a dividend cut.
Last year, Ventas, Inc. (NYSE:VTR) took a bold step to reduce risk within its portfolio by spinning most of its skilled nursing properties into a new REIT, Care Capital Properties (NYSE:CCP). By reducing exposure to the riskier skilled nursing model, VTR simultaneously increased exposure in higher quality private pay assets. VTR had around 75% in private pay (pre-spin) and today VTR has around 83% exposure to private pay operators.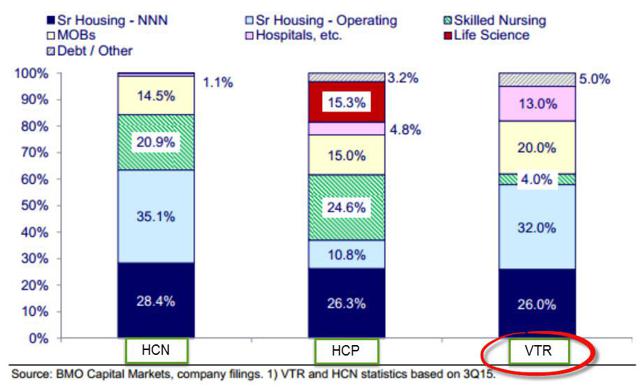 VTR still has around 4% exposure in skilled nursing, mostly Kindred (NYSE:KND), and by maintaining much lower exposure to post-acute tenants/operators, it's now clear that VTR's management team took deliberate steps to transform its portfolio, further reducing risks, and providing a pathway to continue generating highly predictable dividends.

The Right-Sized Portfolio
As Debra Cafaro, VTR's CEO, explained on the latest earning call, "in 2015 VTR's key accomplishments included the strategic disposition of nearly $5 billion in assets, including over $4 billion of skilled nursing facilities through the innovative of a tax efficient spin-off of Care Capital Properties and completion of over $5 billion in accretive acquisitions, including the successful beachhead investment in the large, attractive hospital space with Ardent, a top 10 provider of care."
Cafaro went on to explain that VTR's "partners are the best in the business. Post spin, over 80% of NOI comes from top operators in each sector who have scale, a sound capital structure and operational excellence." In terms of invested capital, VTR's largest operator is Atria (23% exposure) followed by Sunrise (OTCPK:SRRE) (12%), and Brookdale (NYSE:BKD) (9%).

VTR has a nice balance of triple net leases and none of the tenants represents more than 10% of NOI. Keep in mind that Atria has around 23% in overall exposure; however, just around 10% is in net lease. The remaining exposure with Atria (around 13%) is in the form of RIDEA, so the credit risk is not with Atria but the individual residents. Similarly, Sunrise, the second largest tenant, has around 10% in net lease.

As mentioned, most of VTR's post-acute facility rent comes from Kindred and all of the post-acute facilities produce 2x property level cash flow to rent coverage and all rents are guaranteed. Kindred has become the nation's leader in post-acute care with a well-developed strategy, strong balance sheet and diversified business model.

The Top Of The Food Chain
In addition to the tactical (and deliberate) spin of most of VTR's skilled nursing properties (into CCP), the company also closed on a $1.3 billion acquisition of Ardent hospital last year. On the recent earnings calls, Debra Cafaro commented:
…we think its smart business to align with leading hospital providers who have always been at the top of the food chain in healthcare services and are increasingly influential in the delivery of care and the distribution of dollars in a rapidly evolving healthcare system.

Ardent provides both inpatient and outpatient care throughout its multiple access points in its market and it just completed a strong year where same-store revenues, adjusted admissions and ER visit showed solid growth.

Our investment in Ardent was expertly executed and structured with outstanding property, EBITDA to rent coverage and low leverage at the operating company. It was also very timely. We're seeing significant deal flow and actively working with our partners at EGI and Ardent to consolidate and grow.
Ventas paid around $1.4 billion to acquire 10 hospitals leased back to Ardent (2.5% annual rent bumps) at an unlevered cap rate of 7.5%. In addition, the company funded another $475 million to own a 9.9% stake in the operating entity (controlled by Zell's private equity group).
As I see it, the Ardent deal has bigger implications as the REIT has structured a partnership that provides scale and financial power in which the well-aligned players can boost the Ardent brand by consolidating hospitals through a similar sale-leaseback structure. This provides VTR with an on-going pipeline of deal flow while further diversifying the portfolio mix.
VTR now has around 6% exposure to acute hospitals, and that number should increase to around 10% in the future.
The Balance Sheet
VTR ended 2015 with a strong balance sheet and $2.2 billion of liquidity. The company's liquidity profile was solid at year-end including exceptional fixed charge coverage of 4.5x.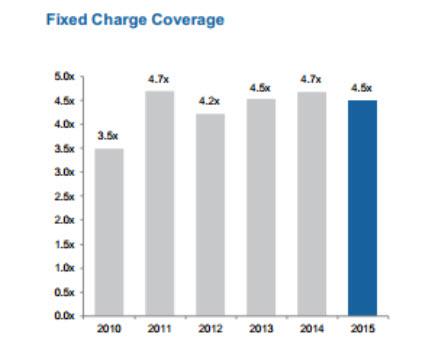 VTR's net debt to adjusted pro forma EBITDA is 6.1x, a tad above its top-end range of 6x, and debt-to-total capitalization of 37%.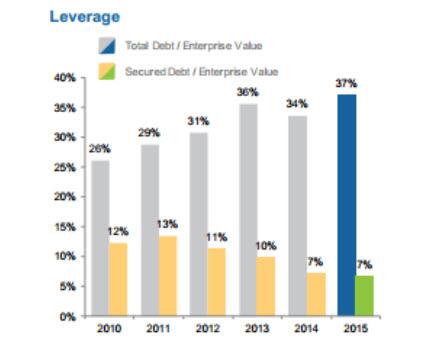 In the fourth quarter, VTR delivered normalized FFO of $346 million or $1.03 per fully diluted share. On a comparable basis, normalized FFO per share grew 7% in Q4-15 over prior year. In the fourth quarter, the company acquired $93 million in high quality MOBs.
VTR also committed to funding approximately $240 million in new development in redevelopment activity. To fund investments, VTR raised $167 million under its ATM program during and after the fourth quarter issuing three million shares at an average price of $55.42 per share before underwriter discount.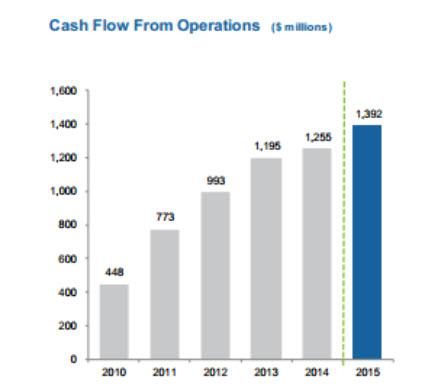 VTR also continues to recycle capital through asset dispositions in senior housing and MOB assets generating proceeds of $105 million in Q4-15 and $61 million thus far in Q1-16. Here's a snapshot of VTR's total indebtedness to GAV: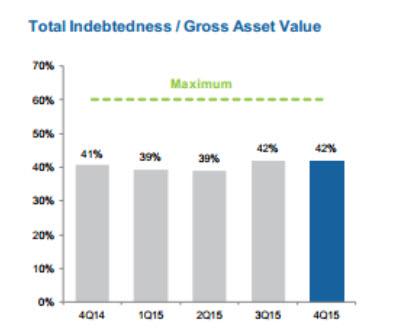 VTR has reduced its reliance on secured debt considerably over the last few years.

VTR is one of the two healthcare REITs with a BBB+ (S&P) rating, and last year, Moody's affirmed VTR's rating as Baa1 (senior debt) and Baa2 (preferred stock) after the company said it planned to spin off its skilled nursing properties and acquire Ardent. Moody's said:
Ardent deal is consistent with VTR's strategic effort to ally with health care operators who are looking for capital to aid in their business expansion. The rating agency expects VTR's asset quality and long-term growth profile as being strengthened by its refined strategic focus, but noted that the company's senior housing operating assets remain vulnerable to real estate cycles over the longer term.
The stable outlook takes into account Moody's assumption that Ventas successfully executes the said "complex transactions as planned," with related financings having "a neutral to slightly positive" effect on its key credit metrics.
Separately, S&P affirmed Ventas' BBB+ corporate credit and senior unsecured note ratings, as well as maintained its stable outlook following the announcement of its planned REIT spinoff. The rating agency said the REIT spinoff will allow the company to direct its strategy of investing mainly in private-pay hospitals, medical office buildings and senior housing facilities, adding that it expects the company's private pay payer sources to rise to 83% from 75% after the planned transactions.
VTR has limited debt maturities (~$600 million in Q3-16).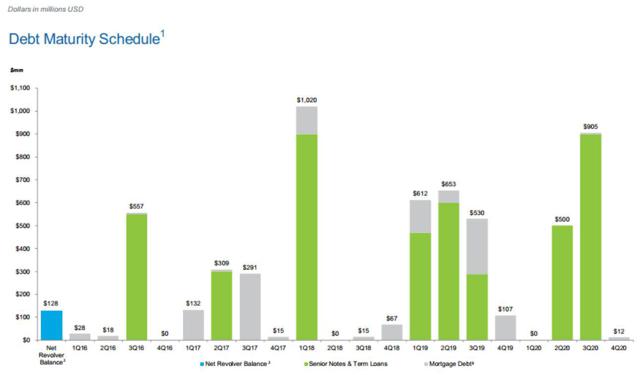 The Latest Results
VTR's overall same-store cash NOI for the portfolio grew 3.8% for the year, in line with VTR's 3.5% to 4% full company same-store guidance range.
The triple net business lead all segments by growing same-store 5.8% in 2015 with SHOP full-year results in line with the company's 2% to 3% guidance and MOB is up 2% year over year.
To be clear. VTR frequently refers to its results on a comparable basis, which adjusts all current and prior periods for the effects of the spin-off as if the spin-off is completed in January 2014. This is the best practice for spin situations and is intended to give investors a true like-for-like reflection of VTR's performance.
Adjusting for the spin-off, comparable normalized FFO per share was $3.95 in 2015 and $3.64 in 2014. Details of both - reported and comparable FFO per share - can be viewed below: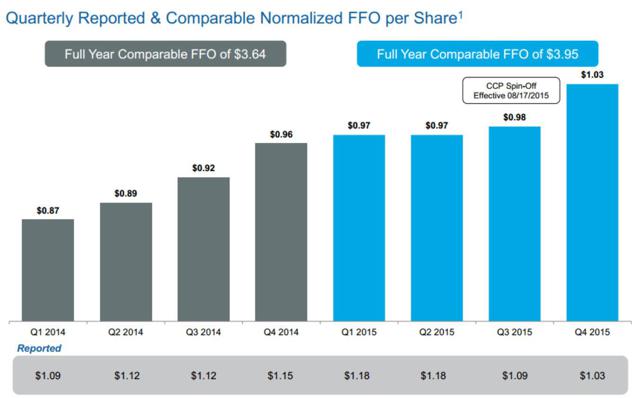 VTR's financial results overall for the full-year 2015: Full-year 2015 normalized FFO on a reported basis totaled $4.47 per fully diluted share, topping the most recent full-year FFO guidance range of $4.43 to $4.46 per share.
On a comparable basis, full-year 2015 normalized FFO per share of $3.95 represents 9% growth over 2014. This validates the strong year-over-year growth driven by exceptional same-store NOI growth of 3.8%.
Most importantly, VTR has one of the best dividend growth records in the REIT industry and with a projected 70% FFO dividend payout ratio, this healthcare REIT is well-positioned to continue growing dividends into the future.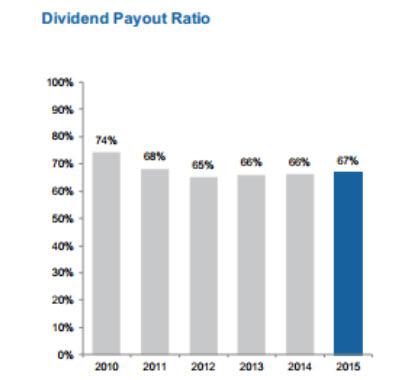 Maintaining a BUY
I have said it before, I consider VTR's management team, and specifically Debra Cafaro, to be one of the best CEOs in the REIT sector. It is because of her forward-thinking risk management skills that she and her team put together a thoughtful spin of higher risk properties (ahead of the market risk we are seeing today) as well as add a new leg to the stool - the beachhead investment with Ardent. As Cafaro explains:
In 2016, we intend again to drive excellent consistent results by focusing on operational excellence and continued portfolio optimization in our senior housing operating and medical office building businesses, building on our advantage platforms including hospitals in Atria, recycling capital through value creating dispositions, making attractive accretive new investments including improving our properties through development and redevelopment, providing innovative capital solutions to leading healthcare and senior housing providers in a dynamic market and harnessing the potential empower of our outstanding and cohesive team at Ventas.
Because of VTR's superior success, I remain an overweight investor in the company and I intend to maintain a BUY believing that this REIT is well positioned to continue generating robust and predictable dividend growth. Here's a snapshot of VTR's 1-year total return performance compared with sector peers:
Here's a snapshot of VTR's year-to-date total return performance compared with sector peers:

Here's a snapshot of VTR's 1-week total return performance compared with sector peers:

Here's a snapshot of VTR's P/FFO (price to funds from operations) multiple compared with the peers (Note VTR and HCP are rated BBB+).

Here's a snapshot of VTR's dividend yield compared with the peers:

Here's a snapshot of VTR's earnings and dividend history: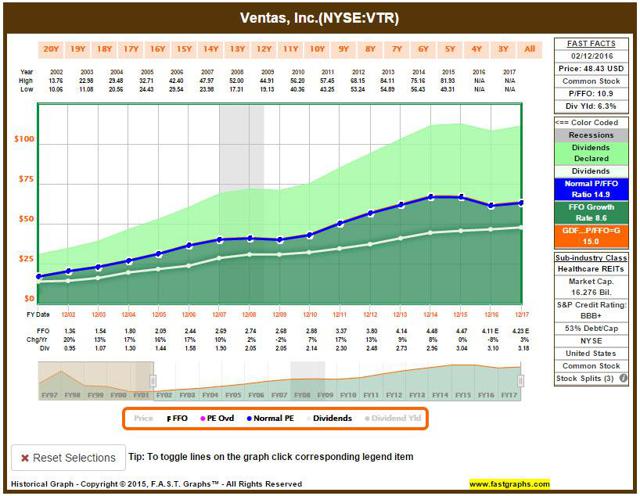 In summary, VTR is not immune to risks as most all healthcare REITs are under pressure as concerns about supply remain elevated. Discounted equity valuations will continue to plague shares in VTR and other healthcare REITs making VTR's diminished cost of capital less attractive, especially for M&A opportunities (i.e. SNR and NRF's healthcare portfolio).
However, VTR has done a remarkable job of controlling risks and the more recent spin of CCP and acquisition of Ardent validates the discipline required to continue the remarkable record of dividend growth.
The supply of senior housing is arguably the biggest risk for VTR but because of the company's focus on partnering with top operators, I consider the risk minimal, and I expect steady FFO (guidance of $4.07-$4.15) growth (3% to 5%) in 2016. Ardent should play a bigger role for VTR's growth going forward and that should ultimately reduce risks (add diversification) related to the softening in the macro environment. VTR is a BUY at $48.43 and a dividend yield of 6.3%.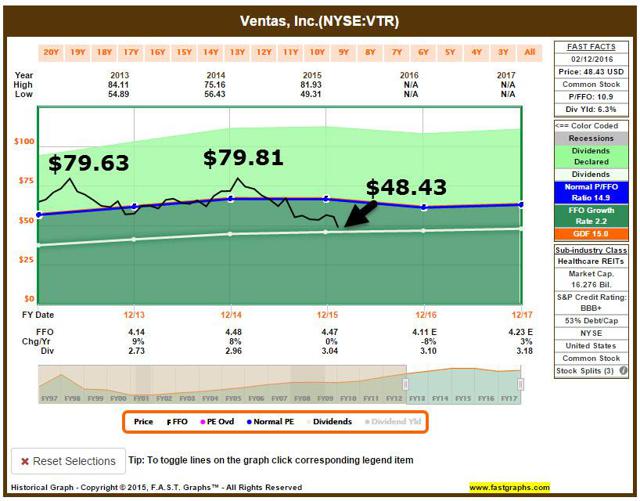 NOTE : HCN reports Q4-15 earnings on Feb. 18th and I will be writing an article afterwards.
Author's Note: I'm a Wall Street writer, and that means that I am not always right with my predictions or recommendations. That also applies to my grammar. Please excuse any typos, and I assure you that I will do my best to correct any errors if they are overlooked.
Finally, this article is free, and my sole purpose for writing it is to assist with my research (I am the editor of a newsletter, Forbes Real Estate Investor), while also providing a forum for second-level thinking. If you have not followed me, please take 5 seconds and click my name above (top of the page).
The only guarantee that I will give you is that I will uncover each and every rock I can in an effort to find satisfactory investments that "upon thorough analysis promises safety of principal and satisfactory return. Operations not meeting these requirements are speculative." (Ben Graham)
Disclaimer: This article is intended to provide information to interested parties. As I have no knowledge of individual investor circumstances, goals, and/or portfolio concentration or diversification, readers are expected to complete their own due diligence before purchasing any stocks mentioned or recommended.
Source: SNL Financial, FAST Graphs, and VTR Q4-15 Supplemental.
I wrote this article myself, and it expresses my own opinions. I am not receiving compensation for it (other than from Seeking Alpha). I have no business relationship with any company whose stock is mentioned in this article.
Disclosure: I am/we are long O, DLR, VTR, HTA , STAG, GPT, ROIC, HCN, OHI, LXP, KIM, WPC, DOC, EXR, MYCC, BX, TCO, SKT, UBA, STWD, CONE, BRX, CLDT, HST, APTS, FPI, CORR, NHI, CCP, WSR, CTRE, WPG, KRG, SNR, LADR, HCN, HCP.
I wrote this article myself, and it expresses my own opinions. I am not receiving compensation for it (other than from Seeking Alpha). I have no business relationship with any company whose stock is mentioned in this article.